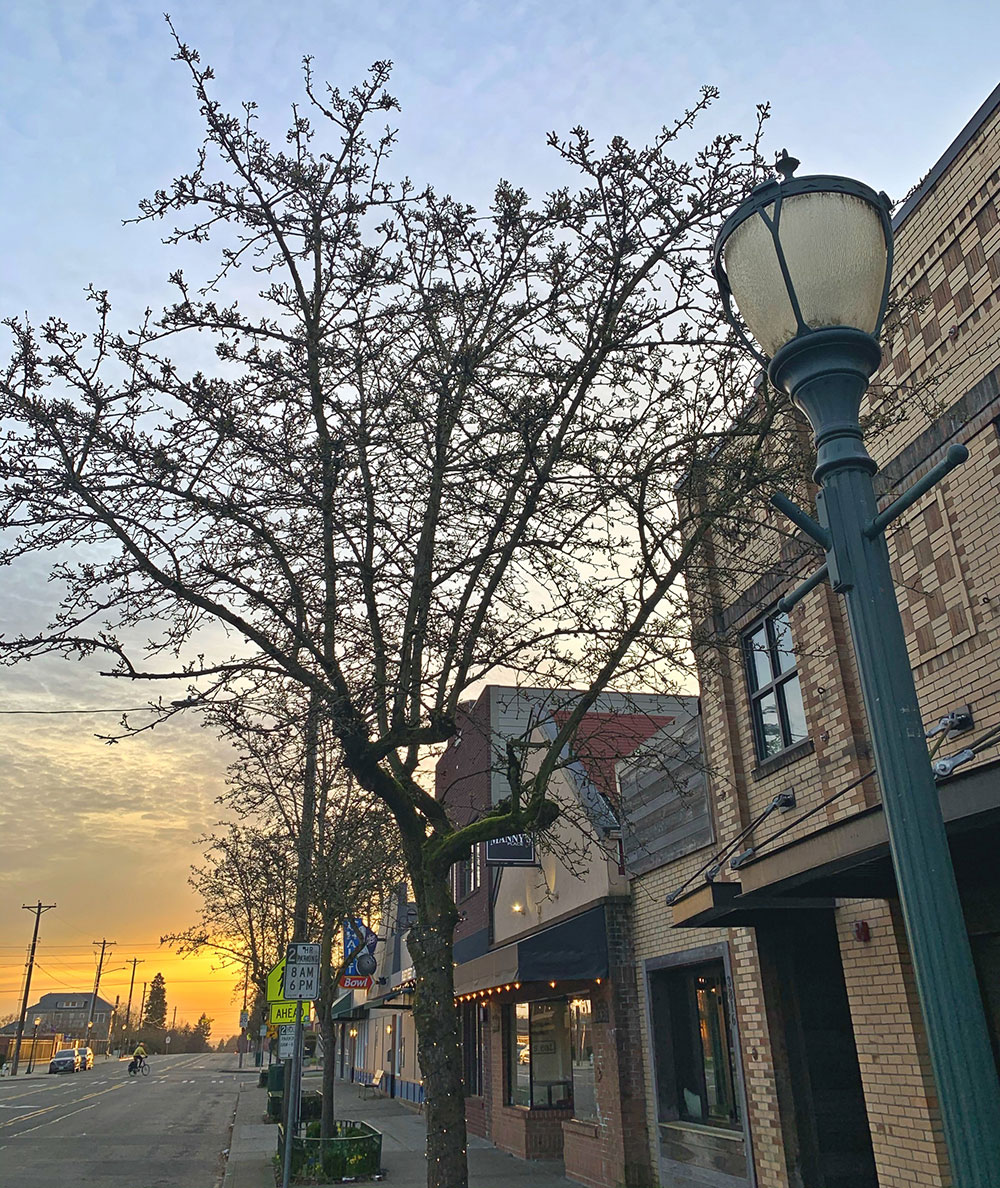 Tree-dimensional Tacoma: Bradford callery pear
We all know what's in our wallets.
What's next to your front door?
"I have been looking at this Kamana guide book, which is part of a naturalist training program," explains Sarah Low, executive director at the Tacoma Tree Foundation. "Flipping through the pages, I happened upon this prompt, 'What plant grows closest to your front door?' The tree closest to my front door is an Arizona cypress, though my daughter pointed out that there are begonias even closer to the door. The tree closest to the front door at Peaks and Pints is a Bradford callery pear."
Bradford callery pear, or Pyrus calleryana "Bradford," is beautiful when it's blooming, especially if many are in a long, like in Tacoma's Proctor District, therefore the Bradford callery pear is the focus of this week's Tree-dimensional Tacoma, Peaks & Pints' weekly Tacoma tree column. Inspired by our house beer, Kulshan Brewing Tree-dimensional IPA, Peaks & Pints branches out for a weekly look at terrific trees of Tacoma, in conjunction with our friends at Tacoma Tree Foundation.
SWell, maybe the Bradford callery pear isn't that terrific.
"Because of their beautiful blooms, Bradford callery pears were extremely popular until their problematic branching patterns, among other things made, them notoriously undesirable," continues Low. "In Proctor and elsewhere, callery pears are slowly being replaced with other trees. And this turnover of trees is part of the story of urban forestry. But, whether the tree nearest to your front door is short lived or grows to be a champion, it's worth taking the time to notice it."
Bradfords are apt to split and break during storms, and they have a short life span, only 15 or 20 years. And despite their delicate appearance, the blossoms emit a foul odor that's been compared to rotting fish, among other thing. Once admired for its hardiness, the Bradford pear is now considered an invasive species.
After checking out the Bradford callery pears in front of Peaks & Pints, enjoy a Tree-dimensional IPA (6.8%) inside. Kulshan Brewing collaborated with the Tacoma craft beer lodge on their house beer. Paying homage to the outdoor enthusiasts who join Peaks daily in Tacoma's Proctor District, Tree-dimensional IPA is the perfect beer to toast the powder, currents or trails, as well as reveal the sprains. Tree-dimensional IPA, or Tree-D, continues Peaks & Pints' love affair with old school piney IPAs, this time brewed with Simcoe, Idaho 7, CTZ, Centennial, and whole leaf Cascade in the hop back for all the pine, a little citrus, with a creamy mouthfeel and bitter finish. The Tree-D is in cans, too!
Tacoma Tree Foundation is dedicated to educating, empowering, and supporting community members in neighborhood-based greening. In other words, the Tacoma organization strives for a greener, healthier, more connected Tacoma — which plants well with Peaks and Pints. We will host TTF fundraisers during Tree-dimensional IPA's reign as our house beer, which pours through October 2020.
LINK: Kulshan brews Peaks and Pints Tree-dimensional IPA
LINK: Tree-dimensional Tacoma: Sugar Maple
LINK: Tree-dimensional Tacoma: Tulip Poplar
LINK: Tree-dimensional Tacoma: Giant Sequoia
LINK: Tree-dimensional Tacoma: Pin Oak
LINK: Tree-dimensional Tacoma: Douglas Fir
LINK: Tree-dimensional Tacoma: Incense Cedar
LINK: Tree-dimensional Tacoma: Plume Sawara Cypress
LINK: Tree-dimensional Tacoma: Western Red Cedar
LINK: Tree-dimensional Tacoma: Ponderosa lemon hybrid
LINK: Tree-dimensional Tacoma: London planetrees
LINK: Tree-dimensional Tacoma: "Vanderwolf's Pyramid" limber pine
LINK: Tree-dimensional Tacoma: Pacific Madrone
---