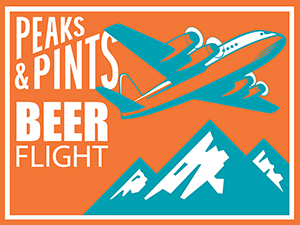 Peaks & Pints has bock on the brain after we found a plastic goat on our bar top. Bock literally translates to ram or Billy goat in German. So it began as a visual pun (and maybe a slight poke at the Northern Germans by the Bavarians) and has now become the symbol of bock beer. Bock beer is a strong beer style generally 6.3 percent alcohol by volume and higher. It is believed to have originated in Einbeck — a town famous for brewing in the Middle Ages. Eibeck was one of the first cities to ban the use of gruit in beer in favor of hops as a way to circumvent the Catholic Church's high prices on gruit. The oldest written record of beer from Einbeck is from 1378 in the form of a receipt for two casks of "Einbecker" sold to the town of Celle, Germany. Bock is a bottom fermenting lager that generally takes extra months of lagering (cold storage) to smooth out such a strong brew. Bock beer in general is stronger than your typical lager, more of a robust malt character with a dark amber to brown hue. Bock beers can vary greatly from style to style and can go from light and refreshing to some of the strongest beers in the world with eisbocks. Let's explore these bock styles in our flight, Craft Beer Crosscut 2.25.20: Flight of Bock Styles.
Craft Beer Crosscut 2.25.20: Flight of Bock Styles
Spoetzl Shiner Bock
4.45% ABV, 13 IBU
In 1915, Kosmos Spoetzl, a brewmaster trained in Germany, bought the Shiner Brewing Association and gave it his last name, but he still remained true to Shiner and kept the beers named after their precious Shiner, Texas. Shiner Bock is a no-frills kind of bock, but still arguably the most demonstrative of American-brewed bocks. Its very light body, and only slightly roasty notes from caramel malts, making this an easy bock to drink.
Kulshan Shucks On The Beach
7% ABV
The helles bock, or Maibock, is most often a golden to clear copper-colored beer with firm malty aroma and flavor. Hops provide accent and balance, and can sometimes provide spiciness in the background. Maibock refers to the springtime serving ("Mai" is May in German) of the brew. Its other name, helles (also German), refers to the beer's pale color. These lagers are traditionally brewed in the dead of winter and aged until spring. Kulshan Brewing and Taylor Shellfish Farms ignored the month and took a stroll on the beach and invented a helles bock with German Pilsner and Vienna malts providing a rich, bready malt profile, coriander and pink peppercorns adding subtle fruity and spicy accents, and sea salt adding just the slightest hint of refreshing salinity.
Schneider Aventinus Weizen-Eisbock
12% ABV, 15 IBU
Eisbock is a traditional German beer that is made by freezing off and removing water to further concentrate flavor, body and alcohol content. In other words, eisbocks tend to be complex and extraordinarily rich beers that aren't for the faint of heart (or weary of liver). This particular eisbock is wheat-based, with a smooth malty taste and creamy, syrupy feel. Rum, coffee, fruity flavors abound.
Ayinger Celebrator Doppelbock
6.7% ABV, 24 IBU
During Lent, as legend goes, German monks sustained themselves by sipping strong, dark lagers dubbed doppelbocks. This timeworn tale of liquid bread tends to overshadow an indisputable truth: Dopplebocks are fantastic feats of brewing engineering, no more so than Ayinger Celebrator. With accolades from the late Michael Jackson and a collection of gold medals from the World Beer Cup, this rich, toffee-rocked lager is dark, crisp, with a touch of chocolate and grape notes. While presenting a full body, it's not cloyingly sweet and features a wonderfully creamy body and enough alcohol to warm your palate.
Occidental Lubricator Dopplebock
6.75% ABV
Occidental Brewing's award-winning doppelbock is a dark and rich malty lager with a perfect balance of caramel, melanoidin, and a touch of roast malt. Its initial, subtle sweetness mellows nicely with subsequent sips, and a pleasant alcohol finish makes for a nice winter warmer.
Color lithograph by R.H. Eichner & Co., Lith. & Pub.
---