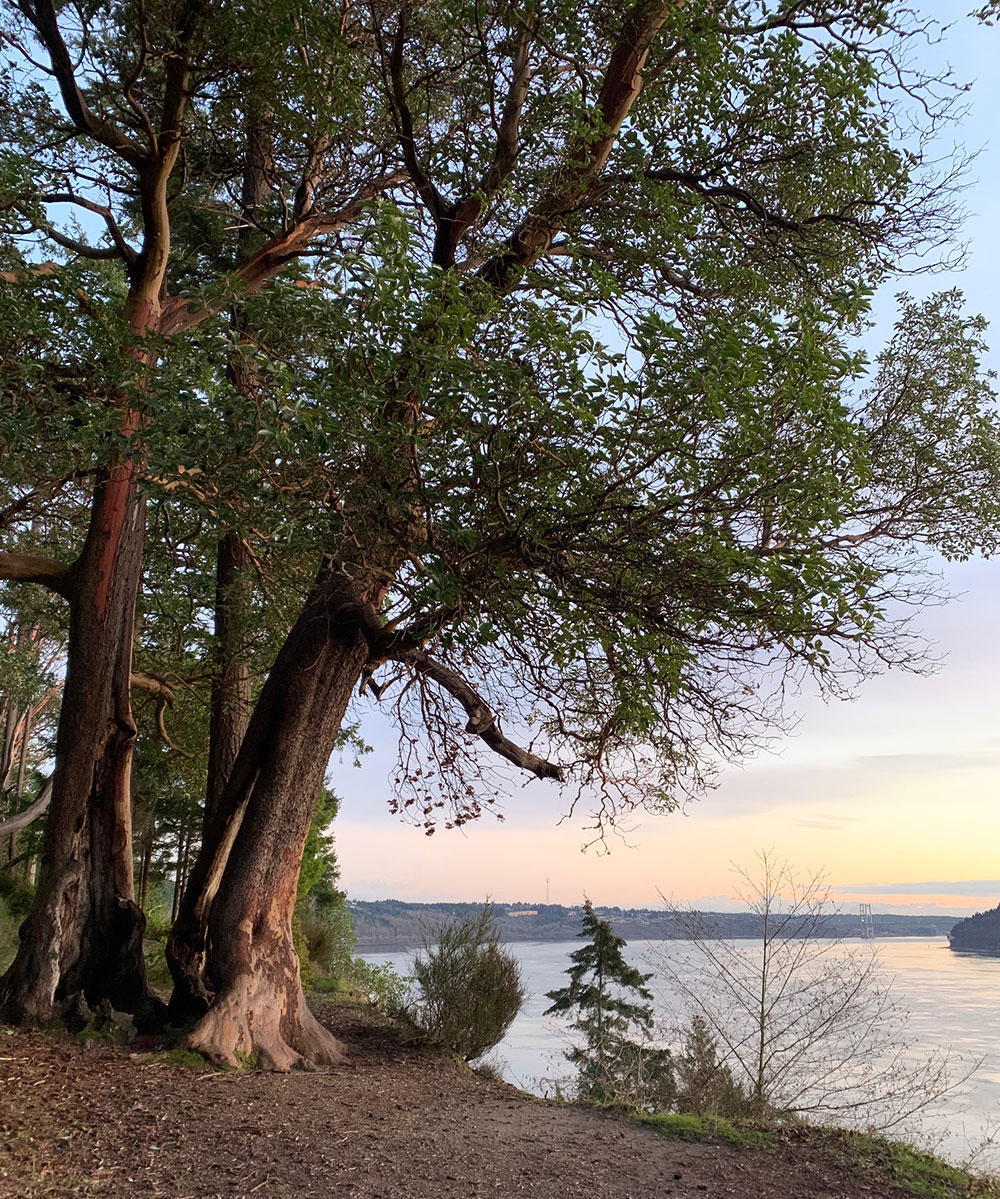 Tree-dimensional Tacoma: Pacific Madrone
"The Pacific madrone or madrona, Arbutus menziesii, is a native tree found in Tacoma," says Sarah Low, executive director of Tacoma Tree Foundation. "While it's associated with disturbed coastal forests and can be seen hanging out with Douglas firs and mountain hemlocks, it can also be spotted popping up in alleys and side yards in many parts of our city — including the Narrows Viewpoint on the Five Mile Drive at Point Defiance Park. The tree can be quickly seen by its strawberry-colored bark and evergreen leaves."
The Pacific madrone is a species of tree in the family Ericaceae, native to the west coast. It occurs from southwestern British Columbia, where it is restricted to water-shedding sites on southeastern Vancouver Island, the Gulf Islands, and adjacent coastal mainland, southward through Washington, Oregon, and California in the coastal mountains and west slopes of the Sierra Nevada, yet it's this week's Tree-dimensional Tacoma, Peaks & Pints' weekly Tacoma tree column. Inspired by our house beer, Kulshan Brewing Tree-dimensional IPA, Peaks & Pints branches out for a weekly look at terrific trees of Tacoma, in conjunction with our friends at Tacoma Tree Foundation.
"To know the madrone is to love it," continues Low, "and here in Tacoma it takes on a nearly mythical presence, not unlike a rainbow. It requires a particular setting and yet it is easily found here. It grows well in difficult conditions, but is difficult to grow, if you try. If you go in search of the madrone, look for it near a grove of Douglas firs, where the sea is near and the sunlight shines on your face from the west. Or, ride your bike around Five Mile Drive and take a rest at the Narrows Viewpoint, look to your right and you will see a madrone leaning toward the sea and sunlight."
After checking out the Pacific Madrone, enjoy a Tree-dimensional IPA (6.8%) at Peaks & Pints. Kulshan Brewing collaborated with the Tacoma craft beer lodge on their house beer. Paying homage to the outdoor enthusiasts who join Peaks daily in Tacoma's Proctor District, Tree-dimensional IPA is the perfect beer to toast the powder, currents or trails, as well as reveal the sprains. Tree-dimensional IPA, or Tree-D, continues Peaks & Pints' love affair with old school piney IPAs, this time brewed with Simcoe, Idaho 7, CTZ, Centennial, and whole leaf Cascade in the hop back for all the pine, a little citrus, with a creamy mouthfeel and bitter finish. The Tree-D is in cans, too!
Tacoma Tree Foundation is dedicated to educating, empowering, and supporting community members in neighborhood-based greening. In other words, the Tacoma organization strives for a greener, healthier, more connected Tacoma — which plants well with Peaks and Pints. We will host TTF fundraisers during Tree-dimensional IPA's reign as our house beer, which pours through October 2020.
LINK: Kulshan brews Peaks and Pints Tree-dimensional IPA
LINK: Tree-dimensional Tacoma: Sugar Maple
LINK: Tree-dimensional Tacoma: Tulip Poplar
LINK: Tree-dimensional Tacoma: Giant Sequoia
LINK: Tree-dimensional Tacoma: Pin Oak
LINK: Tree-dimensional Tacoma: Douglas Fir
LINK: Tree-dimensional Tacoma: Incense Cedar
LINK: Tree-dimensional Tacoma: Plume Sawara Cypress
LINK: Tree-dimensional Tacoma: Western Red Cedar
LINK: Tree-dimensional Tacoma: Ponderosa lemon hybrid
LINK: Tree-dimensional Tacoma: London planetrees
LINK: Tree-dimensional Tacoma: "Vanderwolf's Pyramid" limber pine
---