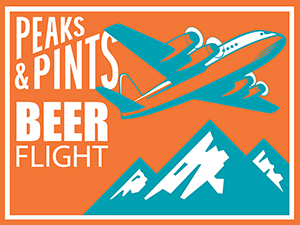 Van Havig, former brewmaster at Rock Bottom Brewery in Portland, and Ben Love, previously a brewer at Pelican Brewery and head brewer at Hopworks Urban Brewery, added to Portland's Beervana opening Gigantic Brewing May 9, 20212. The two brewers figured out how to have two head brewers then proceeded to make delicious beer. Their taproom had a college clubhouse vibe. They brewed amazing one-offs. Their label art, signed by the artists, could hang in museums. And, they would brew with the coolest rock stars. Today, Peaks and Pints offers a flight of Gigantic beers that we call Craft Beer Crosscut 2.19.20: A Flight of Gigantic Brewing.
Craft Beer Crosscut 2.19.20: A Flight of Gigantic Brewing
Gigantic MASSIVE!
12% ABV
Brewers in the midlands of England would boil their barleywines ales for longer times to intensify their flavors. In making Massive! Gigantic Brewing used only British Halcyon pale malt and boiled for eight hours, giving the beer a big fruity nose with dark sugars, a hint of cola, spice, a faint hint of sherry and traces of alcohol. The palate is rich and creamy with cherry, dried fruit and fig, plus toffee in the finish with a touch of bitterness.
Gigantic Pipewrench
8% ABV
Pipewrench IPA is inspire by the cocktail of the same name. A Pipewrench is a shot of gin dropped in your favorite IPA, akin to a Boilermaker. Gigantic is their IPA aged in Ransom Old Tom Gin barrels for 3 months juniper berries, orange peel, lemon peel, coriander seed, cardamom pods, angelica root blend, tropical, citrus and mango hop on the nose, Seriously. The palate offers malt flavors punctuated with citrus zest, coriander and teak with a botanical finish.
Gigantic Glow Cloud Hazy IPA
7% ABV, 65 IBU
Glow Cloud Hazy IPA is inspired from the recent trend of New England-style IPAs but with a West Coast twist. Following Gigantic's Mystery Cloud Hazy IPI, this new turbid IPA has been tweaked a bit by using Mosaic, Simcoe, and Crystal Hops alongside a lighter malt character. Glow Cloud is described as being just as juicy and fluffy with citrusy, tropical and dank deliciousness. Expect notes of grapefruit, loquat, orange and while mulberry.
Gigantic Crystal Visions
7.8% ABV
After collaborating in 2013 with Fort George Brewery as part of the inaugural 3-Way IPA that also included the now defunct Lompoc Brewing, the two breweries are back at it with a new big, bold IPA. Crystal Visions is a Northwest DIPA that's loaded with Sultana, Simcoe, Cascade, and Chinook hops creating intense citrus with notes of pineapple, grapefruit, and pine. In making Crystal Visions, Gigantic's vision was to make a delicious classic West Coast Double IPA that contained the brewery's favorite classic and newer hop varieties.
Gigantic The Cat Ate My Stash & Pissed On The Christmas Tree
7.5% ABV, 85 IBU
Ben Love and Van Havig had the pedigree when they opened Gigantic Brewing Wednesday May 9, 2012. Havig spent 16 years brewing at Portland's Rock Bottom, and Ben Love held down posts at Pelican Brewing in Pacific City and Hopworks Urban Brewery in Portland. Together, the two produce a year round IPA and a wide variety of rotating seasonals, specialties, and one-offs, including The Cat Ate My Stash & Pissed On The Christmas Tree IPA. Inspired by the enigmatic John Mallett of Bell's Brewery, this festive IPA is loaded with the dankest, sticky, drippy, and piney hops the Gigantic brewers could get their hands on.
Photo courtesy of Gigantic Brewing Facebook
---