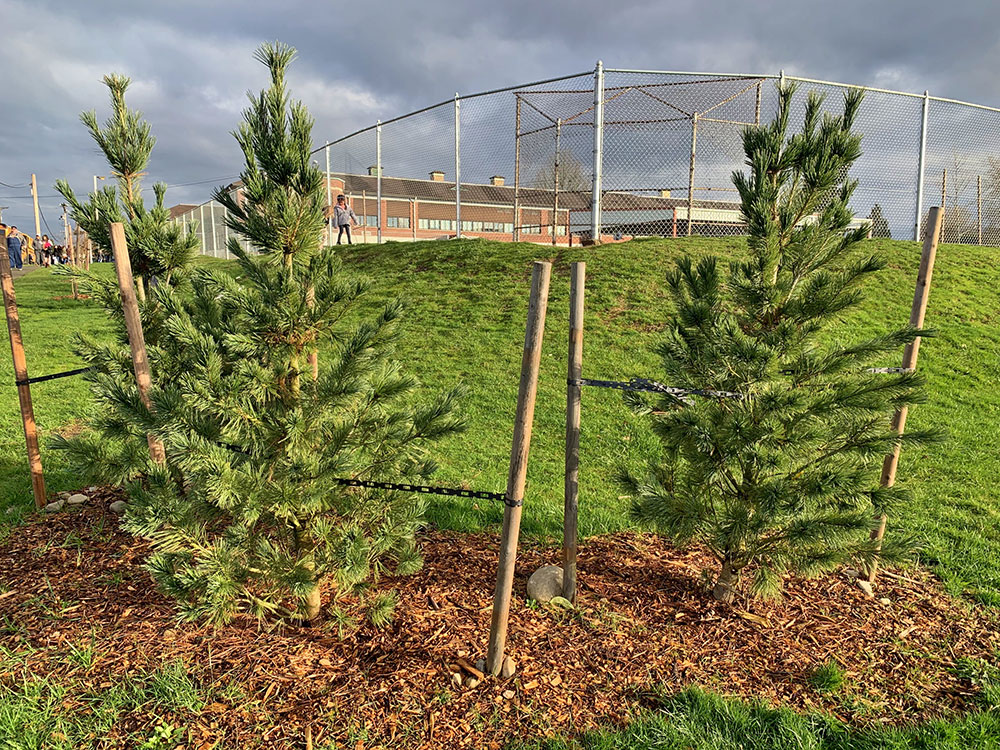 Tree-dimensional Tacoma: "Vanderwolf's Pyramid" limber pine
"I love the big, established trees that create shade and beauty, but every tree has to start somewhere," says Sarah Low, executive director of Tacoma Tree Foundation. "In the built environment of a city such as Tacoma, most trees are planted by people (hint: people like you). Last fall, Tacoma Tree Foundation planted some trees with the help of fantastic volunteers at Fawcett Elementary. Three of those trees are 'Vanderwolf's Pyramid' limber pine, or Pinus flexilis 'Vanderwolf Pyramid', planted at the corner of the property, which many students pass by every day on their way to school. These evergreens immediately created a positive change in the way it feels to approach the school. It just feels better to see green around us. And when we feel better, we do better."
Pinus flexilis, commonly called limber pine, is primarily found in the Rocky Mountains from Canada to New Mexico at elevations of 5,000 to 12,000 feet. It typically grows 25-60 feet tall with a pyramidal habit maturing over time to a more rounded form. The popular cultivar, P. flexilis "Vanderwolf's Pyramid" is widely available as an ornamental tree for gardens, such as the ones at Fawcett Elementary — this week's Tree-dimensional Tacoma, Peaks & Pints' weekly Tacoma tree column. Inspired by our house beer, Kulshan Brewing Tree-dimensional IPA, Peaks & Pints branches out for a weekly look at terrific trees of Tacoma, in conjunction with our friends at Tacoma Tree Foundation. The TTF will be the guest speaker at Tacoma Green Drinks February 2020 gathering at 6 p.m. Thursday, Feb. 6 in Peaks & Pints' events room.
"Pinus flexilis (even the name sounds nice) is an all-star in my opinion," continues Low. "The needles are beautiful two-toned and smooth to the touch."
Low invites everyone to plant with Tacoma Tree Foundation again Oct. 10, among other times, so save the date.
"I would also love to chat with you in person at Peaks and Pints this Thursday during the 6 p.m. Green Drinks," she adds. "We can tell you about some of the other opportunities to get involved."
After checking out the three "Vanderwolf's Pyramid" limber pine, preferably after school to reduce the creepy factor, enjoy a Tree-dimensional IPA (6.8%) at Peaks & Pints. Kulshan Brewing collaborated with the Tacoma craft beer lodge on their house beer. Paying homage to the outdoor enthusiasts who join Peaks daily in Tacoma's Proctor District, Tree-dimensional IPA is the perfect beer to toast the powder, currents or trails, as well as reveal the sprains. Tree-dimensional IPA, or Tree-D, continues Peaks & Pints' love affair with old school piney IPAs, this time brewed with Simcoe, Idaho 7, CTZ, Centennial, and whole leaf Cascade in the hop back for all the pine, a little citrus, with a creamy mouthfeel and bitter finish. The Tree-D is now in cans, too!
Tacoma Tree Foundation is dedicated to educating, empowering, and supporting community members in neighborhood-based greening. In other words, the Tacoma organization strives for a greener, healthier, more connected Tacoma — which plants well with Peaks and Pints. We will host TTF fundraisers during Tree-dimensional IPA's reign as our house beer, which pours through October 2020.
LINK: Kulshan brews Peaks and Pints Tree-dimensional IPA
LINK: Tree-dimensional Tacoma: Sugar Maple
LINK: Tree-dimensional Tacoma: Tulip Poplar
LINK: Tree-dimensional Tacoma: Giant Sequoia
LINK: Tree-dimensional Tacoma: Pin Oak
LINK: Tree-dimensional Tacoma: Douglas Fir
LINK: Tree-dimensional Tacoma: Incense Cedar
LINK: Tree-dimensional Tacoma: Plume Sawara Cypress
LINK: Tree-dimensional Tacoma: Western Red Cedar
LINK: Tree-dimensional Tacoma: Ponderosa lemon hybrid
LINK: Tree-dimensional Tacoma: London planetrees
---