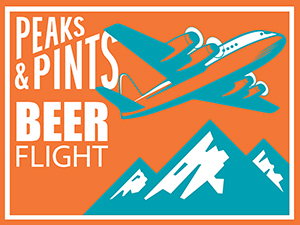 Whether its Miller Lite, Coors Lights, or Bud Light, the top cheap beers in the nation are low-calorie and watery. Then, there are beers such as Michelob Ultra that are promoted with athletes and for those with active lifestyles. Ugh. In crap beer, all of the goodness typically associated with beer has been filtered out, until it's stripped clean to nearly water-like proportions. OK, you're freaking over the high calorie count of craft beer. Thankfully, there were always full-flavored, semi-low-calorie options like Guinness, but for the most part bigger, full-flavored beers — most in the craft beer world — are loaded with calories (you need sugar to make alcohol, after all). The session beer craze of a few years ago started the downward trend of caloric values in craft beers. Now, craft breweries are hitting the low-calorie beer market en masse. Today, Peaks and Pints presents a flight of tasty, low calorie craft beers, which we call Craft Beer Crosscut 2.4.20: Flight of Low-Cal. There's no need to dump sub-par, low calorie "beer" down your throat. It's just not cool.
Craft Beer Crosscut 2.4.20: Flight of Low-Cal
North Coast Scrimshaw Pilsner Style Beer
4.7% ABV, 22 IBU
Everyone loves a good Pilsner and this one's a classic. Named for the delicate engravings popularized by 19th century seafarers, North Coast Brewing's Scrimshaw is a fresh tasting pilsner brewed in the finest European tradition using Munich malt and Hallertauer and Tettnang hops. It pours a honey gold with a frothy, white head. Grains and soft hop notes abound in the aroma. The swallow is closer to a pale ale, starting with ample two-row malt sweetness, followed by lemony, zesty hop tastes. The perfect carbonation and light body create a smooth, creamy mouthfeel with a crisp, dry finish and mild fruity aftertaste. In addition to being one of the lowest-calorie craft beers out there (100 calories), it also boasts a measly two grams of carbohydrates. This puts it on par with some of the lightest beers available, albeit with a whole lot more flavor.
Uinta Baba Black Lager
4% ABV
Uinta Brewing's Baba Black Lager's aroma of coffee and subtle chocolate remind us of a stout or porter before we remember this is a feathery light 120-calorie black lager. It's as delicious as a light stout or low-calorie porter with smoky and dry coffee notes, well-balanced, agreeable bitterness with a hoppy edge, and a roasty finish.
Firestone Walker Flyjack
4% ABV, 25 IBU
Firestone Walker Brewing's Flyjack has all the unique characteristics of a hazy IPA with only 96 calories, five grams of carbs and 4 percent ABV. The hazy IPA is built with big bold hops, including the new and powerful Strata hop, to deliver more aroma at lesser quantities. Flyjack uses an expressive yeast strain that heightens ester and fruit character to put body and flavor into the beer without adding calories. Taste is Juicy Fruit gum and light white grapefruit with a light body, slight sweetness and moderate carbonation.
Dogfish Head Slightly Mighty
4% ABV, 30 IBU
A low-calorie IPA that is slight in cals and carbs with mighty hop flavor! Dogfish Head's Slightly Mighty has all the flavor and tropical aromas of a world class IPA, but with only 95 calories, 3.6 grams carbs, 1 gram protein and zero grams of fat. Brewed with Delaware-grown barley, and a touch of monk fruit that delivers body and complexity but adds zero calories or carbs, Slightly Mighty is light-bodied and offers a lingering balanced sweetness.
Deschutes Wowza!
4% ABV, 40 IBU
Deschutes Brewery's new hazy pale ale Wowza boasts low 100-calories, 4-grams of carbohydrates, and four percent ABV. Subtle citrus notes and a hop forward aroma join flavors of candied orange, passion fruit and blackberry with a crisp, light finish. Deschutes uses the popular ingredient, Chicory Root, a natural inulin fiber sourced from Cosucra Farms in Belgium, to balance the body and sweetness of the beer without affecting the calorie count.
---