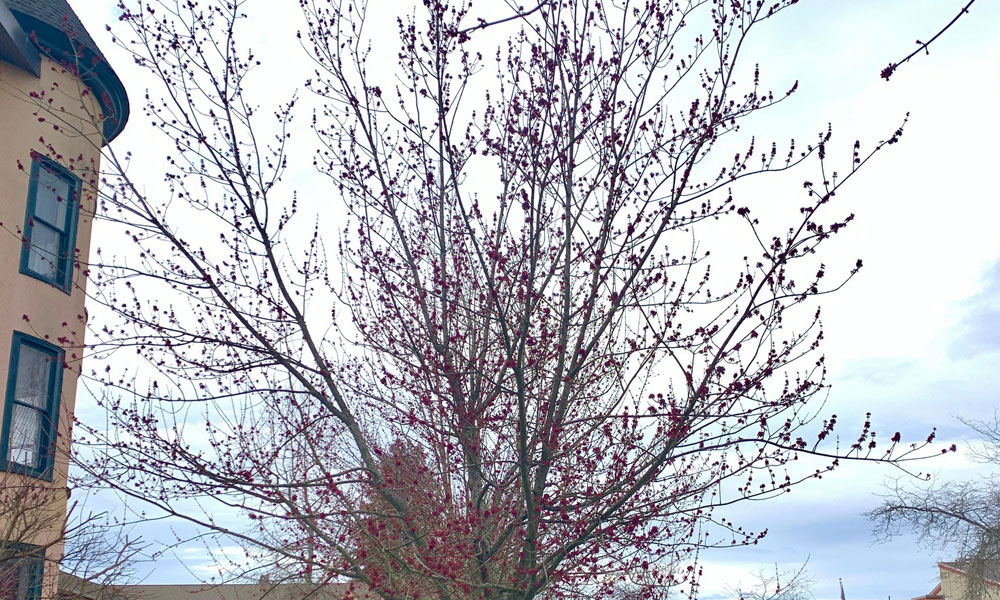 Tree-dimensional Tacoma: Red Maple
"When discussing trees that might work for a particular setting, people often ask if a tree has flowers," explains Sarah Low, executive director of Tacoma Tree Foundation. "Typically, they're asking if the tree has blossoms, such as the flowering plum, the cherry, and the snowbell — the last of which sports canopies filled with white and pink petals. If we pay attention to the other trees, the ones whose flowers are small and not cultivated to attract the human eye, we might tune in to a more subtle and yet awesome sign of spring — the red maples. Despite being one of the most common street trees in just about every city, they are easily missed in spring and summer when they take a back stage. But right now, all over Tacoma, the red maple buds are bursting and you can spot the emerging red maple flowers. There are a handful of particularly nice ones in Tacoma's North Slope Historic Neighborhood, particularly at North G Street and North Fourth."
Acer rubrum, the red maple, also known as swamp, water or soft maple, is one of the most common and widespread deciduous trees of eastern and central North America. The U.S. Forest service recognizes it as the most abundant native tree in eastern North America. The Tacoma Tree Foundation recognizes the red maple as this week's Tree-dimensional Tacoma, Peaks & Pints' weekly Tacoma tree column. Inspired by our house beer, Kulshan Brewing Tree-dimensional IPA, Peaks & Pints branches out for a weekly look at terrific trees of Tacoma, in conjunction with our friends at Tacoma Tree Foundation.
"For me, red maple blooms mark the start of spring," continues Low. "Look for them now, because in a few days they will fall off. The moment will have passed until next year, when you can join me in waiting for the day the red maple buds burst again."
After checking out the red maples in Tacoma's North Slope, enjoy a Tree-dimensional IPA (6.8%) at Peaks & Pints. Kulshan Brewing collaborated with the Tacoma craft beer lodge on their house beer. Paying homage to the outdoor enthusiasts who join Peaks daily in Tacoma's Proctor District, Tree-dimensional IPA is the perfect beer to toast the powder, currents or trails, as well as reveal the sprains. Tree-dimensional IPA, or Tree-D, continues Peaks & Pints' love affair with old school piney IPAs, this time brewed with Simcoe, Idaho 7, CTZ, Centennial, and whole leaf Cascade in the hop back for all the pine, a little citrus, with a creamy mouthfeel and bitter finish. The Tree-D is in cans, too!
Tacoma Tree Foundation is dedicated to educating, empowering, and supporting community members in neighborhood-based greening. In other words, the Tacoma organization strives for a greener, healthier, more connected Tacoma — which plants well with Peaks and Pints. We will host TTF fundraisers during Tree-dimensional IPA's reign as our house beer, which pours through October 2020.
LINK: Kulshan brews Peaks and Pints Tree-dimensional IPA
LINK: Tree-dimensional Tacoma: Sugar Maple
LINK: Tree-dimensional Tacoma: Tulip Poplar
LINK: Tree-dimensional Tacoma: Giant Sequoia
LINK: Tree-dimensional Tacoma: Pin Oak
LINK: Tree-dimensional Tacoma: Douglas Fir
LINK: Tree-dimensional Tacoma: Incense Cedar
LINK: Tree-dimensional Tacoma: Plume Sawara Cypress
LINK: Tree-dimensional Tacoma: Western Red Cedar
LINK: Tree-dimensional Tacoma: Ponderosa lemon hybrid
LINK: Tree-dimensional Tacoma: London planetrees
LINK: Tree-dimensional Tacoma: "Vanderwolf's Pyramid" limber pine
LINK: Tree-dimensional Tacoma: Pacific Madrone
LINK: Tree-dimensional Tacoma: Bradford callery pear
LINK: Tree-dimensional Tacoma: Birth Trees
---