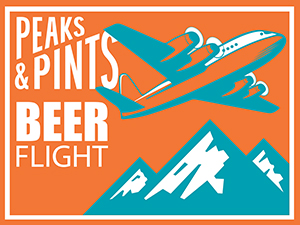 With ravenous passion for horror flicks and death metal and a disdain for cookie-cutter IPAs, Billy Powell's Nightmare became real in December 2018. He founded the Long Island-based, but not based, Nightmare Brewing Company. Powell honed his homebrewing skills Sand City Brewing in Northport, New York, under the tutelage of owner Bill Kiernan. Next, Powell hit the road, literally, as a gypsy brewer, using other brewery's facilities to produced his torture-themed craft beer. His first beer came out of Great South Bay Brewery in Bay Shore, New York. Today, he's brewing at Dorchester Brewing in Boston, sourcing expensive ingredients from around the world, which adds a few cents to his can retail prices. Speaking of his cans, they're gruesome, depicting ancient torture methods drawn by pen-and-ink artist Defame, a St. Louis-based illustrator with the same dark passions as Powell. Today, Peaks and Pints presents a flight of Nightmare Brewing in what we call Craft Beer Crosscut 3.11.20: Flight of Nightmares.
Craft Beer Crosscut 3.11.20: Flight of Nightmares
Nightmare Lingchi
8.1% ABV
A favorite of Chinese emperor ruling in the Five Dynasty period, Lingchi torture was employed for a century, lasting from 900CE before finally being banned in 1905. The scarcely clad victim was affixed to a pole or framework where the executioner would begin to methodically make small cuts across the entire body until death. Powell's Lingchi is an Asiatic sour ale soured on apricots with rice sugar, candied ginger, peach and apricot purée, with all ingredients originating from China. The stone fruit/sherbert nose will torture you until you dive into the floral backdrop with gummy peach ring and ginger sharpness. Expect a puckering dry finish of fuzzy nectarine balanced with candied ginger zing.
Nightmare Gunga Rao Sour IPA
8.3% ABV
Alexander The Great has a fondness for elephants with blades strapped to their feet, which would viciously crush foes, a technique known as Gunga Rao. Nightmare Brewing has a fondness for exotic ingredients, which is such the case with their sour IPA, Gunga Rao. Soured on pineapple and coconut, the IPA is also brewed with Moroccan mint, and a hop blend of Sabro, Kohatu and Cashmere. It result crushes with the taste of a hoppy, tropical, fruit-forward gose.
Nightmare Flayed
9.6% ABV
Assyrian empire rulers Ashurnasirpal II and his son Shalmaneser III invaded the city of Ki-ka where they decapitated the enemy soldiers, then flayed their leader, Ahuni, son of Adini, pinning his skin to the city's wall before they proceeded to set the city ablaze with the women and children inside. Powell's Flayed is an imperial oatmeal IPA with nectarous citrus aromatics of ripe tropical fruits, marmalade and sweetgrass. A massive base of oat varietals provides the foundation of mouthfeel for tangerine, sugared grapefruit, sweet tarts and tangelo.
Nightmare Exposure
10.1% ABV
Practitioners of Falun Gong — a qigong meditation focused on moral philosophy, energetic exercises, breathing and promoting living in harmony — were perceived as a threat by the Chinese communist regime. The Falun Gongsters were forced to lay face down in snow, doused with buckets of water in -20° environments, then forced to stand almost naked for 12 hour periods. Powell's Expsoure is an imperial IPA dry hopped with 100 percent Cryo Citra and Mosaic hops for a earthy herbal, star fruit, honeydew and nectarine pit nose. The initial cold hop bite of pine quickly dissipates to a balanced malt body, candied mandarin rind, strawberry jam, and key lime zest.
---