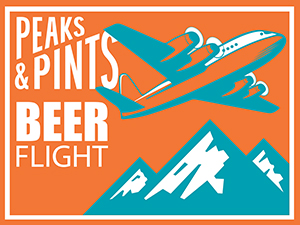 Founded by brewers Jack Harris and Chris Nemlowill, the two combined their brewing expertise from previous Oregon coast gigs at Bill's Tavern and Astoria Brewing Company to bring some of the best craft offerings not only to Astoria, but to the Pacific Northwest. Today, their Fort George Brewery fills a full city block with locally crafted beer. You can grab a pint in three unique spaces: the upstairs wood-fired pizzeria, the downstairs original public house, and the Lovell Taproom located in the production brewery building. Fort George is also investing $12.5 million in a production facility, including a canning line, in Bumble Bee Seafoods' historic Elmore Cannery on Astoria's waterfront. It could mean their Fields of Green IPA, 3-Way IPA and other limited run craft beers might have longer runs. In the meantime, let's enjoy a flight of flight of five Fort George beers in what we call Craft Beer Crosscut 3.10.20: Flight of Fort George.
Craft Beer Crosscut 3.10.20: Flight of Fort George
Fort George Fields of Green (OSCAR)
7.6% ABV
Fort George's Fields of Green is an exploration of hop-perceptions, pushing the limits of your lupulin receptors. This periodic IPA release, always evolving, has landed at Peaks and Pints — on tap and in cans. Named "Oscar," this Fields is full bodied with some sweetness up front but with a balanced bitterness and lingering fruitiness notes of tropical fruit and grapefruit pith.
Fort George Fanzine IPA
6.7% ABV
Fanzines have helped form part of the popular musical landscape since, well, popular music began. In the modern era, pretty much anyone can start an online zine with minimal, if not zero, costs. Back in the day, though, they were small run, self-published, xeroxed and stapled testaments to the object of a true fan's reverence. Fort George collaborated with Grains of Wrath Brewery on Fanzine IPA, a crisp, clear, West Coast style IPA featuring the art of independent folk legend Michael Hurley, who himself is the subject of a Fanzine. The IPA's piney bitterness backs up the heavy hop additions, with grapefruit and other citrus notes. Mild sweetness from the malt bill lingers with a taste of orange juice.
Fort George The Devil Is In the Details
11.6% ABV
So many details to cover in the making of this Fort George imperial spiced stout. First is a very rich recipe with flaked wheat, chocolate malts, and lots of roasted barleys. Maple syrup was added to the whirlpool. This stout was then aged in bourbon barrels, with additions of ají panca and chipotle peppers strategically added throughout the year. Add in vanilla beans and a short stint with fenugreek seeds, and the result is a layered stout with details of bourbon, oak, malt, spice, and sweetness.
Fort George Vortex IPA
7.7% ABV, 97 IBU
Caught in a tornado in the Midwest while hauling their original brew system cross country from Virginia, it made sense from Fort George Brewery to whip up Vortex IPA. With a hearty 7.7% ABV unfiltered, unpasteurized organic malt spine that makes way for Simcoe, Amarillo, and Centennial hops this IPA is medium bodied with a resinous mouthfeel, grapefruit more than pine and finishes with lingering hop bitterness. This beer is straight up delicious.
Fort George The Optimist
6.2% ABV, 50 IBU
That is an awesome craft beer! We mean that! After several sips of Fort George's The Optimist we find my new enthusiasm streaming from us like a Pixar-produced rainbow! Suddenly we could stare at the Pacific Ocean for hours! Hello, spring onions, garlic, lemons, grapefruit and pine! Let's put our heads together and solve some of our shared problems! Creamy mouthfeel! Smooth bitterness! Yes, we believe everybody's just trying to do their best and no one's out to take something from someone else! Thanks for asking! Spruce
---