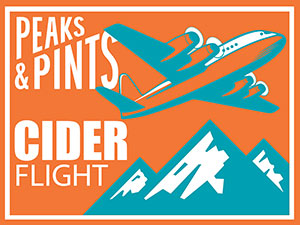 Star Wars: The Rise of Skywalker plays at 7 p.m. at neighboring Blue Mouse Theatre. Lifelong Star Wars fans have been more lenient while naysayers have been more critical — those factors come into play with this new picture, which is the least of the three yet still manages to send the series off in a satisfactory manner. When we meet up with brash pilot Poe, he's lightspeed-skipping his way out of trouble, and director J.J. Abrams is in much the same mode, whisking you from one thing to the next before you have much time to think or feel anything in response. Suffice to say, there's a terrible new threat out there, and very little time to do anything about it, and our heroes need to find a clue that will help them find a tracker that will help them find … you get the idea. What you should make time for is Peaks & Pints Monday Cider Flight and a Movie: Rise of Skywalker before or after the film. This film's a ride. You just might need five ciders.
Peaks & Pints Monday Cider Flight and a Movie: Rise of Skywalker
Seattle Cider Dry Cider
6.5% ABV
Director J.J. Abrams leans in hard on our nostalgia for the previous Star Wars trilogies with the ninth entry in the saga, Star Wars: The Rise of Skywalker. If a creature was cute, they make an appearance. If a Jedi Master was wise, their voice will most assuredly emanate from the Dolby Atmos speaker above you. Peaks & Pints has a sentimental longing for Seattle Cider Dry Cider; it's the first craft cider that saved us from the First Order, leading us to the Resistance. Seattle Dry is the base of many Seattle Cider creations. With zero percent residual sugar, Dry is a very dry cider in a classical style. The dryness doesn't equate to a lack of flavor, however, as it still has a refined apple nature underlined by notes of stone fruits and a light tickle of lilac on the nose. It's a cider that can stand alongside one of our roast beef sandwiches without losing the flavor battle.
Schilling Cascadia Cherry
6.6% ABV
Spoiler Alert: Scheming, powerful, and evil to the core, Darth Sidious restored the Sith and destroyed the Jedi Order. Living a double life, Sidious was in fact Palpatine, a Naboo Senator and phantom menace. Star Wars: The Rise of Skywalker establishes that Palpatine was the author of misery for Rey and Kylo Ren. Palpatine had manipulated Ren his entire life and killed Rey's parents who left her on Jakku to keep her safe from him. Palpatine being brought down by two of his victims taking a stand against him would have been immensely satisfying, much like Schilling's Cascadia Cherry. Explosively juicy and balanced, this fruit forward cider is full of flavor with a hint of tartness and acidity. Made from Washington state Bing cherries, this cider tastes like cherry with subtle notes of nectarine and blackberry.
Tieton Cider Lavender Honey
6.5% ABV
Sharp-eyed viewers noticed that the Star Wars in the Rise of Skywalker logo was had a purple hue — actually lavender, according to sources in the know — and this immediately led to the idea of the ultimate balancing of the Force: blue for the Jedi (lightsabers), red for the Sith. Tieton's Lavender Honey Cider is made with Yakima Valley sourced honey and whole lavender buds. The lavender in this cider is slight but it's there and the honey gives it a great mouthfeel and, well, balance.
2 Towns Serious Scrump
11% ABV
Star Wars can't escape the past. It's indebted to it. It's baked right into the core from the very beginning, "a long time ago, in a galaxy far, far away." Scrumpy is a rustic, unfiltered, farm-based cider from the past, typically made from ripe, fallen apples. To "scrump" is to steal, snag or swipe up apples from an orchard, although the term is used in a less gangsta way today. 2 Towns' version is deep, dry and rich with Hood River Apples blending together with Oregon blackberry honey and traditional English cider yeast to create a tart, floral, celebratory cider. The Force is strong in this one.
Herb's Rim Shot
6.5% ABV
After suffering two heart attacks, 53-year-old Primus drummer Tim "Herb" Alexander opened Herb's Cider in Bellingham, Washington. He knew he needed a change. Herb's Cider is made with 100 percent organic Washington apples, and guided by Chris Weir, formerly of Finnriver Cidery and Port Townsend Brewing. His Rim Shot is a hazy dry apple cider dry hopped with Washington hops. It's floral with notes of tropical fruit, stone fruit and citrus. How to connect this cider with Star Wars? Ak-rev and Umpass-stay were two of the crime lord Jabba the Hutt's bodyguards who played drums in Hutt's house band, the Max Rebo Band. Also, the sentient Ewok species of the moon Endor used drums covered in animal skins and played them to celebrate the destruction of the second Death Star after the Battle of Endor. Hey, Peaks & Pints marches to the beat of our own drum. Just drink the cider. Cheers!
---