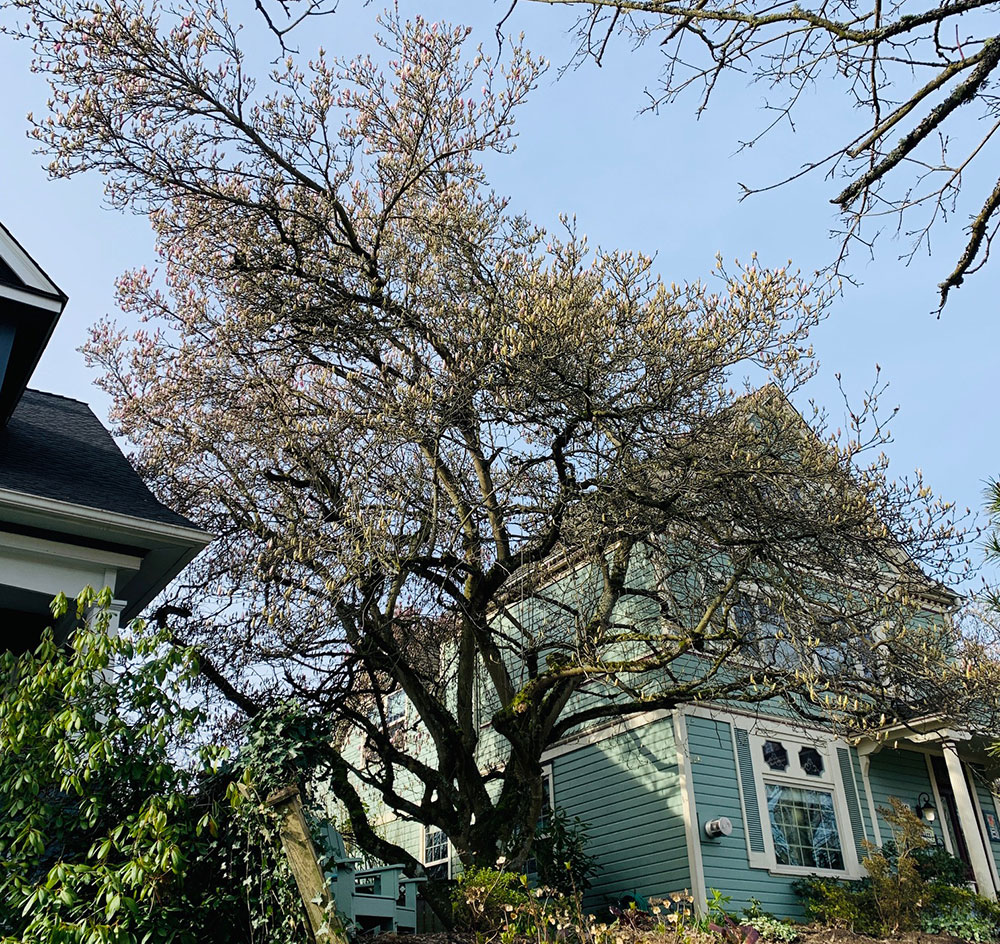 Tree-dimensional Tacoma: Magnolias
"When times are challenging, I look to trees to ground me," says Sarah Low, executive director of the Tacoma Tree Foundation. "Just walking around and looking at near-by trees, examining how they are changing or how the wind blows the branches side to side makes life feel more manageable. During one of my recent walks, I noticed this lovely magnolia on Yakima Avenue near North Third Street in the Stadium District. Magnolias have exceptional qualities: big flowers that are early to bloom, big buds that are soft to the touch, a sweet fragrance that stops you in your path, and big glossy leaves. Despite all those big, sensational characteristics, they are often on the shorter side — though not always, so you should check the label if you are purchasing one."
Magnolia is a large genus of about 210 flowering plant species in the subfamily Magnolioideae of the family Magnoliaceae, as well as this week's Tree-dimensional Tacoma, Peaks & Pints' weekly Tacoma tree column. Inspired by our house beer, Kulshan Brewing Tree-dimensional IPA, Peaks & Pints branches out for a weekly look at terrific trees of Tacoma, in conjunction with our friends at Tacoma Tree Foundation.
"There are many species and cultivars of magnolias and more cultivars being developed all the time," adds Low. "Around here, you will mostly see kobus magnolia, saucer magnolia, sweetbay magnolia, star magnolia, loebner bagnolia such as 'ballerina,' which is as cute as a row of 6 year olds doing pirouettes, and Southern magnolia, which can be picked out of crowd in the winter because of its shiny evergreen leaves."
Magnolia is named after French botanist Pierre Magnol. It's is an ancient genus. Appearing before bees did, the flowers are theorized to have evolved to encourage pollination by wingless beetles.
"Take a walk and check out the magnolia on Yakima Avenue, or really any tree will do," continues Low. Notice its shape, its buds or emerging flowers, its leaves or needles if they are present. Take a deep breath in as if you can bring all the beauty and stability of that tree into your own body. And do it again tomorrow."
After checking out the magnolia in the Stadium District, fill a growler of Tree-dimensional IPA (6.8%) at Peaks & Pints. Kulshan Brewing collaborated with the Tacoma craft beer lodge on their house beer. Paying homage to the outdoor enthusiasts who join Peaks daily in Tacoma's Proctor District, Tree-dimensional IPA is the perfect beer to toast the powder, currents or trails, as well as reveal the sprains. Tree-dimensional IPA, or Tree-D, continues Peaks & Pints' love affair with old school piney IPAs, this time brewed with Simcoe, Idaho 7, CTZ, Centennial, and whole leaf Cascade in the hop back for all the pine, a little citrus, with a creamy mouthfeel and bitter finish. The Tree-D is in cans, too!
Tacoma Tree Foundation is dedicated to educating, empowering, and supporting community members in neighborhood-based greening. In other words, the Tacoma organization strives for a greener, healthier, more connected Tacoma — which plants well with Peaks and Pints. We will host TTF fundraisers during Tree-dimensional IPA's reign as our house beer, which pours through October 2020.
LINK: Kulshan brews Peaks and Pints Tree-dimensional IPA
LINK: Tree-dimensional Tacoma: Sugar Maple
LINK: Tree-dimensional Tacoma: Tulip Poplar
LINK: Tree-dimensional Tacoma: Giant Sequoia
LINK: Tree-dimensional Tacoma: Pin Oak
LINK: Tree-dimensional Tacoma: Douglas Fir
LINK: Tree-dimensional Tacoma: Incense Cedar
LINK: Tree-dimensional Tacoma: Plume Sawara Cypress
LINK: Tree-dimensional Tacoma: Western Red Cedar
LINK: Tree-dimensional Tacoma: Ponderosa lemon hybrid
LINK: Tree-dimensional Tacoma: London planetrees
LINK: Tree-dimensional Tacoma: "Vanderwolf's Pyramid" limber pine
LINK: Tree-dimensional Tacoma: Pacific Madrone
LINK: Tree-dimensional Tacoma: Bradford callery pear
LINK: Tree-dimensional Tacoma: Birth Trees
LINK: Tree-dimensional Tacoma: Red Maple
---