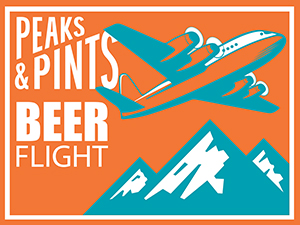 Everybody, at some time or another, wants to escape from reality to a carefree paradise. For many Americans, Hawaii has served as the escape destination of choice, even if it's just a fantasy. It's been that way for over a century now, ever since the Hawaiian Islands were made a part of the United States. For those dreamers who never made the actual trip, there have repeatedly been times when the craze for things Hawaiian brought a little piece of paradise home to Anytown, USA, including Escondido, California, where Stone Brewing will host a luau centered around their Tiki Escape IPA Mixed Pack. The summer mix pack celebrates the brewery's love for tropical beers. It was also the perfect opportunity to work with the ridiculously talented SoCal artist Mcbiff whom created the tiki-themed box art. The beer lineup includes Tikiphile favorite Stone Scorpion Bowl IPA, the new Stone Tiki Escape IPA, plus Tangerine Express IPA and Buenaveza Salt & Lime Lager. Today, Peaks & Pints' to-go beer flight is the Tiki Escape IPA Mixed Pack, a flight that we call Peaks and Pints Pilot Program: Stone Tiki On the Fly. Aloha!
Peaks and Pints Pilot Program: Stone Tiki On the Fly
Stone Buenaveza Salt & Lime Lager
4.7% ABV
As you know from the Tournament of Beer: West Coast Flagships, Stone was founded in San Diego County, just minutes from the border. Their southern neighbor has inspired this lager brewed with salt and lime. Sweet white bread starts off the nose coupled with mild lime zest. It's an inviting, softer aroma with freshly-cut grass, zesty citrus peel, and fleeting maltiness. Has a similar flavor profile, with some bready malts, some nice lime hints, a bit of salt, and some floral hops for a bit of bitterness.
Stone Tangerine Express IPA
6.7% ABV, 75 IBU
Stone's Tangerine Express IPA blazes forward with whole tangerine and pineapple for big, bold and not for kids craft beer. It's really hoppy but at the same time has incredible fruit flavor, which was achieved by using high-quality, whole fruit. Stone's brewers use whole tangerine puree to capture the essence of the bright flavors of the fruit with the addition of whole pineapple for a subtle, yet lingering back note. Neither the hops nor the fruit dominate, yet together they create several complex fruit layers, which can only be achieved by brewing with the entire fruit. Eight different hops give this beer its marked dankness overtones and refreshing bitterness.
Stone Scorpion Bowl IPA
7.5% ABV, 76 IBU
Stone's IPA version of a Scorpion Bowl cocktail is a brash, Mosaic, Loral and Mandarina Bavaria hop-forward ale that hinges on an assault of fruit that is so bold it borders on being electric. There's a wee bit of pineapple, Mandarin orange and mango in the middle of the sip — and all the passionfruit — but all of the fun stuff happens in your mouth after the Scorpion disappears. That's when an intense, tart fruitiness takes over, like you're sucking on one of those sour candies. The finish is dry at first, but then your mouth starts to water again and that fruitiness comes back with a vengeance.
Stone Tiki Escape IPA
7.7% ABV, 80 IBU
Based on the name, it's fair to assume this beer is loaded with exotic tropical fruits, right? Yes, and no. While this beer is not a fruit-added IPA, hops can achieve sublime levels of fruity flavor and aroma all on their own. This beer combines the tropical, complex and much-loved Mosaic hops with an intriguing newcomer, Sabro, and its notes of stone fruit and coconut. It' sweet, tropical and hoppy.
---