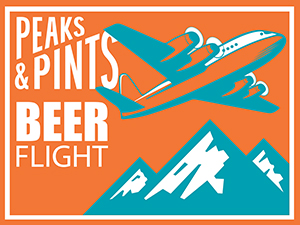 On this date in music history, 1973: George Harrison's album Living in the Material World became the new #1, taking the place of Red Rose Speedway from Paul McCartney & Wings. Houses of the Holy by Led Zeppelin was #3 with There Goes Rhymin' Simon from Paul Simon fourth. The rest of the Top 10: The Beatles 1967-1970 (The Blue Album) was #5, Diamond Girl from Seals & Crofts was at 6, Pink Floyd's The Dark Side of the Moon was in its 15th week on the chart, Made in Japan by Deep Purple was #8, They Only Come Out At Night by the Edgar Winter Group was #9 and Call Me from Al Green was #10. June 23, 1973 was an excellent day to have the radio on. In celebration, Peaks & Pints presents a flight of music-themed beers that we call Peaks and Pints Pilot Program: Music Beers On the Fly.
Peaks and Pints Pilot Program: Music Beers On the Fly
Brothers Cascadia Giygas Pale Ale With Peaches
5.5% ABV
"In collaboration with Catalinbread Mechanisms of Music, we have crafted this beer to pair with their new "Giygas" guitar pedal," states Brothers Cascadia Brewing hype. "A groundbreaking new fuzz pedal that is as versatile as it is awesome!" Brewed with Mandarina Bavaria, Sabro, and Mosaic Cryo, Giygas Pale Ale With Peaches rocks for a hazy, hoppy pale with a hint of peach without being too fruity or sweet.
Singing Hops Masked Singers IPA
5.9% ABV
Tim Henderson was the big voice on campus at Eastern Washington University. Naturally, he named his Tumwater nano-brewery Singing Hops because, "Everything sings and when you find balance in flavor. …" according to the brewery's Facebook page. His 3-barrel system next to his Tumwater house is the stage for another one of his popular milkshake IPA, Masked Singers IPA. This milkshake IPA is loaded with El Dorado hops, aged it with apricot and peach purées, plus lactose for a creamy fruit flavors.
Fremont Disco Wolf DIPA
8% ABV
Disco isn't dead and never has been — not even the mass psychosis evinced during the grotesque spectacle known as "Disco Demolition Night," held in Chicago's Comiskey Park in the summer of 1979, could snuff the music out. Fremont Brewing certainly doesn't believe disco is dead. The Seattle brewery just added a disco hazy double IPA to its year-round offerings, Disco Wolf DIPA. This fruit-forward IPA is brewed with malted oats, white wheat and dextrose with Strata, Idaho 7 cryo and Citra cryo hops for tropical fruit flavors strutting down the street to the percussion of "Stayin' Alive."
StormBreaker Harmonica Solo
6.5% ABV, 70 IBU
In late 2014, Rob Lutz and Dan Malech opened StormBreaker Brewing in Amnesia Brewing's former spot on Mississippi Avenue in North Portland. Their creative beer lineup earned awards. The duo opened a second spot in Portland's St. John neighborhood, as well as expanded their Mississippi location, adding an axe-throwing platform. Their hazy IPA Harmonica Solo starts in the key of C, followed by repeating triple licks of Citra, Mosaic, and Strata that blend together into a smooth elegance. It is as if Sonny Boy Williamson himself collaborated with our hop back.
---