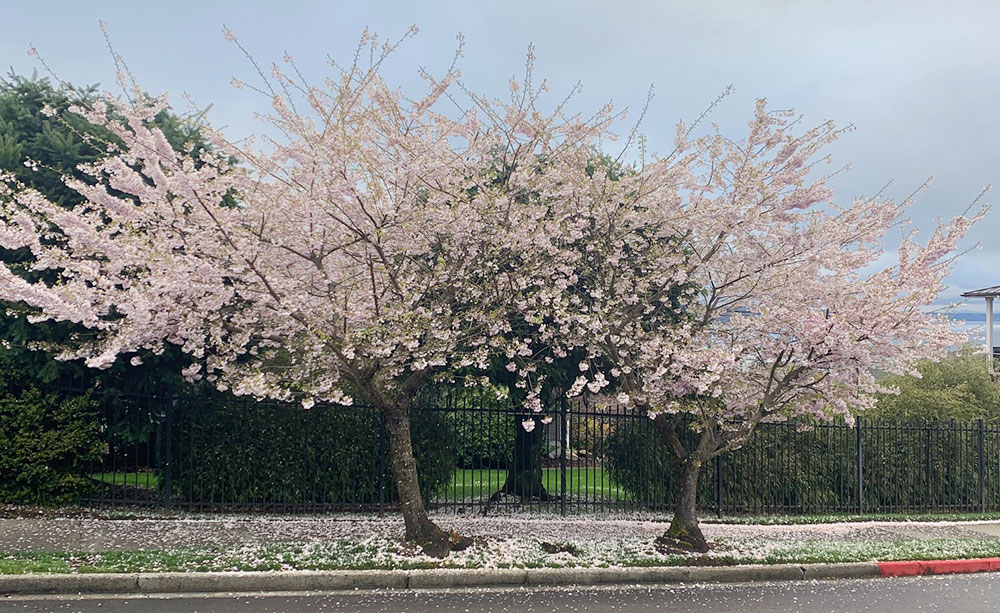 Tree-dimensional Tacoma: Yoshino Cherry Tree
"Some days are easier than others, but if you happen upon a Japanese flowering cherry, it always promises to lift your spirits, especially this time of year when they are in full bloom," says Sarah Low, executive director at the Tacoma Tree Foundation. "There are some great examples throughout the city, but I was particularly taken aback by a pair of Yoshino cherries on N Court near Baltimore Street in Ruston."
Prunus x yedoensis, the Yoshino cherry, is highly celebrated for its thousands of showy, almond-scented blossoms, so let's make it this week's Tree-dimensional Tacoma, Peaks & Pints' weekly Tacoma tree column. Inspired by our house beer, Kulshan Brewing Tree-dimensional IPA, Peaks & Pints branches out for a weekly look at terrific trees of Tacoma, in conjunction with our friends at Tacoma Tree Foundation.
"Japanese flowering cherries only bloom for a short time in the spring," continue Low. "They can be confused with flowering plums and apples, but the bark of cherries has distinct horizontal lenticels — porous tissue that looks like a raised line — on the bark. The flowers are delicate and the first strong wind can take the blossoms down creating a beautiful snow flurry of petals. These trees are a great metaphor for life, and their ephemeral nature is a reminder that all things pass, the beautiful and the difficult."
After checking out the Yoshino cherry trees in Ruston, fill a growler of Tree-dimensional IPA (6.8%) at Peaks & Pints. Kulshan Brewing collaborated with the Tacoma craft beer lodge on their house beer. Paying homage to the outdoor enthusiasts who join Peaks daily in Tacoma's Proctor District, Tree-dimensional IPA is the perfect beer to toast the powder, currents or trails, as well as reveal the sprains. Tree-dimensional IPA, or Tree-D, continues Peaks & Pints' love affair with old school piney IPAs, this time brewed with Simcoe, Idaho 7, CTZ, Centennial, and whole leaf Cascade in the hop back for all the pine, a little citrus, with a creamy mouthfeel and bitter finish. The Tree-D is in cans, too!
Tacoma Tree Foundation is dedicated to educating, empowering, and supporting community members in neighborhood-based greening. In other words, the Tacoma organization strives for a greener, healthier, more connected Tacoma — which plants well with Peaks and Pints. We will host TTF fundraisers during Tree-dimensional IPA's reign as our house beer, which pours through October 2020.
LINK: Kulshan brews Peaks and Pints Tree-dimensional IPA
LINK: Tree-dimensional Tacoma: Sugar Maple
LINK: Tree-dimensional Tacoma: Tulip Poplar
LINK: Tree-dimensional Tacoma: Giant Sequoia
LINK: Tree-dimensional Tacoma: Pin Oak
LINK: Tree-dimensional Tacoma: Douglas Fir
LINK: Tree-dimensional Tacoma: Incense Cedar
LINK: Tree-dimensional Tacoma: Plume Sawara Cypress
LINK: Tree-dimensional Tacoma: Western Red Cedar
LINK: Tree-dimensional Tacoma: Ponderosa lemon hybrid
LINK: Tree-dimensional Tacoma: London planetrees
LINK: Tree-dimensional Tacoma: "Vanderwolf's Pyramid" limber pine
LINK: Tree-dimensional Tacoma: Pacific Madrone
LINK: Tree-dimensional Tacoma: Bradford callery pear
LINK: Tree-dimensional Tacoma: Birth Trees
LINK: Tree-dimensional Tacoma: Red Maple
LINK: Tree-dimensional Tacoma: Magnolias
LINK: Tree-dimensional Tacoma: Western Hemlock
---