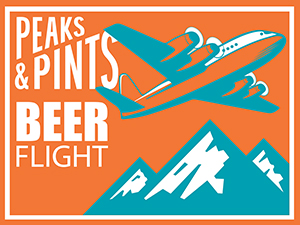 Consider the lowly peanut butter and jelly sandwich. Rich, salty peanuts complemented by sugary-sweet fruit — it's the first introduction most of us have to the culinary wizardry that is an inspired sweet and savory pairing. Way more than the sum of its parts, each side intensifying the other. Today is National Peanut Butter and Jelly Day. You can spend the day slathering the duo between white bread — or go for something a bit more quirky. Peanut butter and jelly has grown out of its childhood classic iteration into some "adult" drinks at Peaks & Pints craft beer bar, bottle shop and restaurant in Tacoma's Proctor District. Today is National Peanut Butter and Jelly Day. Stop by for two liquid peanut butter and jelly sandwiches with our to-go flight of bottle and cans of craft beer that tastes like, well, peanut butter and jelly. It's peanut butter jelly time with Peaks & Pints Pilot Program: PB&J On The Fly.
Peaks & Pints Pilot Program: PB&J On The Fly
Aslan Blueberry Dojo
6.2% ABV, 15 IBU
BLUEBERRY JELLY: Aslan Brewing brewed this saison style ale with a variety of malted barley, raw wheat and oats, and lightly hopped with unique Malling hops from Austria. They gathered 600 pounds of organic heirloom blueberries from Bow Hill Farms, macerated them, and introduced to the beer in two, 400 liter oak puncheons. A long rest on the fruit produces tons of tart blueberry flavor with a little sweetness.
Top Rung Peanut Butter Brown Porter
6% ABV, 25 IBU
PEANUT BUTTER: Top Rung Brewing Company recently released their Peanut Butter Brown Porter with peanut butter balancing toasty malts, plus dry undertones of dark chocolate and toast balance out the sweetness in this English-style porter.
Silver City Plump Bastard
9.9% ABV. 30 IBU
PLUM JELLY: Silver City Brewery grabbed their Magnificent Bastard Scotch Ale and aged it in red wine barrels for more than a year with souring agents, Lactobacillus and Brettanomyces, and then finished it on fresh plums. IT pours a deep, dark amber with a small beige head. Aroma brings out tart plums, with a bit of oak. Flavor is along the same lines for a delightfully jammy, robust, sweet and sour experience.
Belching Beaver Peanut Butter Milk Stout
5.3% ABV, 30 IBU
PEANUT BUTTER: This San Diego-brewed, 2014 World Beer Championships silver medalist Belching Beaver milk stout hits a nostalgic note: Peaks and Pints remembers how good a creamy peanut butter sandwich tastes with a glass of milk. That same luscious, nutty peanut butter flavor flows alongside coffee creamer richness; slight coffee roast and peanut butter on our noses before a lightly roasted, bitter finish.
---