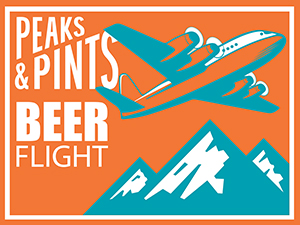 Sours have become popular in recent years, with profiles that feature sour, acidic and tart flavors. Sometimes when wild yeasts are used, these beers take on an earthy mustiness referred to as funk. They are a broad category of beers that cover a range of styles, colors and strengths. When a brewer adds fruit it's usually in an effort to soften and/or complement the sour and tart character. Today, Peaks and Pints offers a to-go flight of five bottled or canned fruited sours that we Peaks and Pints Pilot Program: Fruited Sours On The Fly.
Peaks and Pints Pilot Program: Fruited Sours On The Fly
Urban Family Mind Transferral
6% ABV
Urban Family Brewing collaborated with Trap Door Brewing to create this sour IPA brewed with Nelson Sauvin, Vic Secret and Sabro hops — three hops that bring the tropics to the nose and tongue. Then, the two breweries dump a bunch of pineapple and passionfruit into the mix for a super juicy and super tropical party.
The Bruery Terreux Frucht: Pineapple, Dragon Fruit and Prickly Pear
4.5% ABV
Founded in 2008 by Patrick Rue, The Bruery began when Rue, a recent law school graduate and homebrewer, figured out that he loved the hobby so much, he'd start a brewery instead of studying for the Bar. Later, in 2015, Rue launched Bruery Terreux — loosely translated as "Earthy Brewery" — as a dedicated space to provide the freedom (and bacteria) to get weird with wild and sour ales. One of Rue's oak foeders is dedicated exclusively to Frucht, his series of fruited Berliner weisse-style beers. This tropical installment has pineapple, dragon fruit, and prickly pear added.
Logsdon Eagle Kriek
7% ABV
Logsdon Farmhouse Ales bottled their Eagle Kriek Blended Sour Ale with Cherries. It's a blend of two-year old sour quad aged in bourbon casks on cherries, one-year old Flanders red aged in French oak on cherries, and fresh blonde farmhouse ale. Expect a complex and lightly sour with pleasant tart cherry aromas and flavors, as well as earthy Brettanomyces and oak characteristics.
Cascade Pear Mary
7.1% ABV
Cascade Brewing and Barrel House's Pear Mary features a blend of sour blond ales aged in oak wine barrels then naturally fermented with juice from Northwest-grown pears and infused with fresh rosemary. Aged for up to 18 months, this refreshing herbal beer offers notes of fresh pear, pine and ginger with a balanced acidity, soft fruit sweetness and champagne-like effervescence.
Nightmare Gunga Rao Sour IPA
8.3% ABV
Alexander The Great has a fondness for elephants with blades strapped to their feet, which would viciously crush foes, a technique known as Gunga Rao. Nightmare Brewing has a fondness for exotic ingredients, which is such the case with their sour IPA, Gunga Rao. Soured on pineapple and coconut, the IPA is also brewed with Moroccan mint, and a hop blend of Sabro, Kohatu and Cashmere. It result crushes with the taste of a hoppy, tropical, fruit-forward gose.
---