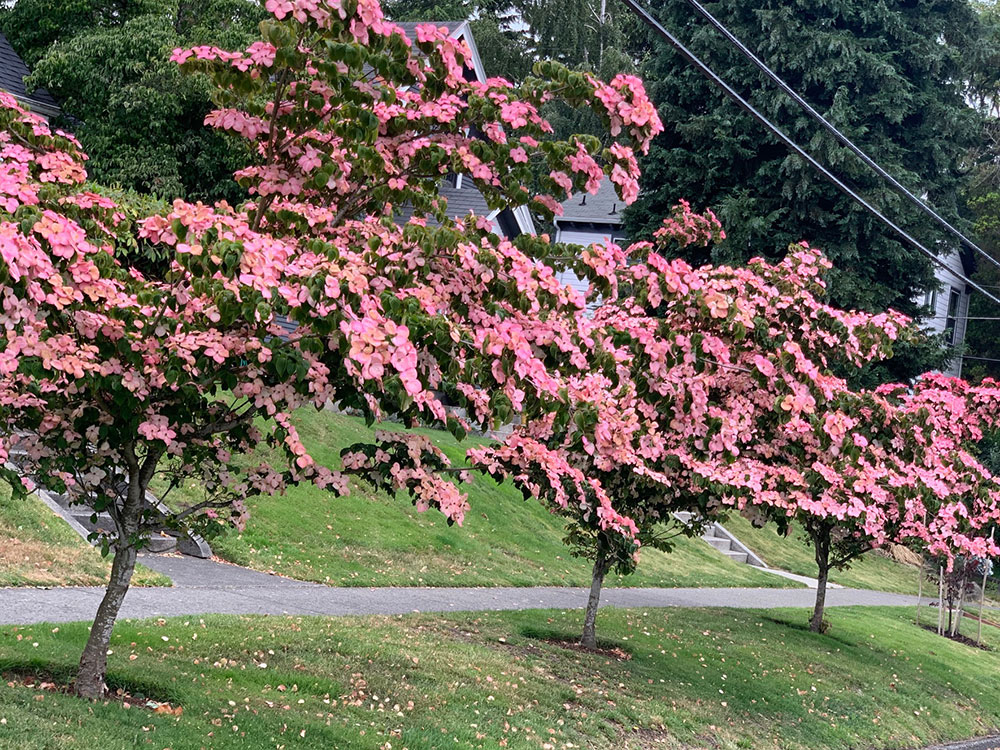 Tree-dimensional Tacoma: Kousa Dogwood
"Next to the Puget Creek Natural Area, at the corner of Proctor Street and North 31st, stands a trio of stunning kousa dogwoods. You can't miss them. They're bold and bright pink, like you rarely see in dogwoods," explains Sarah Low, executive director of the Tacoma Tree Foundation.
These kousa dogwoods are this week's Tree-dimensional Tacoma, Peaks & Pints' weekly Tacoma tree column. Inspired by our house beer, Kulshan Brewing Tree-dimensional IPA, Peaks & Pints branches out for a weekly look at terrific trees of Tacoma, in conjunction with our friends at Tacoma Tree Foundation.
"Kousa dogwoods are reliable tree for the Tacoma area," Low continues. "Normally, they would not be recommended for use as a street tree, but in a wide right-a-way street such as this one on Proctor, the dogwoods have enough room to grow in their natural form of 20 feet or so across. I think this particular tree is Cornus kousa 'Scarlet fire' (or maybe 'Satomi'), which is known for its vibrant long-lasting pink color. While these trees will never be huge at 20-30 feet tall, they will, like all living trees, continue to grow.
"A fun fact about these three trees is that you can go on to Google maps and go back to the year they were planted and watch them grow over time. Growth can be an inspiring thing to observe and is even better to participate in."
Check out team kousa dogwood, and then head for a growler fill of Tree-dimensional IPA (6.8%) at Peaks & Pints. Kulshan Brewing collaborated with the Tacoma craft beer lodge on their house beer. Paying homage to the outdoor enthusiasts who join Peaks daily in Tacoma's Proctor District, Tree-dimensional IPA is the perfect beer to toast the powder, currents or trails, as well as reveal the sprains. Tree-dimensional IPA, or Tree-D, continues Peaks & Pints' love affair with old school piney IPAs, this time brewed with Simcoe, Idaho 7, CTZ, Centennial, and whole leaf Cascade in the hop back for all the pine, a little citrus, with a creamy mouthfeel and bitter finish.
Tacoma Tree Foundation is dedicated to educating, empowering, and supporting community members in neighborhood-based greening. In other words, the Tacoma organization strives for a greener, healthier, more connected Tacoma — which plants well with Peaks and Pints. We will host TTF fundraisers during Tree-dimensional IPA's reign as our house beer, which pours through October 2020.
LINK: Kulshan brews Peaks and Pints Tree-dimensional IPA
LINK: Tree-dimensional Tacoma: Sugar Maple
LINK: Tree-dimensional Tacoma: Tulip Poplar
LINK: Tree-dimensional Tacoma: Giant Sequoia
LINK: Tree-dimensional Tacoma: Pin Oak
LINK: Tree-dimensional Tacoma: Douglas Fir
LINK: Tree-dimensional Tacoma: Incense Cedar
LINK: Tree-dimensional Tacoma: Plume Sawara Cypress
LINK: Tree-dimensional Tacoma: Western Red Cedar
LINK: Tree-dimensional Tacoma: Ponderosa lemon hybrid
LINK: Tree-dimensional Tacoma: London planetrees
LINK: Tree-dimensional Tacoma: "Vanderwolf's Pyramid" limber pine
LINK: Tree-dimensional Tacoma: Pacific Madrone
LINK: Tree-dimensional Tacoma: Bradford callery pear
LINK: Tree-dimensional Tacoma: Birth Trees
LINK: Tree-dimensional Tacoma: Red Maple
LINK: Tree-dimensional Tacoma: Magnolias
LINK: Tree-dimensional Tacoma: Western Hemlock
LINK: Tree-dimensional Tacoma: Yoshino Cherry
LINK: Tree-dimensional Tacoma: Weeping Willow
LINK: Tree-dimensional Tacoma: Dunkeld Larch
LINK: Tree-dimensional Tacoma: Flowering Dogwood
LINK: Tree-dimensional Tacoma: Sequoiadendron Giganteum "Pendulum"
LINK: Tree-dimensional Tacoma: Cimmaron Ash
LINK: Tree-dimensional Tacoma: Scarlet Oak
LINK: Tree-dimensional Tacoma: Bigleaf Maple
LINK: Tree-dimensional Tacoma: Garry Oak and Chief Leschi
LINK: Tree-dimensional Tacoma: Northern Red Oak
---