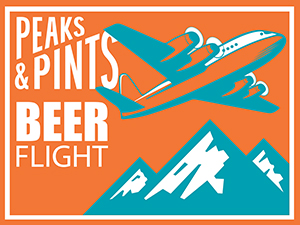 The world may be changing in unforeseeable ways, but at least one thing remains true: India Pale Ales still remains the king of American craft beer. According to a recent estimate from Dr. Bart Watson, chief economist of the Brewers Association, IPA accounts for roughly 35 to 40 percent of U.S. craft beer sales. Its popularity has sparked a sea of variations on the style over the years: New England-Style IPA, Double IPA, Triple IPA, Session IPA, Brut IPA, Lo-Cal IPA and so on. Today, Peaks & Pints presents a to-go flight of IPAs that have recently arrived to our cooler. Stop by for Peaks and Pints Pilot Program: New IPAs On The Fly and load up for the holiday weekend.
Peaks and Pints Pilot Program: New IPAs On The Fly
Varietal Wolf Factory V2
5.5% ABV
Varietal Beer Co.'s new series of hazy IPAs, Wolf Factory, are lower in ABV than their usual fare. The first can in the series is v2, with thick haze from Mecca Grade estate barley malts, LINC Malt wheat malt and spelt for body. This beer is heavily hopped with Golding Farm's Idaho Gem in the whirlpool and dry hop, as well asd Comet and Palisade. This makes
Hellbent 5th Anniversary IPA
6.6% ABV, 32 IBU
This year marks Hellbent Brewing's fifth year in business, and their beer to commemorate it is a big juicy hazy IPA with six different hop varieties focusing on the tropical, fruity, and citrus aromas from the hops. Brewed with North American 2-row malt, malted white wheat, torrefied corn, and rolled oats provides a hearty, yet mellow flavored base. The hops consisting of Azacca, El Dorado, Sabro, Simcoe, Strata, and Amarillo are added late in the brewing process harnessing their stone fruit, tropical and citrus flavors. Later the beer is heavily dry hopped with the same hops showcasing the tropical fruit flavors whilst contributing additional pine and floral characteristics.
Wander Las Vegas Sunset IPA
7% ABV
Roughly a 25-minute trip from the Las Vegas Strip, Lone Mountain regional Parl on the north-west side of town offers a view of the entire Vegas skyline. Walk past the equestrian training area — which on weeknights often has riders exercising their horses — and up the paved path; or challenge yourself with a moderate 2-mile hike to the top of Lone Mountain to overlook the city at sunset. Bring with you Wander Brewing's Las Vegas Sunset IPA, a blend of Citra, Motueka, Mosaic, and Strata hops for pine, malt, and sweet tropical notes when the sun will set at 8:02 p.m. in Las Vegas tonight.
Bale Breaker Clarity Rarity No. 2
7.2% ABV, 35 IBU
Bale Breaker's newest series, Clarity Rarity, is a line of staff-favorite small batch hazy IPAs that graduated from the Yakima brewery's Imagination Station small-batch system. Release No. 2 is a clarity rarity with juicy hop aromas: tangerine, lemon, and pineapple. It's a Bale Breaker staff favorite featuring experimental hop HBC 692.
---