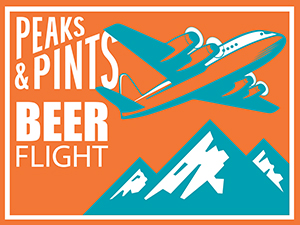 Polish your clogs, tighten your lederhosen, strap on your mask, and get ready to join the city of Tacoma six feet apart for Peaks and Pints: Behind Fresh Oktoberfest, a 30-day celebration of fresh hop and Oktoberfest beers on tap and in the cooler for fresh hometoberfests. Das right! The pandemic changed our fourth annual mesh-up of fresh hop beers and Oktoberfest biers — from a giant hall party to a crowler-and-can lederhomestead. Through Sept. 30, Peaks & Pints will offer bright, fresh-hop beers AND clean, hearty Oktoberfest-style lagers on tap and in the cooler. We kick off the month with Two Beers Fresh Hop, Ayinger Oktober Fest-Märzen, and Pelican Brewing Bronze God on draft, plus other Oktoberfest biers in our cooler. Today, let's feature the Oktoberfest biers with our to-go flight, Peaks and Pints: Behind Fresh Oktoberfest: Lagers.
Peaks and Pints: Behind Fresh Oktoberfest: Lagers
Ayinger Oktober Fest-Märzen
5.8% ABV, 25 IBU, Draft
Sweet and grainy on the nose — think of fresh bread baked with honey and raisin — Ayinger Oktober Fest-Märzen features a pronounced sweetness of caramel and caramelized pumpkin on the palate. Hearty, and even a bit creamy as it warms, Oktober Fest-Märzen features a touch of bitter hops and fresh straw upfront before veering into a long malty finish. However, the beer dries out nicely to avoid a sticky or cloying aftertaste. This beer pairs beautifully with our pretzel bread sticks and side of beer mustard. Gemütlichkeit is, of course, free as always.
Pelican Bronze God
5.7% ABV, 25 IBU, draft
Pelican Brewing's Bronze God was born in the homebrew kitchen of Head Brewer Jason Schlebach — and affectionately named in his honor. From the first batch made for his wedding — held in the Pelican Barrel Room like the authentic brewer he is — the delicious Oktoberfest lager features an abundance of rich, toasty, rounded malt flavors. With a vibrant copper-bronze color, this fest-style beer lures you in, while the clean finish, floral aroma, and moderate strength keep you coming back for another taste.
Sierra Nevada Oktoberfest 2020
6% ABV, Bottle
The pandemic prevented Sierra Nevada from traveling to Germany and brewing their annual Oktoberfest collaboration. Instead, the Chico, California brewery brewed their Oktoberfest 2020 in their state-of-the-art brewhouse with Two-row Pale, Munich and Vienna malts, Spalter and Spalter Select hops, and Lager yeast. Enjoy notes of fresh bread and floral, fruity character in this balanced, crisp lager.
Bitburger Festbier
6.2% ABV, bottle
Bitburger's leading brewmaster, Stefan Meyna, Ph.D., developed a specialty beer for this season and created a tasty Festbier for the United States. Bitburger Festbier's malt composition includes Pilsner malt, Münchner malt and light Caramel malt, which accounts for its fine color and smooth body. Additionally, the beer is refined with Bitburger's proprietary and unique hop blend called 'Siegelhopfen' (seal hops), which is sourced from a farm just a few minutes from the brewery. This full-bodied beer sports a slightly sweet backbone, while finishing dry.
Hofbräu München Oktoberfestbier
6.3% ABV, 26 IBU, bottle
Wilhelm V, Duke of Bavaria wanted a wholesome brewery in Munich. The new brewery, Hofbräu München, lurched into action in 1592 in the city's old courts building with brewmaster of Geisenfeld Monastery, Heimeran Pongratz, to plan and supervise the construction of Hofbräuhaus (the "ducal brewery"), and to be its first master brewer. The only beer produced at that time at the company to be called Hofbräu was brown ale. While the brown ale was brewed with barley, the duke's successor to the dukedom, Maximilian I, preferred lighter wheat beers, and he promptly ordered the brewery to make them. By 1605, the facility was producing 38,000 gallons of beer per annum, and couldn't keep up with the demand. By 1607, a new, larger building had been constructed to house the brewing operations. By 1614, the brewery began making a darker, stronger beer called maibock. King Maximilian I Joseph of Bavaria spared no expense when his son Ludwig married his beloved Theresa of Saxony-Hildburghausen, and held a massive party for 40,000 guests on Oct. 17, 1810. Two years later, desirous of offering His Majesty a really special beverage, the Hofbräu brewers started to brew a beer specially for the festival with a deep golden color, stronger original wort and higher alcoholic content, Oktoberfestbier, using four types of hops that are grown in Hallertau, a central Bavarian region: the bitter Herkules and Magnum varieties, and the milder, aromatic varieties of Hallertauer Perle and Spalt Select. On the tongue, this marzen has buttered caramel, honey, red apples and toast on the front, while the back gains a floral noble hop bitterness.
---