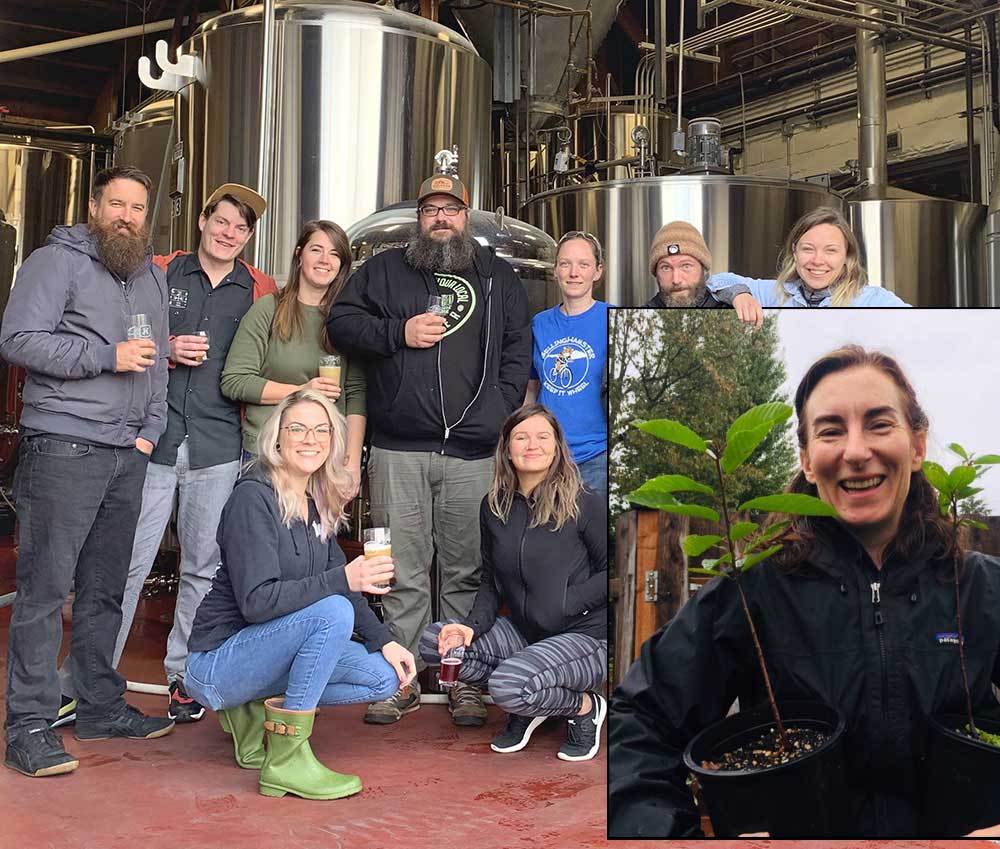 Tree-dimensional Tacoma: Cascara Farewell
The falling leaves are changing color. The trees are becoming bare. And, frankly, Peaks & Pints is melancholy. This time of year marks the end of our yearlong house beer. Like past years, we've had a blast with Kulshan Brewing and our Tree-dimensional IPA. This year, though, we must also say goodbye to Tacoma Tree Foundation Executive Director Sarah Low's weekly tree column. Inspired by our Tree-dimensional IPA, Low shined a spotlight on 34 different trees growing in Tacoma — 35 if you count this cascara tree post — describing their history and traits and how they related her emotions. It's going to be hard to leaf this column (tree pun!).
"Partnering with Peaks & Pints on these weekly tree posts has reminded me how much peace and serenity I get from paying deep attention to trees," says Low while holding two young cascaras ready to plant. "It's with so much gratitude to Peaks and Pints that I write this last post.
"Fall is for planting trees and in preparation we have been growing trees from seedlings all summer," she continues. "One of them is cascara, now Frangula purshiana (not to be confused with the cascara the skin of a coffee bean). This plant is known for its ability to aid in healing, particularly to cleanse the gut, so to speak. This Pacific Northwest native is a small tree with shiny, dark green leaves. It is hard to come by in nurseries but it is an adaptable tree that can thrive even as a street tree and is loved by songbirds.
"Covid-19 has required that we all shift and adapt in ways that we wouldn't have imagined a year ago, that we dig deep into our personal archives for the emotional resources that can help us thrive despite uncertainty.
"Be well, take care, and go outside."
Thank you Sarah!
Head to the Proctor District for a Campfire Crowler fill of Tree-dimensional IPA (6.8%) at Peaks & Pints. Kulshan Brewing collaborated with the Tacoma craft beer lodge on their house beer. Paying homage to the outdoor enthusiasts who join Peaks daily in Tacoma's Proctor District, Tree-dimensional IPA is the perfect beer to toast the powder, currents or trails, as well as reveal the sprains. Tree-dimensional IPA, or Tree-D, continues Peaks & Pints' love affair with old school piney IPAs, this time brewed with Simcoe, Idaho 7, CTZ, Centennial, and whole leaf Cascade in the hop back for all the pine, a little citrus, with a creamy mouthfeel and bitter finish.
Tacoma Tree Foundation is dedicated to educating, empowering, and supporting community members in neighborhood-based greening. In other words, the Tacoma organization strives for a greener, healthier, more connected Tacoma — which plants well with Peaks and Pints.
LINK: Kulshan brews Peaks and Pints Tree-dimensional IPA
LINK: Tree-dimensional Tacoma: Sugar Maple
LINK: Tree-dimensional Tacoma: Tulip Poplar
LINK: Tree-dimensional Tacoma: Giant Sequoia
LINK: Tree-dimensional Tacoma: Pin Oak
LINK: Tree-dimensional Tacoma: Douglas Fir
LINK: Tree-dimensional Tacoma: Incense Cedar
LINK: Tree-dimensional Tacoma: Plume Sawara Cypress
LINK: Tree-dimensional Tacoma: Western Red Cedar
LINK: Tree-dimensional Tacoma: Ponderosa lemon hybrid
LINK: Tree-dimensional Tacoma: London planetrees
LINK: Tree-dimensional Tacoma: "Vanderwolf's Pyramid" limber pine
LINK: Tree-dimensional Tacoma: Pacific Madrone
LINK: Tree-dimensional Tacoma: Bradford callery pear
LINK: Tree-dimensional Tacoma: Birth Trees
LINK: Tree-dimensional Tacoma: Red Maple
LINK: Tree-dimensional Tacoma: Magnolias
LINK: Tree-dimensional Tacoma: Western Hemlock
LINK: Tree-dimensional Tacoma: Yoshino Cherry
LINK: Tree-dimensional Tacoma: Weeping Willow
LINK: Tree-dimensional Tacoma: Dunkeld Larch
LINK: Tree-dimensional Tacoma: Flowering Dogwood
LINK: Tree-dimensional Tacoma: Sequoiadendron Giganteum "Pendulum"
LINK: Tree-dimensional Tacoma: Cimmaron Ash
LINK: Tree-dimensional Tacoma: Scarlet Oak
LINK: Tree-dimensional Tacoma: Bigleaf Maple
LINK: Tree-dimensional Tacoma: Garry Oak and Chief Leschi
LINK: Tree-dimensional Tacoma: Northern Red Oak
LINK: Tree-dimensional Tacoma: Kousa Dogwood
LINK: Tree-dimensional Tacoma: Austrian Pine
LINK: Tree-dimensional Tacoma: Cedar of Lebanon
LINK: Tree-dimensional Tacoma: Copper Beech and Giant Sequoia
LINK: Tree-dimensional Tacoma: Deodar Cedar
LINK: Tree-dimensional Tacoma: Southern Magnolia
LINK: Tree-dimensional Tacoma: Red Oak
---