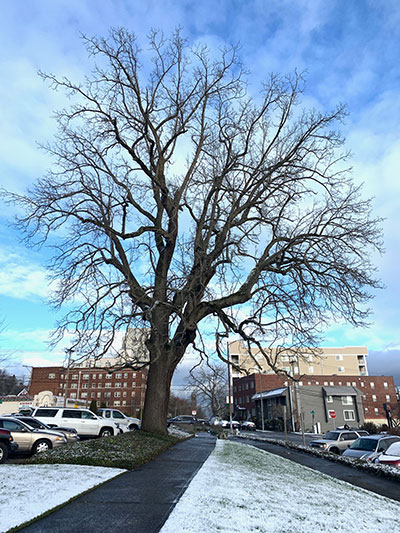 Tree-dimensional Tacoma: Black Walnut
"One day I was walking a bit slower than usual and as I waited to cross the street at the corner of South Fourth and Tacoma Avenue South, I looked up, like really looked, and this large black walnut was standing there," recounts Sarah Low, executive director of Tacoma Tree Foundation. "It is amazing how much there is to see when we slow down to look. Even during the winter without any leaves, the tree's broad canopy is impressive. This large shade tree, not only cools the area around it, it is also home to beneficial insects that support migrating songbirds."
Low speaks of juglans nigra, the eastern American black walnut, a species of deciduous tree in the walnut family, Juglandaceae, which fits Tree-dimensional Tacoma, Peaks & Pints' weekly Tacoma tree column. Inspired by our house beer, Kulshan Brewing Tree-dimensional IPA, Peaks & Pints branches out for a weekly look at terrific trees in Tacoma, in conjunction with our friends at Tacoma Tree Foundation. The TTF will be the guest speaker at Tacoma Green Drinks February 2020 gathering at 6 p.m. Thursday, Feb. 6 in Peaks & Pints' events room.
"There are not a lot of walnuts in Tacoma so I appreciate this tree," continues Low. "I would recommend visiting it periodically in the spring and early summer as well to see if you can spot some birds stopping by for a little caterpillar. While not often used in a managed landscape because of their rough bark and slow-to-emerge leaves, black walnuts are remarkable trees nonetheless. They are sometimes described as having a 'coarse habit,' but I like to think of them as having a lot of grit."
The black walnut is a large, upright tree that can grow 50 to 75 feet tall with a large canopy. It does best in full sun, but is often seen in wooded areas where it grows tall and devoid of low branches. They prefer moist, well-drained soil. The round green nuts ripen in September, fall to the ground and can be harvested throughout the fall.
After checking out the black walnut in Tacoma's Stadium District, enjoy a Tree-dimensional IPA (6.8%) at Peaks & Pints. Kulshan Brewing collaborated with the Tacoma craft beer lodge on their house beer. Paying homage to the outdoor enthusiasts who join Peaks daily in Tacoma's Proctor District, Tree-dimensional IPA is the perfect beer to toast the powder, currents or trails, as well as reveal the sprains. Tree-dimensional IPA, or Tree-D, continues Peaks & Pints' love affair with old school piney IPAs, this time brewed with Simcoe, Idaho 7, CTZ, Centennial, and whole leaf Cascade in the hop back for all the pine, a little citrus, with a creamy mouthfeel and bitter finish. The Tree-D is now in cans, too!
Tacoma Tree Foundation is dedicated to educating, empowering, and supporting community members in neighborhood-based greening. In other words, the Tacoma organization strives for a greener, healthier, more connected Tacoma — which plants well with Peaks and Pints. We will host TTF fundraisers during Tree-dimensional IPA's reign as our house beer, which pours through October 2020.
LINK: Kulshan brews Peaks and Pints Tree-dimensional IPA
LINK: Tree-dimensional Tacoma: Sugar Maple
LINK: Tree-dimensional Tacoma: Tulip Poplar
LINK: Tree-dimensional Tacoma: Giant Sequoia
LINK: Tree-dimensional Tacoma: Pin Oak
LINK: Tree-dimensional Tacoma: Douglas Fir
LINK: Tree-dimensional Tacoma: Incense Cedar
LINK: Tree-dimensional Tacoma: Plume Sawara Cypress
LINK: Tree-dimensional Tacoma: Western Red Cedar
LINK: Tree-dimensional Tacoma: Ponderosa lemon hybrid
---