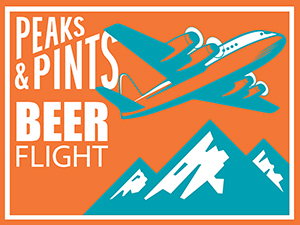 The last storm that hit the Cascade Mountains brought 51 new inches to Crystal Mountain. Another strong Pacific storm will bring additional heavy mountain snow with strong winds to the West today and tomorrow. You're going to be exhausted after a full day of swooshing down the powder. You're going to be wet from sweat and melted snow. You're going to be numb by subfreezing temperatures and high prices. You're going to be stiff because of sore muscles and chunky boots. You're going to need a craft beer. The French call it "apres-ski," which translates roughly to "after you've paid $100 for a lift ticket." In some ways it's no different from any happy hour, but the alpine setting and shared sense of having just surfed down a snowy mountainside create an atmosphere not found inside most bars — except Peaks and Pints. Our 3,600 square foot joint looks like Paul Bunyan's vacation home. Our mountain feel (original wood-slat floors, reclaimed wood bar and tall tree), stone fireplace room, mountain artifacts, and expansive bar seating make it a comfortable stop for everyone from ski suits to power suits. Shed the snow gear, grab Peaks and Pints' beer flight — Craft Beer Crosscut 1.15.20: Flight For Apres-ski — and tell the tales next to our fireplace. Cheers!
Craft Beer Crosscut 1.15.20: Flight For Apres-ski 
Snowdrift Cornice
7.8% ABV
It's obvious why we included this cider on a beer flight. Chug this 5-ounce pour if a cornice fell on you today! Snowdrift Cider Company sits in Central Washington near East Wenatchee. The cidery controls its own source of apples, tending an orchard that not only produces dessert apples, but also an array of traditional cider apples including Dabinett, Foxwhelp, Golden Russet, Brown's, Wickson Crab, Calville Blanc d'Hiver, Yarlington Mill and Ashmead's Kernel. Snowdrift made an off-dry cider then aged it in brandy barrels for bright lime notes, smooth apple and subtle honey, plus vanilla/brandy/caramel character from the barrels.
Sierra Nevada Skiesta
5.2% ABV, 18 IBU
It was after a powder day in Taos, New Mexico, when Sierra Nevada Brewing first experienced Skiesta. The tales were tall, the beer was cold, and the sunburned smiles stretched wider than the Rio Grande. Brewed for perfect days and storied nights, this crisp lager — with its flavorful European malts and kiss of American hops — promises an easy-drinking finish that's just right for après-ski or après-just-about-anything.
Dru Bru Bruski Patrol
4.8% ABV, 26 IBU
Of course Dru Bru brewed a beer paying homage to the ski patrol — the brewery sits at the base of The Summit at Snoqualmie ski area, which had an additional 7 inches of snow over the past 24 hours. Sit on a snow picnic table outside the brewery and enjoy this German dark lager with layers of toast, chocolate, and dark caramel malt flavors. A touch of German-grown hops provides herbal and spicy notes to create this easy-drinking dark lager inspired by a Munich-style dunkel.
Crux Mountain Traffic
7.8% ABV, 60 IBU
After a fun day in the mountains, nothing sounds more satisfying than sharing a refreshing pint. And while that long line of brake lights heading back into town may slow your journey toward fulfillment, Crux Fermentation Project's hoppy and malt-forward Mountain Traffic red ale is well worth the wait — robust and bursting with rich, hop flavors and a balanced malt body this easy-drinking, apres-whatever winter refresher will have you seeing a different shade of red.
Everybody's Foggy Goggles Hazy IPA
6.9% ABV, 35 IBU
Everybody's Brewing first released their new hazy IPA seasonal, Foggy Goggles, in November 2018, for the opening of Mount Hood Meadows ski season. The name and branding were specifically chosen for Meadows, a ski resort that is a long time supporter of the White Salmon, Washington, brewery. Brewed with Galaxy, Simcoe, Azacca, and Ella hops, plus rolled oats, wheat and lactose for a balanced creamy body, this hazy has distinct flavors of orange sherbet and peaches, with a citrus, juicy aroma.
---