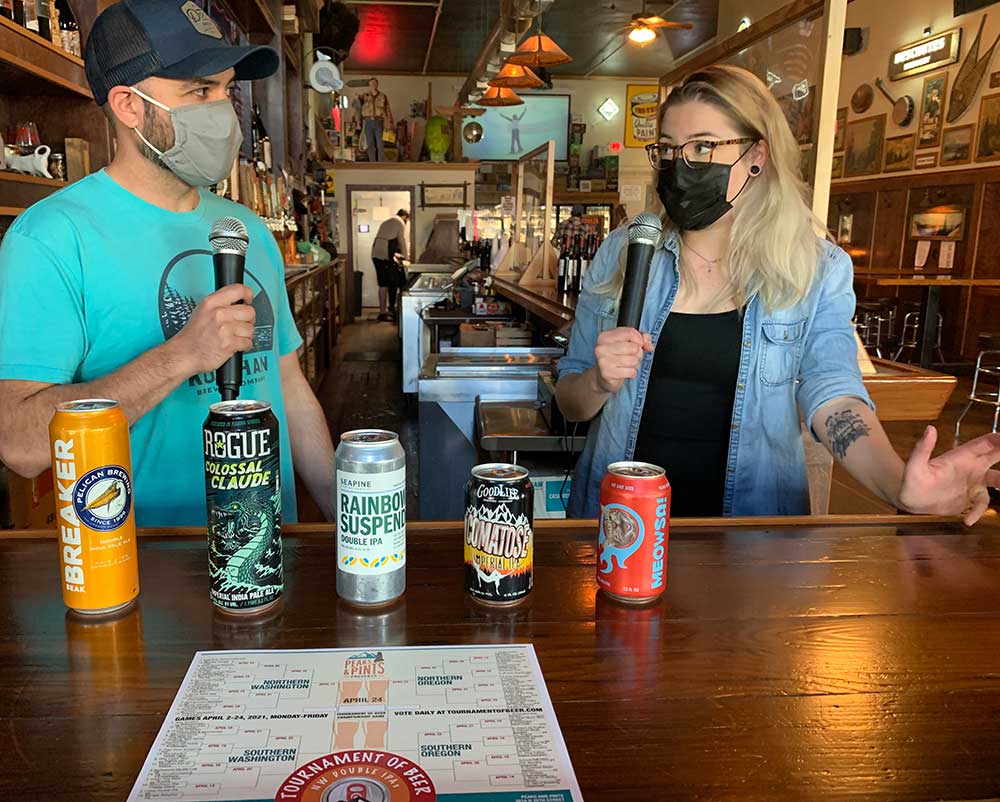 Peaks and Pints Tournament of Beer: NW Double IPAs April 9
NICOLE: Welcome to Day Six of Peaks and Pints Tournament of Beer: NW Double IPAs. I'm Peaks bartender Nicole, and four years ago we challenged 64 Washington state IPAs to enter tournament-style brewing combat, hop versus hop, with Rainy Daze Goat Boater crown best IPA. The next year, porters took center-stage in our quest for brewing badassery, with Wingman Brewers' P-51 Porter reigning supreme. In 2019, it was pilsner time baby, with Kulshan Brewing Pilsner grabbing all the water, grains, hops, and yeast. Last year, it was all about West Coast flagships, with Pelican Brewing Kiwanda Cream in Pacific City, Oregon, raising the victory flag. This year, the tradition continues. …
SHAYNE: Indeed, it does, Nicole. Hello everyone. I'm Peaks bartender Shayne. This year 64 double IPAs brewed in the Pacific Northwest were selected and seeded by the public throughout February, and will do battle until Saturday, April 24 when the final two double IPAs face off on our Western red cedar tap log. Use the bracket below, or stop by Peaks and grab the paper version, to guide you through the daily match-ups.
NICOLE: OK, let's take a look at yesterday's results and today's four games.
Thursday, April 8, First Round NW Double IPAs Games Results
GAME 1, SOUTHERN WASHINGTON REGION
Bale Breaker Bottomcutter (#1 seed) vs. Barrel Mountain Trail Builder (#16 seed)
NICOLE: Tournament of Beer officials called it. It wasn't a surprise when double IPA drinkers voted Bale Breaker Bottomcutter a number one seed. Bale Breaker isn't your typical brewery. It's an estate brewery in the middle of Yakima with their own homegrown grains and hops. While the tough as nails Barrel Mountain folks would prefer to ride their bikes over the Cascades to grab the hops, they must secure their hops just like everyone else. Did having their own hop farm help Bale Breaker to a 74 percent of the votes victory? Or was it Bottomcutter's pineapple and overripe tropical fruit flavors with pine, dankness, mango, honey, bready malt, and resiny bitter finish that secured the victory?
SHAYNE: Either way, Bottomcutter is headed to the Second Round!
GAME 2, SOUTHERN WASHINGTON REGION
Grains of Wrath Chainsaws & Boomsticks (#8 seed) vs. Narrows Come Play With Us (#9)
SHAYNE: Grains of Wrath was all the talk yesterday. A crazy man sliced a Grains of Wrath taproom table in half with a Samurai sword. Come to find out it was video shoot for longtime stoner rock band Red Fang. Check it out of Grains' Instagram.
NICOLE: The sword guy had a crazed look on his face haha. And Grains owner Mike Hunsaker's facial expression was priceless.
SHAYNE: The distraction allowed Narrows Brewing's Come Play With Us double IPA to take an early commanding lead, which they never let go thanks to outstanding performances from the beer's two "S" hops — Strata from Roy Farms and Southern Cross from Freestyle Hops. At the final buzzer, Come Play With Us had 55 percent of the votes and will meet Bale Breaker Bottomcutter in the Second Round.
GAME 3, NORTHERN OREGON REGION
Gigantic Ginormous (#6 seed) vs. Little Beast Dear Giant (#11 seed)
NICOLE: Fee-fi-fo-fum both my ears are a constant hum. You try sitting courtside while a Ginormous and a Dear Giant pound each other for almost eight hours. Holy hell!
SHAYNE: Haha I think Portland's constructional engineers will need to inspect all the city's bridges too. These two behemoths traded blows all day and night.
NICOLE: Good lord, well, Ginormous survived with 54 percent of the votes. I tell you, if Rogue's Colossal Claude meets Ginormous in the Final Four I'm calling in sick.
SHAYNE: That would be sick.
GAME 4, NORTHERN OREGON REGION
Fort George Skies of Wonder (#3 seed) vs. Double Mountain Molten Lava (#14 seed)
NICOLE: If there's one thing we've learned over the years, it's don't mess with Astoria. The northern Oregon sea town huddles around their own — more often than not with sleeves rolled up and a pipe dangling from their mouth. Astoria's Fort George Brewery grabbed a respectable 60 percent of the votes yesterday against the powerhouse that is Double Mountain Brewery of Hood River.
SHAYNE: That's Astoria. Skies of Wonder advances to the Second Round to take on Gigantic's Ginormous. The sea will be angry that day, my friends.
NICOLE: Let's weed through the hops. The following are advancing to the Second Round:
Bale Breaker Bottomcutter
Narrows Come Play With Us
Gigantic Ginormous
Fort George Skies of Wonder
SHAYNE: OK, Let's dive into today's First Round action featuring eight double IPA battles. Please vote for one beer per game. Voting for today's double IPA battles ends at 11:45 p.m. The winners will be announced tomorrow morning around 10 a.m., and the next round of eight beer battles will go down on Monday.
NICOLE: Ladies and gentlemen, please join in the singing of our national anthem.
NICOLE: Thank you Carrie Underwood! OK, let's get to voting!
Friday, April 9, First Round Northwest Double IPA Games
GAME 1, NORTHERN WASHINGTON
Player: Meowsa! (#7 seed)
Team: Georgetown Brewing, Seattle
NOTES: If you force fed a watermelon a steady diet of mandarin oranges and pineapples and then dropped said watermelon into a woodchipper, the resulting aromas and flavors would be the best way to describe MEOWSA!, the beer. As much as Meowsa, the Georgetown Brewing cat, dislikes the term "juicy," this DIPA is very juicy and has very little bitterness for the style.
Let's Break It Down: 8.1% ABV • 60 IBU • 2-row pale, flaked oats • Citra, Simcoe, El Dorado hops • Pair it with the Middle Fork Trail
SHAYNE: Georgetown Brewing was founded in 2002 by Manny Chao and Roger Bialous. Chao was one of the original employees of Mac & Jack's Brewing Co. Georgetown Brewing was originally located in a space at the historic Seattle Brewing and Malting Plant, where Rainier Beer was once produced. The company relocated to a larger Georgetown neighborhood space in 2008 to increase capacity, then went on to be the largest independent brewery in Washington state
NICOLE: Hold the cat phone! Georgetown has also been named the 28th largest brewery in the nation. Meowsa!
Player: The Hopsplainer (#10 seed)
Team: Burke-Gilman Brewing, Seattle
NOTES: In July 2018, childhood friends Kenneth Trease, Eric Lundquist, Corey Ovendale, and Ty Ovendale opened Burke-Gilman Brewing situated along the beloved Burke-Gilman Trail in the Laurelhurst neighborhood of Seattle. Although Trease and Ovendale were longtime homebrewers, they hired head brewer Phil Pesheck of Georgetown Brewing, Portland Brewing, Scuttlebutt Brewing and Mac and Jack's. While the Lycra crowd knew Burke-Gilman Brewing knew its way around hop bines, the awards arrived less than a year in business. The big one hit last year when The Hopsplainer grabbed gold at the Great American Beer Festival, and their fresh hop, Hopotheosis, was named the festival's Alpha King for its hoppiness. The Hopslpainer is a hazy double IPA with a big citrus nose followed by dankness, grapefruit and a nice balancing bitterness.
Let's Break It Down: 7.7% ABV • Citra, Mosaic, and Idaho 7
NICOLE: Pesheck will be competing against his old brewery today, which might offer an advantage.
SHAYNE: On your left!
SCROLL DOWN TO VOTE >>>>>>>>>>>>>>>>>>>>>>>>>>>>>>>>>>>>>>>>>>>>
GAME 2, NORTHERN WASHINGTON
Player: Double Crush (#2 seed)
Team: Reuben's Brews, Seattle
NOTES: Reuben's Brews' Crush Series is a series of juicy, fruity Northeast-style IPAs that the Seattle brewery launched in October 2016 with Cloud Crush, a soft, hazy, pillowy IPA brewed with Galaxy hops. Reuben's Brews co-founder Adam Robbings uses fruity Vermont yeast strains, which heighten hop haze and demand a body bolstered by oats and wheat to achieve balance. This yeast yields beers like the Double Crush, a brew that looks downright creamy in the glass and smells of ripe orchards: peaches, tangerines, mangos.
Let's Break It Down: 8% ABV • 60 IBU • Pilsner malt, Pale malt, wheat, oat • Citra and Sabro hops • 2019 United States Beer Tasting Championship Best of the Northwest and National Grand Champion • 2017 Sip Northwest Best of the Northwest Silver
SHAYNE: Reuben's is crushing it. At the 2020 Great American Beer Festival, Reuben's was awarded a Silver for Reuben's Crush in the highly competitive "Juicy or Hazy Strong Pale Ale" category.
NICOLE: I have a crush on Rueben's.
Player: Rainbow Suspenders (#15 seed)
Team: Seapine Brewing, Seattle
NOTES: Seapine Brewing owner/brewmaster Drew Colpitts studied brewing sciences at University of California Davis and spent time working for Gordon Biersch Brewery Restaurant, among other breweries, before opening Seapine Brewing in 2012. The Seattle Georgetown neighborhood brewery strapped on Rainbow Suspenders double IPA with tons of Mosaic hops, which means notes of tangerine, mango, blueberry, and subtle bitterness.
Let's Break It Down: 8.7% ABV • 80 IBU • Mosaic hops • Pair it with the Far Side Trail
SHAYNE: Seapine doesn't have gimmick. They brew all styles. It's not very big. Rainbow Suspenders, like all Seapine beers, is delicious.
NICOLE: Robin Williams made rainbow suspenders a fashion trend when he wore them on Mork and Mindy in the 1970s. I'm making Mork's "Nanu Nanu" hand gesture in Williams' honor.
SCROLL DOWN TO VOTE >>>>>>>>>>>>>>>>>>>>>>>>>>>>>>>>>>>>>>>>>>>>>>>>>>>>>>>>>>>>>>>>>>>>>>>>>
GAME 3, SOUTHERN OREGON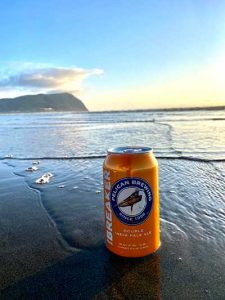 Player: Beak Breaker (#5 seed)
Team: Pelican Brewing, Pacific City
NOTES: Pelican Brewing Co. has been brewing craft beer for more than 26 years. They know massive additions of Mosaic, Citra and Centennial hops will deliver a bright citrus-tropical aroma and notes of ruby red grapefruit and sweet pine. Success. Beak Breaker double IPA hits the nose with big fruit like mature citric fruit, peaches and oranges that are only possible from dry hopping. Flavor is sweet malt, mild toffee, peach, mature citric fruit, orange peel, citric zest and good bitterness.
Let's Break It Down: 9.5% ABV • 90 IBU • Mosaic, Citra and Centennial hops
SHAYNE: Pelican Brewing has been in several Tournament of Beer competitions, including winning last year's Tournament of Beer: West Coast Flagships. Their entire brewery and massive fanbase helped destroy the flagships in their path last year. They've been in business for a quarter century. They'll be tough to beat.
NICOLE: They'd easily win the Tournament of Beer: Best Brewhouse With A View.
Player: Colossal Claude (#12 seed)
Team: Rogue Ales, Newport
NOTES: Jack Joyce co-founded Rogue Ales in the Southern Oregon town of Ashland 33 years ago. A year later, Joyce moved Rogue's production to Newport, Oregon, and hired John Maier as head brewer. One of the pioneers in the craft-brewing world, Rogue consistently puts out award-winning beers year after year, winning gold in national and international competitions. One of the founding principles of Rogue is to remain a one-off, small in size but large-in-reputation unique source of creatively inspired beers, and to be local and international, all at the same time. Colossal Claude double IPA offers citrus and floral hop aromas on the nose and finishes a touch on the bitter side with plenty of soft pine and resinous hoppy notes.
Let's Break It Down: 8.2% ABV • 75 IBU • Superior Pills, 2-row, wheat, oats, C-15 •  Cascade, Chinook, Citra, Belma, Eureka, and Strata hops • Imperial Juice yeast
SHAYNE: According to Rogue, it's been a few decades since a Colossal Claude sighting has been reported, but they're fairly certain the massive sea monster has been laying low off the coast of Newport. Word has it that after years of terrifying sailors and feasting on salmon Colossal Claude acquired a taste for hops. So, Rogue brewed this double IPA with a colossal dose of hops.
NICOLE: Sounds like something our Rogue rep Rich would say.
SCROLL DOWN TO VOTE >>>>>>>>>>>>>>>>>>>>>>>>>>>>>>>>>>>>>>>>>>>>>>>>>>>>>>>>>>>>>>>>>>>>>>>>>
GAME 4, SOUTHERN OREGON
Player: Comatose IIPA (#4 seed)
Team: GoodLife Brewing, Bend
NOTES: Incorporated in 2009 as Noble Brewing Co., Brewmaster Curt Plants, Ty Barnett and Pratt Rather signed a lease in 2010 for the space it now occupies in Bend, Oregon. In 2011, just before opening their taproom, they changed the name to GoodLife Brewing because plenty of businesses used the name Noble and they wanted to set their enterprise apart. Their Comatose Imperial IPA definitely sets them apart from other double IPAs with its coma-inducing 9.5 percent ABV and 95 IBUs. This heavyweight has more than 5 pounds of hop per barrel, which makes the aroma smell of strong orange candy followed by Meyer lemon, melon and spice. The beer continues jabbing the taste buds with a taste of biting into a fresh grapefruit with a balanced malt character, luscious and slightly oily mouthfeel and a strong and clean finish.
Let's Break It Down: 9.5% ABV • 95 IBU • High Color Pale, Bonlander Munich and Carafoam malts • Bravo, Zythos, Zeus, Chinook, Cascade and Summit hops • 2014: Pouring At The Coast People's Choice Award – Seaside, Oregon, 2015: Silver Medal at the US Open Beer Competition – Ohio, 2017: Bronze Medal at Oregon Beer Awards – Strong Hoppy, 2017: Gold Medal at Tastings World Beer Championships, 2017: Bronze Medal at Best Of Craft Beer Awards • Pair it with the Artists Point Trail
SHAYNE: GoodLife is another brewery that finds itself in many of our Tournament of Beer competitions. I know our Pappi Swarner looks forward to his pre-Tournament visit to GoodLife every year because, "They're the nicest folks," he says. Ironically, Pappi always has a pour of Comatose at GoodLife no matter the Tournament beer style.
NICOLE: GoodLife founder and brewmaster Curt Plants who passed away in 2017 at the age of 33. It hit the brewery hard, obviously, but they restructured, opened new markets and grew the brand.
Player: The Perfect Storm (#13 seed)
Team: Oakshire Brewing, Eugene
NOTES: When Jeff and Chris Althouse founded Oakshire Brewing Co. in 2006 they were the only employees, brewing Original Amber on a four-barrel system under the moniker Willamette Brewery. In 2008, Willamette Brewery became Oakshire Brewing. Today, Dan Russo is the lead brewer managing Oakshire's collaborative production team of seven and overseeing the Pilot, Vintage and Core Seasonal programs. Their Perfect Storm hits the nose with stone fruit, grapefruit, and a touch of pine, which translates to the flavor profile plus small booze tinge toward the end.
Let's Break It Down: 8.6% ABV • 60 IBU • Citra, Mosaic, and Simcoe hops
SHAYNE: If you gaze into the Peaks & Pints cooler you'll see several Oakshire beers now in 16-ounce cans. They canned nine of their core beers. "Enjoy Fresh!" remains on the cans, which sets the foundation for the long-standing brands from which Oakshire has grown.
NICOLE: Ironically, Jeff Althouse stopped by Peaks & Pints a couple weeks ago. Pappi had plans to hang with them in Eugene before ruffians smashed his car window and store all the Tournament beer canceling his pre-Tournament trip. That's why you don't see all the Tournament beers in our official Tournament photos.
VOTE BELOW >>>>>>>>>>>>>>>>>>>>>>>>>>>>>>>>>>>>>>>>>>>>>>>>>>>>>>>>>>>>>>>>>>>>>>>>>>>>>>>>>>

Monday, April 12 Peaks and Pints Tournament of Beer: NW Double IPAs action …
Game 1: Walking Man Homo Erectus (#5 seed) vs. Single Hill Public Knowledge (#12 seed)
Game 2: Trap Door Juiced Up (#4 seed) vs. Everybody's Velvet Tiger (#13 seed)
Game 3: Hair Of The Dog Green Dot (#7 seed) vs. StormBreaker Triple Double (#10 seed)
Game 4: Breakside India Golden Ale (#2 seed) vs. Level Mostly Karate Chops (#15 seed)
LINK: Peaks and Pinks Tournament of Beer: NW Double IPAs previous games
LINK: Tournament of Beers: NW Double IPAs explanation
LINK: Hot Damn! Yes, I want to subscribe to Peaks & Pints 6-Pack of Things To Do newsletter and be hip to local happenings!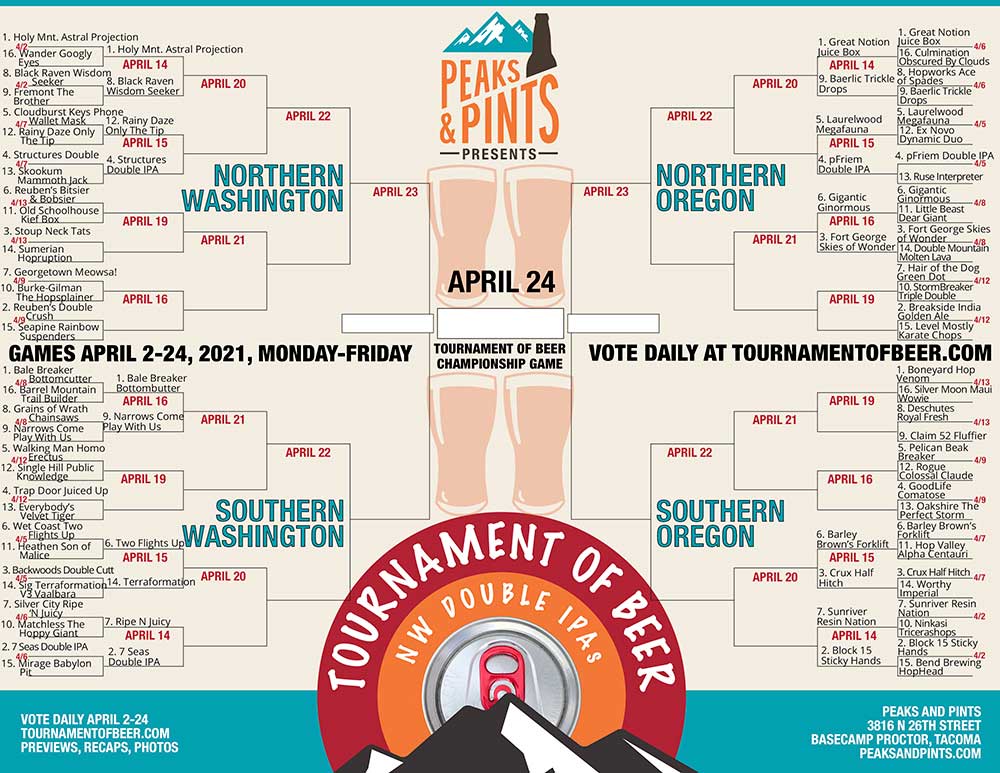 ---