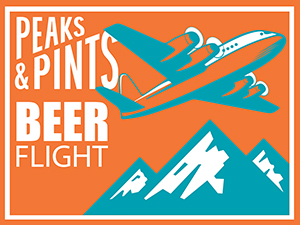 Remember being hit with the heady aroma of summer at its peak — rows of crimson nectarines and deep-purple plums bursting through the South Sound farmers' markets with vibrant urgency? Spilling onto our foodscape, golden peaches and tender apricots reigned over the region's summer menus, adding texture to whisper-thin flatbreads and savory chutneys. That's the power and grace of stone fruits — nectarines, cherries, mangoes, apricots, peaches and plums. These fruits contain large hard seeds, or stones. Craft beer made with stone fruits is particularly popular with brewers both traditional and innovative, and sipping on a stone fruit brew is a tasty way to dream about this forthcoming summer. Stop by our little craft beer lodge and grab our suggested to-go beer flight, Peaks and Pints Pilot Program: Stone Fruit On The Fly.
Peaks and Pints Pilot Program: Stone Fruit On The Fly
Stoup Craft Casual
5.8% ABV, 55 IBU
Stoup Brewing collaborated with Fast Fashion Brewing and Yacht Con: Back to School, a nonprofit event put on by SB Nation on this hazy extra pale ale with healthy hop additions of Citra, Simcoe and Galaxy. Expect notes of citrus, passionfruit, peach and pine. This should be drank listening to Christopher Cross on a boat with a sweater tied around your neck
Ridgefield Norse Code
6.3% ABV, 44 IBU
In 2019, homebrewer Steve Dronen and his family opened Ridgefield Craft Brewing in Ridgefield, Washington, about 10 minutes north of Vancouver. The 10-barrel farm brewery just signed a deal with Browar Polska for distribution in Western Washington. Since the Dronens have family roots from Norway, they used Norwegian Kveik yeast for the tropical haze in this New England style IPA. The hop contributions leave a strong presence of tropical citrus, peach and a bit of tangerine. Skål!
Avery Pear Of Peaches
9% ABV
We're quite certain if we could s-pear just a few minutes of our precious time, we could come up with a batch of puns far supearior to this one. OK, maybe not. Building on their success with big IPAs, Avery Brewing adds another hazy option to their beer portfolio with Pear of Peaches. Packed with juicy hops, Pear of Peaches brings a punch of fruity flavors to the genre of imperial hazy IPAs. Using contemporary dry-hopping techniques, Avery's brewers add Simcoe and Amarillo hops, and then traditionally dry-hopped with Mosaic hops. Pear of Peaches is a surprisingly easy drinking double IPA with tons of fruit-forward hops paired with all-natural pears and peaches.
Stoneface Yeah, Okay Chief
8.2% ABV
Stoneface Brewing Yakima Chief Hops and Yakima Chief Ranches hops to brew this resinous hazy featuring Idaho 7, Idaho 7 cryo, and Cashmere cryo for massive notes of nectarine and grapefruit peel.
LINK: Peaks & Pints cooler inventory
---