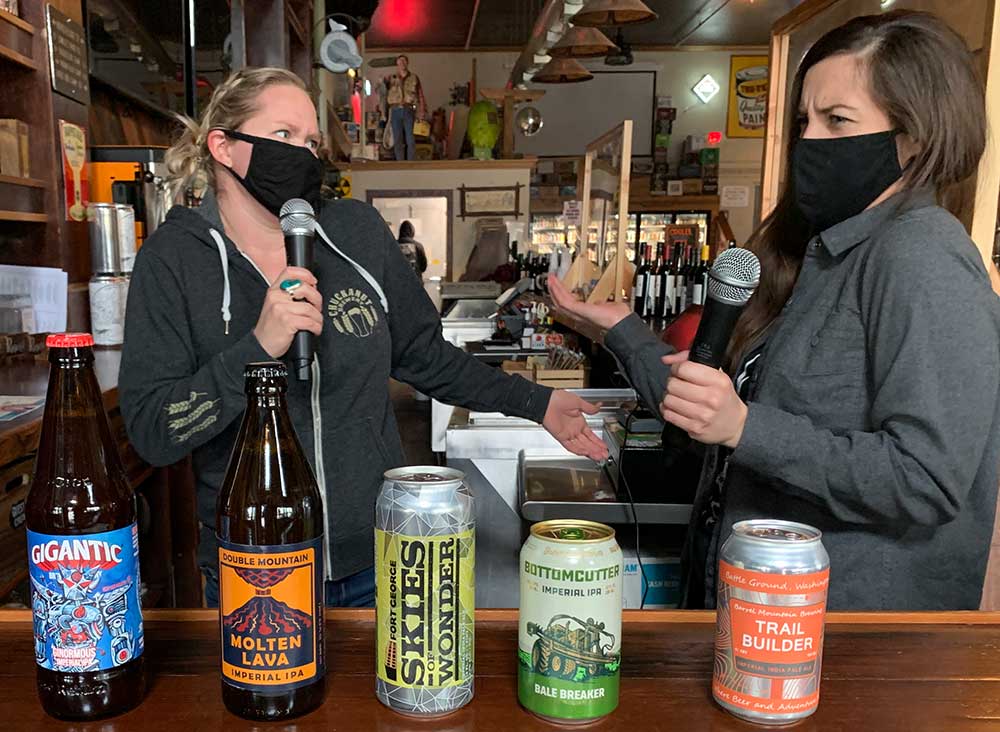 Peaks and Pints Tournament of Beer: NW Double IPAs April 8
BETHANY: The double India pale ale (IPA) is also called an imperial IPA. The style is an American creation, evolving from hop lovers' quest for a robust and aggressive bitterness and strength. The double IPA is most often deep golden to reddish amber in color, with medium- to full-bodied mouthfeel. It's known for a strong hop profile that features resiny, piney and/or citrus tones depending upon the type of hops in the recipe. There should be some maltiness, which adds a spicy and warm complexity to the flavor profile, but the maltiness should be clean and not dominate the overall flavor. The finish will often have alcoholic warmth, attributed to its 7.5 percent to 9.99 percent ABV.
SARAH JANE: Double IPAs should also have fun names such as Chainsaws & Boomsticks, Ginormous, Molten Lava, and Dear Giant — which also happen to be four of the eight beers taking the court in Peaks and Pints Tournament of Beer: NW Double IPAs April 8. Welcome to day five of our Tournament. I'm Sarah Jane, and with me is my fellow Peaks bartender, Bethany.
BETHANY: Thanks Sarah Jane. Through online voting at right here on this website, Washington and Oregon double IPA drinkers are picking daily winners until the best double IPA in the Northwest is crowned. The IBU-to-IBU battle of the DIPAs' grand champion will be announced at the Tournament of Beers Party April 24 at Peaks and Pints in Tacoma's Proctor District. The final two double IPAs will battle live pouring from Peaks and Pints' Western red cedar tap log with the champion brewery receiving a permanent handle at Peaks and Pints through the spring and summer.
SARAH JANE: It's just like the NCAA March Madness Tournament, only with way more Dextrose.
BETHANY: OK, let's take a look at yesterday's results and today's four games.
WEDNESDAY, April 7, First Round NW Double IPAs Games Results
GAME 1, NORTHERN WASHINGTON REGION
Cloudburst Keys Phone Wallet Mask (#5 seed) vs. Rainy Daze Only The Tip (#12 seed)
SARAH JANE: The Tournament of Beer can be brutish and short. One wrong malt decision can destroy the title dreams of even the best brewers. When filling out your Tournament of Beer: NW Double IPAs bracket, put value in experience. Those who made it far in beer tournaments are less prone to knocking a bucket of Centennial hops or under attenuate. Rainy Daze Goat Boater IPA won the Peaks & Pints Tournament of Beer: Washington State IPAs in 2017, as well as saw action in other Peaks' Tournaments. Maybe that experience helped them beat Cloudburst's Keys Phone Wallet Mask yesterday.
BETHANY: Maybe Cloudburst misplaced the Wallet part of their double IPA. One thing we do know is Only The Tip grabbed 54 percent of the vote and heads to the Second Round.
GAME 2, NORTHERN WASHINGTON REGION
Structures Double IPA (#4 seed) vs. Skookum Mammoth Jack (#13 seed)
SARAH JANE: Holy crap! Turnout for this contest was like the turnout at a dunk-the-banker booth at the Taste of Tacoma. Both breweries brought their A-game.
BETHANY: Both of these breweries always bring their A-game.
SARAH JANE: True that. Skookum had a mammoth lead out of the gate, but the hipsters finally woke-up in the afternoon and led an amazing, jaw-dropping push for Structures that had the stamina to carry through the evening and snatch victory from the Arlington brewery with a 58 percent of the votes. Unbelievable. Structures moves into the Second Round to take on Rainy Daze Only The Tip.
GAME 3, SOUTHERN OREGON REGION
Barley Browns Forklift (#6 seed) vs. Hop Valley Alpha Centauri (#11 seed)
SARAH JANE: Barley Brown's Forklift grabbed the lead and never looked back, nabbing 67 percent of the votes when all was said and done.
BETHANY: Barley Brown's Brew Pub in Baker City has bolstered its reputation as the little brewery that can. Over the past several years, Barley Brown's has gained a national reputation for bringing home more gold and silver medals than any other brew pub in its class at the Great American Beer Festival. Barley Brown's is looking to add more hardware to their trophy case.
GAME 4, SOUTHERN OREGON REGION
Crux Half Hitch (#3 seed) vs. Worthy Imperial IPA (#14 seed)
BETHANY: Crux Fermentation Project beat Worthy Imperial IPA with 76 percent of the vote. I imagine Crux owner Larry Sidor is contemplating renaming the beer, "Full Hitch."
SARAH JANE: Let's weed through the hops. The following are advancing to the Second Round:
Rainy Daze Only The Tip
Structures Double IPA
Barley Brown's Forklift
Crux Half Hitch
BETHANY: OK, Let's dive into today's First Round action featuring eight double IPA battles. Please vote for one beer per game. Voting for today's double IPA battles ends at 11:45 p.m. The winners will be announced tomorrow morning around 10 a.m., as well as the next round of eight beer battles.
Thursday, April 8, First Round Northwest Double IPA Games
GAME 1, SOUTHERN WASHINGTON
Player: Bottomcutter IIPA (#1 seed)
Team: Bale Breaker, Yakima
NOTES: Hops have long defined life at B.T. Loftus Ranches in the Yakima Valley. Back in 1932, Kevin Smith and Meghann Quinn's great-grandparents founded the family hop farm that's now run by their older brother, Patrick. Meghann and her husband, Kevin Quinn, and younger brother were keen homebrewers. Wouldn't it be natural to start a brewery on the farm? In 2013, the trio took down three acres of the farm's Field 41 and built Bale Breaker Brewing Company, which is surrounded by fields of hops. Bale Breaker has grown to become the fourth largest independent craft brewery in Washington. With a 30-barrel brewhouse and a 27,000 square foot facility, they craft five year-round canned beers, including the popular Bottomcutter IIPA. Double dry-hopped with their homegrown Yakima hops, Bottomcutter IIPA may be light in color but is supremely drinkable double IPA with pine, honey, orange and grapefruit swirling around a bunch of caramel. It's brewed to finish dry.
Let's Break It Down: 8.2% ABV • 100 IBU • More than 5 pounds of Citra, Simcoe, Ekuanot, and Mosiac hops added from brew day through dry-hopping
SARAH JANE: Bottomcutter was first released draft-only in March 2015, and in that first year, Bale Breaker sold more than 300 barrels of it total. A year later, production of Bottomcutter reached almost 1,200 barrels, and in 2017, it grew to almost 2,300 barrels produced – which is more beer than Bale Breaker sold in 2013. It won a gold medal in the annual Washington Beer Awards for Imperial/Double IPA.
BETHANY: A bottomcutter is a tractor that cuts the base of the hop plant just above the ground so the vine is hanging suspended from the top wire of the field — thus, bottom-cutter.
Player: Trail Builder Imperial IPA (#12 seed)
Team: Barrel Mountain Brewing, Battle Ground
NOTES: Led by Head Brewer Ryan Pearson, formerly of Green Flash and La Quinta in Southern California, Barrel Mountain Trail Builder hits the nose with mild caramel malt, citrus and dank hops, orange citrus with slight lemon. Flavor follows with pale malt with slight caramel, citrus and dank hops, plus orange, grapefruit and lemon juice and rind. The Trail Builder finishes with lightly resinous citrus rind bitterness and lingering citrus and herbal flavors.
Let's Break It Down: 9% ABV • 100 IBU • Pair with the Summit Springs Trail
SARAH JANE: When you think of mountain cabins, many things come to mind: wood, saws, wood, ski hardware, wood, canoe oars and wood. In Battle Ground, Washington, there's a mountain cabin motif brewery with all that goodness, plus a chair made of ropes, metal siding and a bit of Kentucky shabby chic. Not only did Barrel Mountain owner Troy Steigman bring the outdoors indoors to a former Laundromat, but he also added a scratch kitchen.
NICOLE: Barrel Mountain donates a portion of profits from its Trail Builder Imperial IPA trail to associations, clubs and volunteers that maintain and improve Washington state's trail systems.
SCROLL DOWN TO VOTE >>>>>>>>>>>>>>>>>>>>>>>>>>>>>>>>>>>>>>>>>>>>>>>>>>>>>>>>>>>>>>>>>>>>>>>>>
GAME 2, SOUTHERN WASHINGTON
Player: Chainsaws & Boomsticks (#8 seed)
Team: Grains of Wrath Brewery, Camas
NOTES: The metal movement has an outsider ethos and no-holds-barred authenticity that appeals to many brewers, including Grains of Wrath Brewery co-owner and Brewmaster Mike Hunsaker. For his double IPA, Hunsaker tweaked the name of Disney's Bedknobs and Broomsticks witchcraft versus Nazis 1971 film into the metal version, Chainsaws N' Boomsticks. Just kidding, chainsaws and boomsticks are the weapons used by Ash in the Evil Dead film. Either way, the delicious double IPA has flavors and aromas of pineapple, lychee, and papaya.
Let's Break It Down: 9% ABV • Originally brewed for the Washington Hop Mob • Pair it with the Archer Mountain Trail
SARAH JANE: Hunsaker cut his teeth as a homebrewer and by working for breweries in Chicago and Cleveland, before relocating to Portland in 2014 to become the head brewer at Fat Head's Brewery. Fat Head's closed, which lead to Hunsaker opening his new punk and metal inspired brewery Grains of Wrath.
NICOLE: I saw Mike at the Punk in Drubic concert in Portland back in 2019. He was stoked to see Bad Religion again.
Player: Come Play With Us (#9 seed)
Team: Narrows Brewing, Tacoma
NOTES: Inspired by The Shining, arguably one of the greatest horror films ever made, this double IPA focuses on things in twos — logically because of the dead twins in the flick.  Strata hops from Roy Farms in the Yakima Valley and Southern Cross hops from Freestyle Hops in New Zealand offers soft notes of strawberry, lime and a little dankness.
Let's Break It Down: 8% ABV • 25 IBU • Strata and Southern Cross hops • Final beer in Narrows' 2020 Halloween Series • Pair it with the Layser Cave Trail
SARAH JANE: Narrows Brewing and their customers donated one ton of food to the Emergency Food Network to earn the 2020 Hoppy Holiday Food Drive trophy. The 15-barrel brewhouse perched on pilings was crowned seven-plus years after Scott Wagner, Gordon Rush, Matt Smith, Thair Jorgenson, and Chris DeWald opened the brewery in 2013.
NICOLE: Pappi Swarner was stoked to see this double IPA nominated into the Tournament. He bought several cases of it.
SCROLL DOWN TO VOTE >>>>>>>>>>>>>>>>>>>>>>>>>>>>>>>>>>>>>>>>>>>>>>>>>>>>>>>>>>>>>>>>>>>>>>>>>
GAME 3, NORTHERN OREGON
Player: Ginormous (#6 seed)
Team: Gigantic Brewing, Portland
NOTES: Gigantic Brewing's Ginormous is a rotating series of imperial IPAs brewed with different hop combinations. Honestly, we guessed which version was nominated into the Tournament. We chose the Citra and Cascade hop driven Ginormous with a massive hop punch of strong citrus, orange rind, lime, and dankness.
Let's Break It Down: 8.8% ABV • 100 IBU • Northwest Pale malt and demerara sugar • Citra and Cascade, plus Mosaic, Crystal, Centennial, and Nugget hops
SARAH JANE: Van Havig, former brewmaster at Rock Bottom Brewery in Portland, and Ben Love, previously a brewer at Pelican Brewery and head brewer at Hopworks Urban Brewery, added to Portland's Beervana opening Gigantic Brewing May 9, 2012. The two brewers figured out how to have two head brewers then proceeded to make delicious beer.
NICOLE: Their taproom had a college clubhouse vibe. They brew amazing one-offs. Their label art, signed by the artists, could hang in museums. And, they sometimes brew with the coolest rock stars.
Player: Dear Giant (#11 seed)
Team: Little Beast Brewing, Portland
NOTES: Charles Porter left Logsdon Farmhouse Ales in Hood River and opened Little Beast Brewing with his business and life partner, Brenda Crow, a cheesemaker, in April 1017. By harnessing the "little beasts" that ferment their beer, they capture their untamed beauty and produce farmhouse beers that are diverse in flavor and rare in character. They also brew delicious IPAs, including Dear Giant IIPA with cosmic bursts of citrus, resinous rays, and a tropical aura.
Let's Break It Down: 8% ABV • Citra, Mosaic, and Simcoe hops
SARAH JANE: Charles Porter has been brewing for 28 years, starting off in small breweries in the Midwest before gigs Deschutes and Full Sail. But, his creativity was born at Logsdon, which he help launch in 2009.
NICOLE: I adore Little Beast's bungalow in Southeast Portlasnd. The quaint yellow abode with a porch and picnic tables is the liquor-licensed front yard I never had.
SCROLL DOWN TO VOTE >>>>>>>>>>>>>>>>>>>>>>>>>>>>>>>>>>>>>>>>>>>>>>>>>>>>>>>>>>>>>>>>>>>>>>>>>
GAME 4, NORTHERN OREGON
Player: Skies of Wonder (#3 seed)
Team: Fort George Brewery, Astoria
NOTES: Each batch of Fort George Brewery's Skies of Wonder hazy double IPA series is different, but always mostly cloudy or hazy. The last Skies of Wonder, code name Gett Off, that Peaks & Pints housed arrived this past February, the same time as we were accepting nominations for the Tournament. Gett Off was packed with Motueka, Strata, Amarillo, and a touch of Sabro hops for a juicy, smooth beer with notes of overripe pineapple, papaya and subtle coconut.
Let's Break It Down: 8.7% ABV • 2-row, white wheat, and torrified wheat • Motueka, Strata, Amarillo, and a touch of Sabro hops
SARAH JANE: Founded by brewers Jack Harris and Chris Nemlowill, the two combined their brewing expertise from previous Oregon coast gigs at Bill's Tavern and Astoria Brewing Company to bring some of the best craft offerings not only to Astoria, but to the Pacific Northwest. Today, their Fort George Brewery fills a full city block, plus new giant production facility along the Astoria waterfront, with locally crafted beer.
NICOLE: I'm going my best not to tell Fort George's Goonies/Deliverance story because we have told it a million times. I will say Fort George is a leader in this industry, brewing iconic beers such as 3-Way, hosting one of the best beer festivals in the country, Festival of the Dark Arts, and I'd even include the Skies of Wonder as one of the most anticipated beer series in the Northwest.
Player: Molten Lava (#14 seed)
Team: Double Mountain Brewery, Hood River
NOTES: Molten Lava IIPA is Double Mountain's most aggressive IPA, yet it somehow manages a considerable balance. Orange, pineapple, and fruited pine trip over themselves trying to push their way through the lava tube. Out in the open, the assertiveness evens out into juicy citrus and remains light on the tongue.
Let's Break It Down: 9.4% ABV • 90+ IBU • Molten Lava is dry hopped with enormous bagfuls of whole hop flowers, which provide added aroma and flavor without harsh bitterness • Pair it with the Beacon Rock Trail
SARAH JANE: Matt Swihart and Charlie Devereux opened Double Mountain Brewery in Hood River, Oregon, on St. Patrick's Day 2007. Devereux moved on to open Wayfinder Beer. Swihart adores his brewery family and throws them a gigantic anniversary party with top name bands every year.
NICOLE: Double Mountain would win the Tournament of Pizza, and that could be a factor in this game.
VOTE BELOW >>>>>>>>>>>>>>>>>>>>>>>>>>>>>>>>>>>>>>>>>>>>>>>>>>>>>>>>>>>>>>>>>>>>>>>>>>>>>>>>>>

Friday, April 9 Peaks and Pints Tournament of Beer: NW Double IPAs action …
Game 1: Georgetown Meowsa (#7 seed) vs. Burke-Gilman The Hopsplainer (#10 seed)
Game 2: Reuben's Brews Double Crush (#2 seed) vs. Seapine Rainbow Suspenders (#15 seed)
Game 3: Pelican Beak Breaker (#5 seed) vs. Rogue Colossal Ckaude (#12 seed)
Game 4: GoodLife Comatose (#4 seed) vs. Oakshire The Perfect Storm (#13 seed)
LINK: Peaks and Pinks Tournament of Beer: NW Double IPAs previous games
LINK: Tournament of Beers: NW Double IPAs explanation
LINK: Hot Damn! Yes, I want to subscribe to Peaks & Pints 6-Pack of Things To Do newsletter and be hip to local happenings!
---