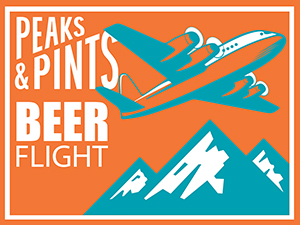 Dogs have been associated with breweries for centuries. Many a brewer has stood watch over a mash tun with a faithful canine companion, although not in Pierce County as the Health Department states reusable glassware and food don't pair well with canines. Dogs are also a familiar sight on beer labels. Lagunitas Brewing Co. has a dog for its logo, a pit bull inspired by Petey from The Little Rascals. Taking it a step further, it could be said dogs are the animal equivalent of beer-drinkers: happy, loyal with general joie de vivre that makes you want to hang out with them for hours on end. Top Rung Brewing has launched their "Dogs Of Top Rung Series," adding more canines to their brew kennel to keep their OG dog beer, My Dog Scout Stout, company. Peaks & Pints presents three of Top Rung's pups in our to-go flight, Peaks and Pints Pilot Program: Top Rung Dogs On The Fly.
Peaks and Pints Pilot Program: Top Rung Dogs On The Fly
Top Rung My Dog Scout Stout
6% ABV, 30 IBU
Named after Top Rung Brewing founding head brewer Jason Stoltz's black lab, Scout, this puppy grabbed gold in the American Stout category at the 2015, 2017, and 2019 Washington Beer Awards, and silver at the 2018 version. "I think the My Dog Scout Stout took a gold medal home because of some of the choices in malt selection giving it a few different layers of flavor ending on the base malt used," said Stoltz. "Also, our water allows us to brew darker beers very well." Chocolate and coffee jump out of the glass. Deceptively smooth and black as the night, My Dog Scout Stout is an easy sipper due to the eight different malts used in the brewing process.
Top Rung Ruby Hazy IPA
7.5% ABV
Top Rung Sales Executive Mike "BrewDad" Besser proposed to Laurie late last year. It would be a day he'll never forget. Within hours of her saying, "Yes," their dog Ruby passed away. "She was a great dog for Laurie and always was so happy to see either of us. Tail wagging, siren howling this dog loved us and our leftovers." Ruby lives on as part of the Dogs Of Top Rung Series. Ruby was a gentle giant, Cane Corso Mastiff, with a bark to match," explains Top Rung. "She would never hurt a bug and was clearly loved by the Besser family. At 6 1/2 years young, Ruby entered the gates of Doggy heaven. This beer is for you Sweet Ruby." Ruby Hazy is brewed with Nugget, Mosaic and Strata hops, and double dry hopped with Strata and Mosaic, for a soft, cloud-like mouthfeel with a quick carbonation zing, and fresh fruit lingering tropical notes.
Top Rung Oly & Scout Hazy IPA
7.5% ABV
Top Rung beertender Brittany has 13-year-old English Springer Spaniel brothers that are partners in crime. They love counter surfing for snacks and snatching distracted little kids' plates of food. They also love to fart — long, slow squeaky farts. When not farting, Oly plays with old tennis ball and Scout searches for snuggles. Oly & Scout, the hazy IPA, is brewed with Nugget, Mosaic, and Strata, then double dry hopped with Strata, Centennial, and Cascade for a nose of light, fresh floral, dank, and absolutely zero whiffs of farts. On the tongue, expect tropical fruits, bright pineapple, orange and citrus.
LINK: Peaks & Pints cooler inventory
---