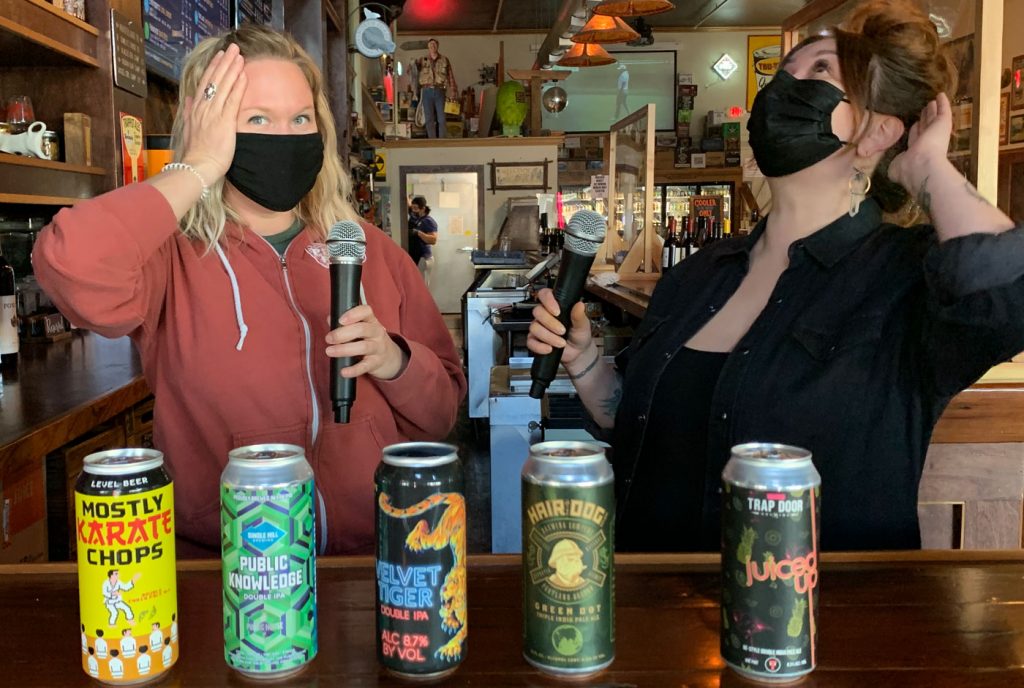 Peaks and Pints Tournament of Beer: NW Double IPAs April 12
AMBER: Double IPA brewing isn't rocket science. Combine water, grains, hops and yeast and enjoy. But hidden within those four elements is a complexity that defies the short ingredients list. Making a double IPA is garage play; making a great double IPA is another thing entirely. Opening a discussion on which Pacific Northwest breweries are making delicious double Ipas serves as our mission for the Tournament of Beer: NW Double IPAs — that and trying to score free double IPAs from the competition. Hello, I'm Peaks & Pints bartender Amber. After a weekend rest, we're back at it with eight new double IPAs battling on the virtual court.
BETHANY: Hello, I'm Peaks bartender Bethany. Let's dive into today's First Round action. Please vote for one beer per game. Voting for today's double IPA battles ends at 11:45 p.m. We'll announce the winners tomorrow morning around 10 a.m., as well as the next round of four beer battles.
AMBER: Ladies and gentlemen, please join in the singing of our national anthem.
BETHANY: Thank you Alicia Keys! OK, let's get to voting!
Monday, April 12, First Round Northwest Double IPA Games
GAME 1, SOUTHERN WASHINGTON
Player: Homo Erectus (#5 seed)
Team: Walking Man Brewing, Stevenson
NOTES: Welcome back Walking Man Brewing Homo Erectus! The imperial IPA was a 10th seed in the Peaks & Pints Tournament of Beer: Washington IPAs in 2017. It ended up grabbing second place behind Rainy Daze Goat Boater IPA. No doubt Homo Erectus will walk hard again with ample floral hops, sugary malt and orange blossom honey in the aroma. Its real game plan is its flavor — a blend of pine, orange rind and caramel malt along with some ruby red grapefruit and grassy bitterness.
Let's Break It Down: 9% ABV • 90 IBU • Pair it with the Hamilton Mountain Trail
AMBER: For the uninitiated, Skamania County means terrycloth robes and river views at Skamania Lodge. For those with a little larger liver know Skamania County means Walking Man Brewing, a 17-barrel brewery raised on a foundation of trophies. Some would drink the brewery's Black Cherry Stout every day and call it a good life. Those interested in the Tournament of Beer swear by the Homo Erectus Imperial IPA, one of the more malty double IPAs in Cascadia.
BETHANY: Since opening Walking Man Brewing in 1999, founder and original brewmaster Bob Craig turned over the head brewing reigns to James Landers who recently turned over the job to Tessa Longnecker.
Player: Public Knowledge (#12 seed)
Team: Single Hill Brewing, Yakima
NOTES: Brewed for The Public House of Yakima's second anniversary, Single Hill Brewing visited some of their favorite hop farms to source four hops for this hazier rendition of a 2018 classic. Fresh Cashmere, a newish USDA variety, and Sabro a newish patented variety, duke it out for supremacy in the dry hop but instead find delicious juicy harmony. The hop back was jammed full of wet Cornerstone Ranches Mosaic and Double R Hop Ranches Citra. Sabro is from Loftus Ranches and Cashmere from Tributary Hop Farms. This double IPA imperial IPA bursts with flavors of ripe pineapple and mango, with a classic bitterness punch.
Let's Break It Down: 8.8% ABV • 70 IBU • Cashmere, Sabro, Mosaic, and Citra hops
AMBER: In August 2016, Ty Paxton and Zach Turner opened Single Hill in an old JC Penney Tire Center in downtown Yakima. The two first met at a cider pressing party that a mutual friend was hosting in 2013. Three years later, over pints at Bale Breaking Brewing, the two hatch the idea for a community-based brewery in a town dear to their hearts.
BETHANY: Single Hill makes solid modern beers from Hoptopia. This game will be like Star Wars Episode I: The Phantom Menace vs. Avengers: Infinity War.
SCROLL DOWN TO VOTE >>>>>>>>>>>>>>>>>>>>>>>>>>>>>>>>>>>>>>>>>>>>>>>>>>>>>>>>>>>>>>>>>>>>>>>>>
GAME 2, SOUTHERN WASHINGTON
Player: Juiced Up (#4 seed)
Team: Trap Door Brewing, Vancouver
NOTES: Trap Door Brewing's Juiced Up hazy double IPA is double dry hopped with Citra, Mosaic, Simcoe, and Strata, the last hop being a multi-layered, one-stop-shop hop crafted by Oregon State University. Strata offers flavors of pineapple, as well as grapefruit, passionfruit and pine on the tongue. Drinking Juiced Up is like drinking pineapple juice straight from the can.
Let's Break It Down: 8.3% ABV • Citra, Mosaic, Simcoe and Strata hops • Pair it with the Moulton Falls Trail
AMBER: Bryan Shull, who left a 25-year career in renewable energy engineering to start a brewery with his two sons, Zakary and Zane Singleton, opened the 15-barrel Trap Door Brewing in the Uptown neighborhood of Vancouver October 2015 because he loves beer and the community of people that make up the brewing industry. In October 2020, Kyle Larsen replaced Zane as head brewer. Larsen has a long pedigree, beginning in 2007 brewing at Full Sail, followed by head brewer status at Double Mountain, then head brewer at Siren Brewing in Reading, England. Recently, Larsen left Trap Door to open his dream brewery, Kings and Daughters in Hood River. Brewers Kevin Hanny and Jake Watt hold down the fort.
BETHANY: Trap Door owner Bryan Shull's grandfather and father worked at and retired from Great Western Malting Company located at the Port of Vancouver, which makes Trap Door Brewing a fourth-generation Vancouver beer family-owned business.
Player: Velvet Tiger (#13 seed)
Team: Everybody's Brewing, White Salmon
NOTES: With a hop profile of Simcoe, Chinook, and Cascade, Everybody's Brewing Velvet Tiger double IPA offers smooth citrus and pine flavors with a robust aroma and clean finish. "While there's nothing wrong with a sweeter, juicy IPA, there are still a lot of people who appreciate a big piney IPA with a balanced bitterness," says Everybody's owner/brewmaster Doug Ellenberger. "Velvet Tiger is a nod to those drinkers who have been a little forgotten."
Let's Break It Down: 8.7% ABV • 85 IBU • Simcoe, Chinook, and Cascade hops • Pair it with the Coyote Wall Trail
AMBER: In July 2008, Doug and Christine Ellenberger opened Everybody's Brewing in White Salmon, Washington. Doug, a Seibel trained master brewer, and Christine opened the brewery with the goal of creating a gathering spot for their community. Today, it's the largest brewery in Southwest Washington.
BETHANY: Oh, man, last October was my first chance to check out Everybody's new brewing facility when I helped brew the Peaks & Pints house beer, Everybody's Brewing Pop-Up Park IPA. It's a modern woody space with some great historical design touches from a vintage refrigerator straight from Doug Ellenberg's collection to a vintage wood hop rake from Loza Farms. The back deck is kickass decorated with fancy plants. They also doubled their brewhouse from 15 barrels to a 30 barrel Criveller brewhouse with two new 90 barrel fermenters and one 90 barrel brite tank.
SCROLL DOWN TO VOTE >>>>>>>>>>>>>>>>>>>>>>>>>>>>>>>>>>>>>>>>>>>>>>>>>>>>>>>>>>>>>>>>>>>>>>>>>
GAME 3, NORTHERN OREGON
Player: Green Dot (#7 seed)
Team: Hair of the Dog Brewing, Portland
NOTES: People have been making pilgrimages to Portland for Alan Sprints' beer since the dark ages — back when hazy and sour beers weren't made that way intentionally. His Hair of The Dog Brewing is proud to be one of the first breweries in America specializing in the production of high alcohol, bottle conditioned beers as well as experimenting with the barrel aging process since 1993. Sprints calls his Green Dot a triple IPA, but it registers at 9.5 percent ABV, which is under the 9.9 percent restriction for the Tournament of Beer: NW Double IPAs. It's a frigging dense and chewy beer with citrus sweetness followed by insane piney bitterness. It's ridiculously smooth and easy to drink, and although its sweetness and bitterness are extreme, it somehow feels quite well balanced — except for that lingering sap.
Let's Break It Down: 9.5% ABV • Recipe is a mystery • Pair it with the Oyster Dome Trail
AMBER: In 1993, Sprints opened Hair of the Dog in Southeast Portland near the Brooklyn rail yards showcasing bold, boozy brews that push boundaries and blazed the trail for today's barrel-aged and bigger beers. In 2010, Sprints moved Hair of the Dog to inner Southeast Portland's industrial warehouse district. He draws inspiration from various people, including legendary beer writer Fred Eckhardt, whose name graces one of Hair of the Dog's best-known beers: Fred, a golden strong ale.
BETHANY: It's cool how Sprints brews beer in a concrete egg that he calls "From the Stone."
Player: Triple Double (#10 seed)
Team: StormBreaker Brewing, Portland
NOTES: A triple-double is defined as a performance in which a basketball player accumulates a double-digit number total in three of five statistical categories — points, rebounds, assists, steals, and blocked shots — in a single game. Achieving a triple double in hoops is impressive, but achieving it in your beer is even better. With 10 hop additions of three hop varietals, Mosaic, Citra, and Amarillo, StormBreaker Brewing Triple Double scores on your palate, rebounds in your nose with big aromas of grapefruit citrus and pineapple, and is assisted by the punchy, juicy citrus flavors to balance the slight upfront bitterness and big.
Let's Break It Down: 8.5% ABV • 90 IBU • 10 hop additions of three hop varietals: Mosaic, Citra, and Amarillo
AMBER: Rob Lutz' beer career began as a keg washer at Amnesia Brewing, the North Portland brewery that opened in May of 2003 on Mississippi Avenue. Amnesia moved to Washougal, Washington, then folded. Lutz went in the opposite direction. In late 2014, he and Dan Malech opened StormBreaker Brewing in Amnesia's former spot. Their creative beer lineup earned awards. The duo opened a second spot in Portland's St. John neighborhood, as well as expanded their Mississippi location, adding an axe-throwing platform.
BETHANY: StormBreaker loves Stars Wars. They name beers after the film series. They screen a Star Wars film in their taprooms and pair their beers with different scenes. If the Force is with them, then Hair of the Dog Green Dot will need to summon Obi Wan. He might be their only hope.
SCROLL DOWN TO VOTE >>>>>>>>>>>>>>>>>>>>>>>>>>>>>>>>>>>>>>>>>>>>>>>>>>>>>>>>>>>>>>>>>>>>>>>>>
GAME 4, NORTHERN OREGON
Player: India Golden Ale (#2 seed)
Team: Breakside Brewery, Portland
NOTES: Breakside Brewery's "golden double IPA" fell off their main rotation, but periodically reappears. This beer first debuted in 2013 as a collaboration with Ninkasi Brewing. It was a trendsetter when it was first released as it highlights the route that lots of new hop bombs were headed: light in body, lighter in color, and huge tropical flavors and aroma.
Let's Break It Down: 8.3% ABV • 70 IBU • 2-rown, Munich, Crystal Medium, Chocolate, Pale Chocolate and roasted barley malt bill • Ed Dorado, Mosaic, and Chinook hops
AMBER: In 2010 — with his Siebel Institute education, training in Germany and Belgium, and degree from Yale tucked under his arm — Ben Edmunds opened Breakside Brewery in the quiet Woodlawn neighborhood of Northeast Portland as a restaurant and nano-sized brewery. Breakside expanded to a 3.5-barrel brewhouse while winning their first medal at the Great American Beer Festival in 2011 where they have earned medals each year since. In late 2013 the brewery expanded operations to Milwaukie, Oregon with a 30-barrel production brewery. In 2014 Breakside was awarded with the highly coveted Gold Medal for American-style IPA at the Great American Beer Festival for their flagship IPA that was also named to Men's Journals 100 Best Beers In The World and Sip Northwest's Best IPA in the Northwest.
BETHANY: I miss their India Golden Ale. It showcases the Mosaic and El Dorado hops well. Mango, grapefruit, pine and even Thai basil hits the nose and tongue with light malt sweetness that pairs well with a prominent bitterness.
Player: Mostly Karate Chops (#15 seed)
Team: Level Beer, Portland
NOTES: In search of a spacious property to commission some brews of his own, Geoff Phillips, owner of the recently closed Bailey's Taproom in downtown Portland (sad face), Jason Barbee of Ex Novo Brewing, and Shane Watterson of Laurelwood Brewing, converted a former produce market in East Portland's Argay neighborhood into a 20-barrel brewhouse, Level Beer. Their Mostly Karate Chops has beautiful pine and tropical fruit aromas, with heavenly notes of strawberry, orange marmalade and citrus on the palate.
Let's Break It Down: 8% ABV • 60 IBU • Pair it with the Bells Mountain Trail
AMBER: Level Beer has a 1980s video game branding motif because the three owners love Star Wars and Atari. They offer generally lower-alcohol beers, many in English styles, and serve them on a property that includes a modern-industrial taproom, spacious greenhouse patio, food-cart pod, numerous children's play areas, and a dog run.
BETHANY: If you weren't aware of this already, prepare to have your minds blown. An entire rehearsal of The Karate Kid is available to view on YouTube. Included in the run-through are several dialogue variations and a few scenes that didn't make it to the final cut of the film.
VOTE BELOW >>>>>>>>>>>>>>>>>>>>>>>>>>>>>>>>>>>>>>>>>>>>>>>>>>>>>>>>>>>>>>>>>>>>>>>>>>>>>>>>>>

Tuesday, April 13 Peaks and Pints Tournament of Beer: NW Double IPAs action …
Game 1: Reuben's Brews Bitsier & Bobsier (#6 seed) vs. Old Schoolhouse Kief Box (#11 seed)
Game 2: Stoup Neck Tats (#3 seed) vs. Sumerian Hopruption (#14 seed)
Game 3: Boneyard Hop Venom (#1 seed) vs. Silver Moon Maui Wowie (#16 seed)
Game 4: Deschutes Royal Fresh (#8 seed) vs. Claim 52 Fluffier (#9 seed)
LINK: Peaks and Pinks Tournament of Beer: NW Double IPAs previous games
LINK: Tournament of Beers: NW Double IPAs explanation
LINK: Hot Damn! Yes, I want to subscribe to Peaks & Pints 6-Pack of Things To Do newsletter and be hip to local happenings!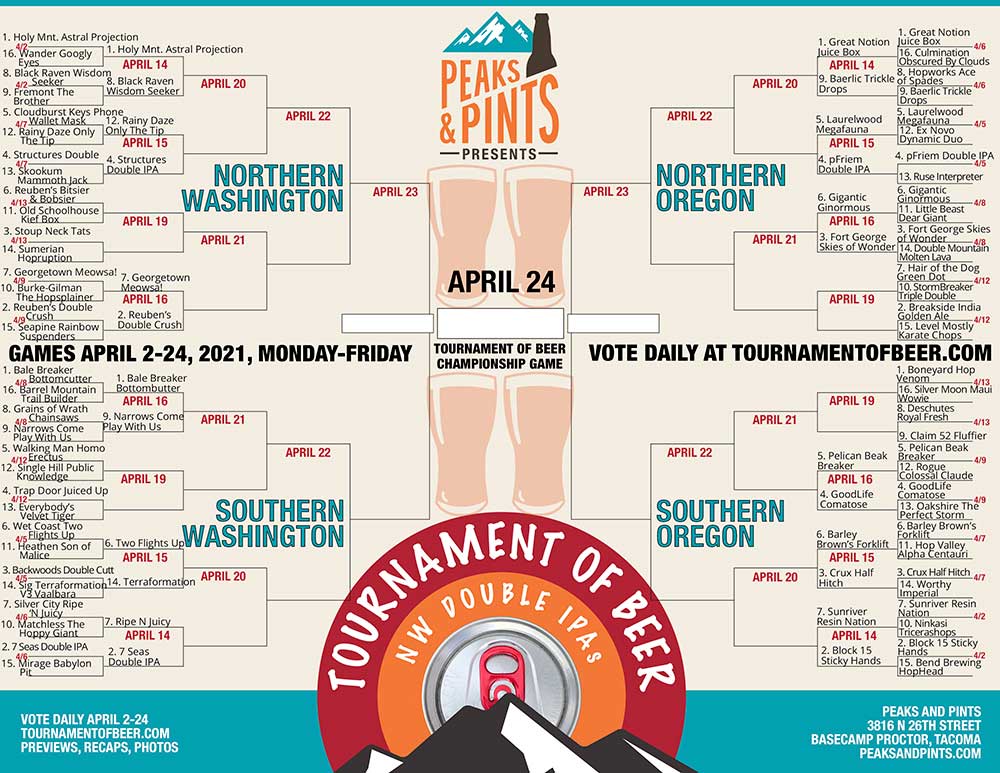 ---