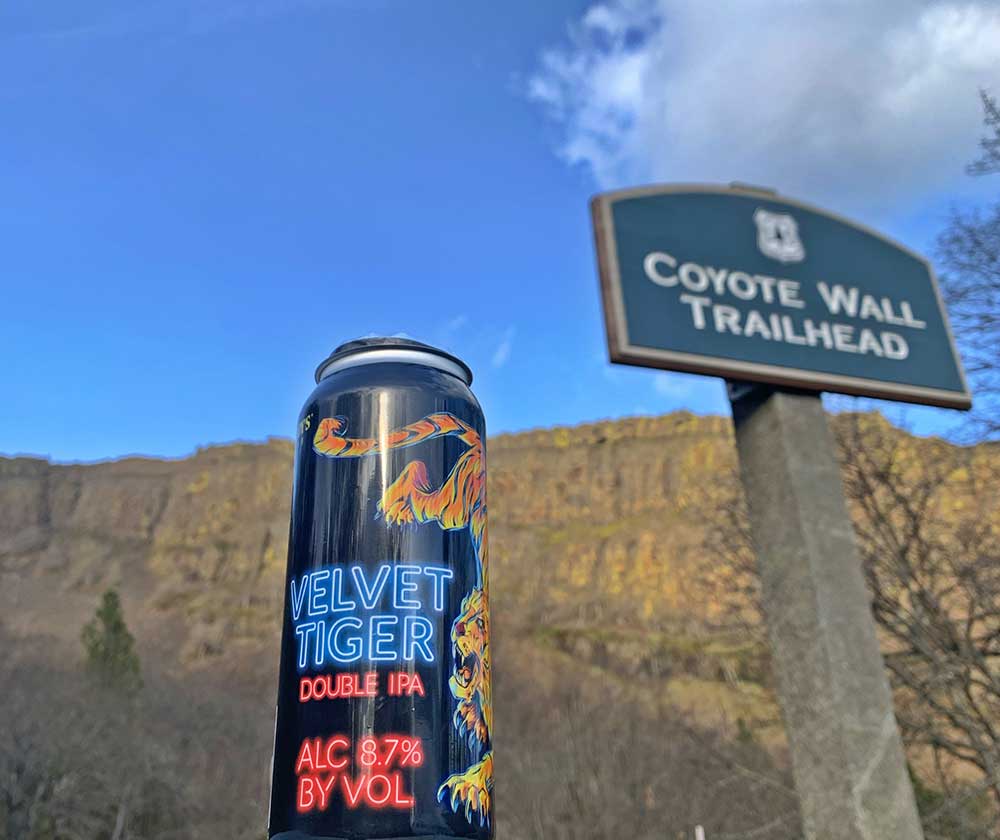 Peaks and Pints: Everybody's Velvet Tiger and Coyote Wall Trail
Everybody's Brewing Velvet Tiger was nominated as a 13th seed in the Southwest Washington Region in the Peaks & Pints Tournament of Beer: NW Double IPAs, which will begin April 2, 2021. The tournament bracket will be released soon. The Peaks and Pints: Everybody's Velvet Tiger and Coyote Wall Trail — Coyotes and Tigers and Crybabies, oh my!
Hops: Everybody's Brewing Velvet Tiger
With a hop profile of Simcoe, Chinook, and Cascade, Everybody's Brewing Velvet Tiger double IPA offers smooth citrus and pine flavors with a robust aroma and clean finish. "While there's nothing wrong with a sweeter, juicy IPA, there are still a lot of people who appreciate a big piney IPA with a balanced bitterness," says Everybody's owner/brewmaster Doug Ellenberger. "Velvet Tiger is a nod to those drinkers who have been a little forgotten about."
Let's Break It Down: 8.7% ABV • 85 IBU • In July 2008, Doug and Christine Ellenberger opened Everybody's Brewing in White Salmon, Washington • Everybody's is the largest brewery in Southwest Washington
Hike: Coyote Wall Trail
Just down Highway 14 from White Salmon, Coyote Wall is one of the Columbia River Gorge's most recognizable features from all directions due to its massive formation of columnar basalt. The loop trail climbs along the western edge of the Labyrinth — the general area between Coyote Wall and the Rowland Basin — over to the magnificent syncline wall, and then up along it into oak and Douglas-fir woods to do a short loop back and drop down the rim again. The trail loops up alongside tumbling Little Maui Creek, which has a couple of small waterfalls.
Let's Break It Down: 7.8 miles lollipop loop, high point 1,895 feet, elevation gain 1,775 feet, moderate difficulty, Columbia River Gorge National Scenic Area
Haps: Post-hike Celebration
Back at the trailhead, we divvied up the Everybody's Velvet Tiger and were thankful we reached the trailhead before 10 a.m. as 10,000 mountain bikers arrived after, which makes sense as it's been a mountain bike mecca years before the hikers arrived. We raised our cups for a biker who died in a tragic accident when he accidentally went over the edge of the cliff now marked with a small memorial plaque. We chimed a collective "Ahhhhh" when we discussed how Doug and Christine fell in love while working at Full Sail Brewing and opened Everybody's six years later. We laughed at the Crybaby Trail name, which the trail intersected with and included stunted oak right at the edge of the cliffs — the view down Coyote Canyon is stunning. We laughed even harder at the Velvet Tiger name and can art and how Peaks & Pints co-owner Pappi Swarner grew up with his bedroom walls plastered with black light posters.
Highway: Getting There
East on Washington State Highway 14 to milepost 69.7, Courtney Road. The trailhead is just off the highway on the east side of Courtney road. Park in designated parking spots only.
Tournament of Beer: NW Double IPAs
OK, Covid, we'll just take the Peaks & Pints Tournament of Beer into the woods. …
The public nominated 64 Northwest double IPAs for the Tournament of Beer: NW Double IPAs in February. Beginning April 2, through online voting on this website, Washington and Oregon double IPA drinkers will pick daily winners until the best double IPA in the Northwest is crowned April 24.
Our pre-Tournament hype will be different this year. No brewery research tour. No candid photos of bartenders pouring double IPAs for review. No hotel parties.
Instead, Peaks & Pints will preview the Tournament of Beer: NW Double IPAs by taking the 64 nominated double IPAs on hikes relatively close to where they were brewed. After all, a post-hike double IPA can quench your thirst and begin to rehydrate you, lubricate your senses and, like the act of hiking, help maintain sanity, balance and perspective. Oh, believe us when we say the hike is still paramount to the experience. If it wasn't, we'd skip the hike and just head to the taproom. Rather, Peaks & Pints is a big believer in hanging at the trailhead with our fellow hikers, divvying up a beer and discussing the hike, or whatever subjects, as we store away our gear.
Join us. Take the nominated double IPAs on hikes. Then, look for the first round of Tournament of Beer: NW Double IPAs voting April 2 at tournamentofbeer.com or this website.
---