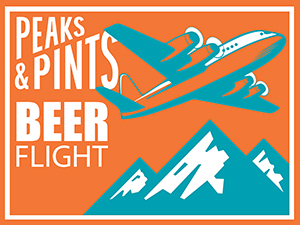 As it does at the beginning of every year, RateBeer, one of the world's leading resource for beer reviews along with BeerAdvocate and Untapped, unveiled its much-anticipated list of the 100 best breweries in the world. AleSmith Brewing ranks sixth. But for AleSmith, an artisanal brewing company born out of the San Diego craft beer boom in the 1990s, it's hardly a new accolade. AleSmith has been consistently ranked on RateBeer's list of best breweries in the world for years. The brewery focuses on Belgian and British brewing styles, barrel-aging, and recently hazy IPAs. AleSmith has grown exponentially over the past decade, and remains one of San Diego's best known, most highly regarded beer brand. They ship beer to 12 states, five foreign countries, and throughout California. AleSmith is celebrating its 25th year in business and their state-of-the-art brewery occupies a 109,942 square-foot facility. Today, Peaks & Pints offers AleSmith as our to-go flight — a flight we call Peaks and Pints Pilot Program: AleSmith On the Fly.
Peaks and Pints Pilot Program: AleSmith On the Fly
AleSmith Nut Brown
5% ABV
Brown ales are a natural match for winter drinking, and AleSmith Nut Brown fits the bill. Deep mahogany in color, its rich, malt-forward flavor profile balances notes of toasted nuts, creamy cacao and a hint of vanilla. A creamy mouthfeel and full body enhances its drinkability, making Nut Brown an extremely sessionable winter sipper that's not as heavy a winter warmers.
AleSmith Cloud Stream IPA
6.9% ABV, 7 IBU
We're not sure if AleSmith tapped the secretive Microsoft Research division, which works on everything from quantum computing to AR/VR to genomics, to crack thresholds of haziness in India Pale Ales. Whether it was Microsoft, or simply lack of filtering, Cloud Stream is a year-round hazy IPA packed with notes of red currant, passionfruit, and mango. It's full body and creamy mouthfeel are followed by a smooth, drinkable finish.
AleSmith Dual Exposure
8.2% ABV, 60 IBU
San Diego breweries AleSmith and Stone Brewing's latest collaborative brainchild, Dual Exposure, is an easy-drinking double IPA infused with notes of hibiscus, orange, and lime peel and tropical citrus and fruit from huge amounts of Citra, Strata, HBC 592, and Amarillo. "I've been enjoying AleSmith beers since before I've been drinking Stone beers," says Greg Koch, Stone co-founder, via a media release.  "This isn't our first collaboration, but it might be our best. Our combined team of brewers brought their A-game loading up on the hops and refining this double IPA with hibiscus and lime peel for something really memorable. I have so much respect for the AleSmith team, and of course mad respect for our own team at Stone, so I'm super stoked for this dream team collaboration."
AleSmith Philosophy and Velocity – West Coast Edition
11.5% ABV
AleSmith and Brewery Ommegang of Cooperstown, New York teamed up to give a new twist to their best beers. Philosophy and Velocity combines each brewery's most iconic beers:  Ommegang's Three Philosophers and AleSmith's Speedway Stout. Each brewery crafted a singular blend to release in their respective markets. From the West, AleSmith brewed an American ale variant on Three Philosophers Belgian Style Quad to combine with their robust, coffee-infused Speedway Stout. It pours velvety black with a creamy white head. Aromas of roast espresso and chocolate lead to semisweet caramel malt flavors. Full-bodied and textured, this is an incredible sipper.
AleSmith Speedway Stout
12% ABV, 70 IBU
Crashing in with an ABV of 12 percent, AleSmith's Speedway Stout goes a step farther than most coffee-flavored stouts and porters (which derive their flavor from roasted malts) and includes an unspecified amount of ground coffee in the brewing process. The result is an intimidatingly dark beer that pours smoothly, leaves very little head, and is surprisingly light and easy to drink. The coffee flavor dominates: the beer is reminiscent of a freshly brewed iced coffee with hints of chocolate and caramel. It finishes with just a tinge of alcohol, which helps to cut the richness of the flavor and leaves you feeling warm, though whether that's because of the alcohol or the coffee, we're not sure.
AleSmith Speedway Stout with Espresso and Madagascar Vanilla
12% ABV
AleSmith's first 2021 Speedway Stout variant is their Espresso and Madagascar Vanilla — a signature edition of their imperial stout infused with tons of Madagascar vanilla and a bold espresso blend, bestowing intense notes of chocolate, coffee, vanilla and dark fruit.
LINK: Peaks & Pints cooler inventory
---