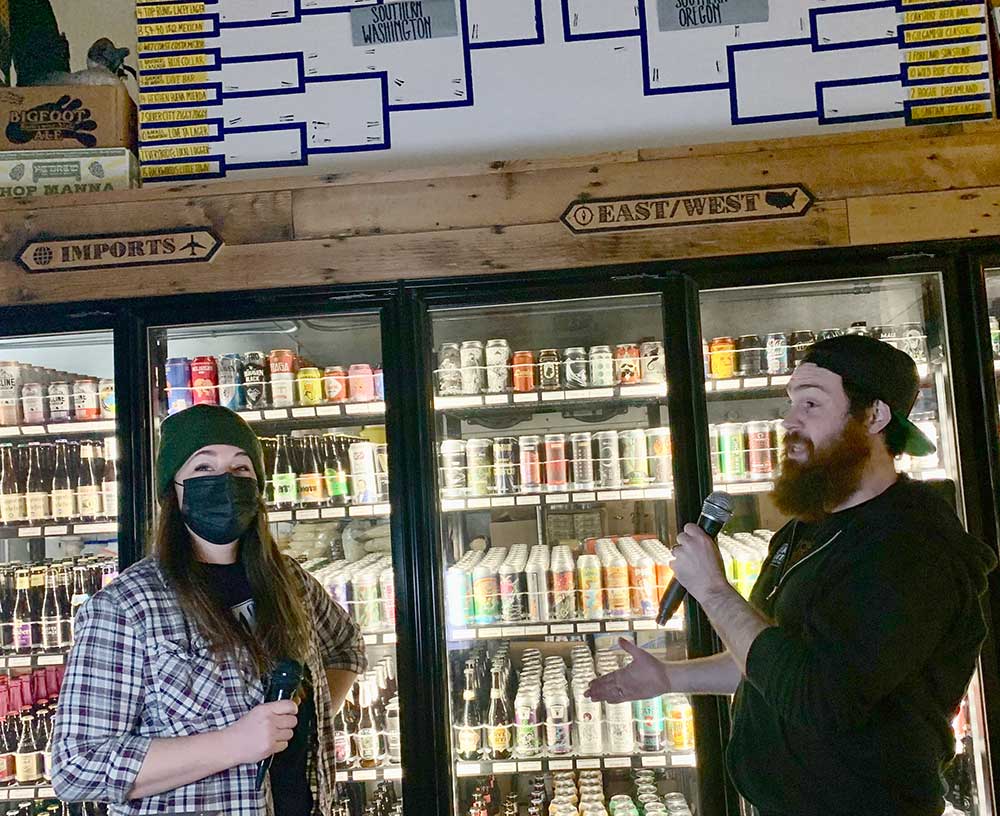 Peaks and Pints Tournament of Beer Northwest Lagers April 9
Five years ago, Peaks & Pints challenged 64 Washington state brewers to enter a tournament-style IPA infiltration, hops versus hops, with Rainy Daze Goat Boater crowned best IPA. The next year, we brought Oregon and Idaho into the fold with 64 porters tasking center stage in our quest for porter perfection, with Wingman Brewers' P-51 Porter reigning supreme. In 2019, it was pilsner time, baby, with Kulshan Brewing's Pilsner grabbing the trophy. The following year we pitted 64 flagship beers along the West Coast in a Wonder Years style competition with Pelican Brewing's Kiwanda Cream Ale topping the flagships without a championship party, obviously. Last year, Block 15 Brewing's Sticky Hands won our Tournament of Northwest Double IPAs, also without a party.
This year, the tradition continues. And a party is planned.
Launched yesterday, 64 Washington and Oregon brewed pale and light lagers are working their way through the tediously constructed bracket and toward ultimate supremacy. We speak, of course, of the Peaks and Pints Tournament of Beer: Northwest Lagers. Sixty-four lagers were selected and seeded by the public in early March, and now the time has come to see which one rules. Only one can be crowned king — so vote Monday through Friday right here on the Peaks & Pints website. Use the bracket below, or pick one up at Peaks, to guide you through the matchups. Then, on April 30, join us at our Proctor District location for the Official Tournament of Beer Party where the final two lagers will be on tap and a winner will be announced.
ERIN MILLER: What's going on everybody! I'm Peaks bartender Erin Miller and I'm back for another year of calling this Tournament. Without further ado, let's take a gander at yesterday's results.
MATTHEW USHER: Hi folks! I'm Matt — a bartender and cook at Peaks. Remember, the next Tournament of Beer: Northwest Lagers First Round action goes live at 10 a.m. Monday, April 11, right here on the Peaks and Pints website.
Friday, April 8, First Round Northwest Lagers Games Results
GAME 1, NORTHERN WASHINGTON REGION
Chuckanut Asian Style Lager (#1 seed) vs Diamond Knot Cantina Lager (#16 seed)
MILLER: When a lager beats another lager by 81 percent of the votes, it's called "getting your pastorianus handed to you" in the craft beer world. No truly, look it up. Diamond Knot's Cantina Lager got its pastorianus handed to by Chuckanut's Asian Lager.
USHER: That Diamond Knot Cantina is solid. It's unfortunate the public vote paired it against a superstar in the first round. The Tournament of Beer Bureau's projection has Chuckanut's lager going far in this tournament. I have a sneaky suspicion Chuckanut might rename their lager Japanese Style just to throw off competitors.
GAME 2, NORTHERN WASHINGTON REGION
Premium Northwest NW Lager (#8 seed) vs Wander Brewing Wander Litely (#9 seed)
MILLER: Colleen and Chad Kuehl wandered into each other at the University of Iowa many years ago, then wandered around the world. Then engineer Chad wondered about craft beer, eventually attending the American Brewer's Guild in 2011 before working at Hilliard's Beer in Seattle. They wondered what would happen if they started Wander Brewing in Bellingham. Eventually, they wondered how well a Wander Litely light lager would be received. I wonder if they wonder anymore.
USHER: I doubt it. Wander Litely wandered into whack territory buy beating NW Lager with 83 percent of the votes. I wonder if Chuckanut is worried for their April 20 Second Round matchup with Wander?
GAME 3, SOUTHERN OREGON REGION
ForeLand Sunstone Lager (#7 seed) vs Wild Ride Cole's Lager (#10 seed)
MILLER: We know what you're thinking. Wild Ride has been around six years longer than ForeLand. "Wild" is in their name, too, so their offensive performance should be difficult to defend. Well, not only does ForeLand brew delicious beer, including their Sunstone Lager, but the brewers have huge ForeArms — physical trait that kept them in the game. In fact, this game was tied at 6 p.m. Then, at around 10 p.m., Wild Ride went sort of wild.
USHER: I'll say. Cole's Lager use to be known as Cole's Trickle Lager, which I assume is named after Tom Cruise's character in Days of Thunder. I can only assume Wild Ride fired up their SuperFlo Chevrolet last night and dropped the hammer as Trickle would say. Whatever the reason, Cole's Lager edged out Sunstone with 52 percent of the votes and moves on to the Second Round.
GAME 4, SOUTHERN OREGON REGION
Rogue Dreamland American Lager (#2 seed) vs Santiam JFK Domestic Lager (#15 seed)
MILLER: Rogue Ales is a veteran of Tournament of Beer action, nominated every year, and a second place showing in our porter tournament. A second-place seed probably is just as much a respect nod as it is a taste reward, or the fact that Rogue has a massive payroll and multiple locations. Santiam Brewing, on the other hand, is a relatively small brewery in Salem.
USHER: Just say it, Erin.
MILLER: Santiam beat Rogue by 68 percent of the votes.
USHER: Wow! Just wow!
MILLER: Let's wade through the chilled wort. The following are advancing to the Second Round:
Chuckanut Brewery Asian Style Lager
Wander Brewing Wander Litely
Wild Ride Cole's Lager
Santiam JFK Domestic Lager
USHER: See everyone back here Monday morning for more Tournament of Beer: Northwest Lager First Round action. Cheers!
Monday, April 11 Tournament of Northwest Lagers action …
Game 1: Wet Coast Costa Mejor (sixth seed) vs. Brothers Cascadia Blue Collar Lager (11th seed)
Game 2: Grains of Wrath Dive Bar (third seed) vs. Heathen Brewing Buena Mierda (14th seed)
Game 3: Ruse Shifting Dreams (fifth seed) vs. Ancestry Japanese Lager (12th seed)
Game 4: Baerlic Dad Beer! (fourth seed) vs. Occidental Japanese Lager (13th seed)
LINK: Tournament of Beers: Northwest Lagers explained
LINK: Hot Damn! Yes, I want to subscribe to 6-Pack of Things To Do newsletter and be hip to local happenings!
LINK: Past Tournament of Beer competitions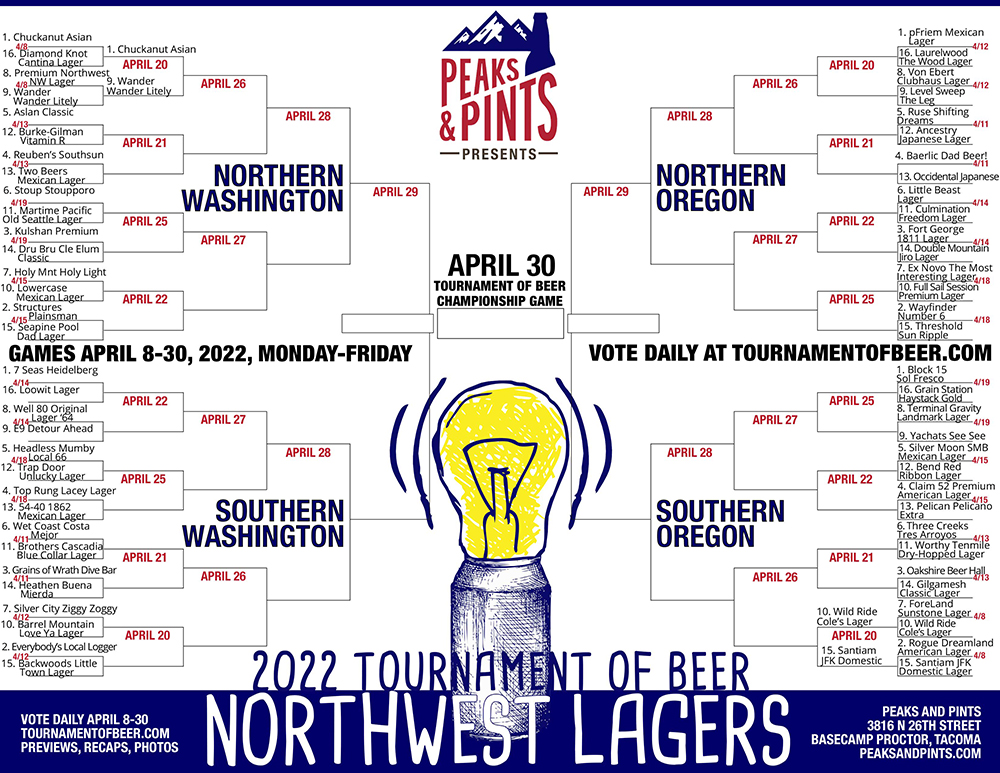 ---