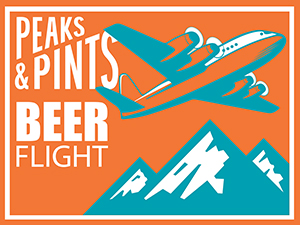 Long before the arrival of Europeans, Native Americans were producing maple sugar to flavor their food and as a valuable item for trade. Colonists learned the technique from Native Americans and used maple sugar in place of cane sugar, which was then an expensive luxury. Nicknamed the sugarbush, the sugar maple yields sap that is boiled and concentrated into one of the best reasons to wake up any morning: an amber or golden maple syrup to douse pancakes and waffles — or add to craft beer. It's healthful, too: high in manganese and zinc, maple syrup is touted to help strengthen the immune system. It has antioxidant compounds, and research continues to tie its beneficial effects to the prevention of neurodegenerative diseases. Anyhoo, Peaks and Pints is a craft beer bottle shop and taproom, not a maple syrup store. Brewers do, however, add maple to their beers, which is right up our alley. Stop by Peaks and Pints today for a to-go flight of beer brewed with maple that we call Peaks and Pints Pilot Program: Maple Beer On The Fly.
Peaks and Pints Pilot Program: Maple Beer On The Fly
Drekker Struggle Bus
6.5% ABV
While Drekker Brewing opened their original Downtown Fargo location in August 2014, it's four founders had already been homebrewing together for 7 years. Started by Mark Bjornstad (president and still an anesthesiologist), Darin Montplaisir (head brewer, formerly in construction), Jesse Feigum ("Head of Nerdery," skilled in business and marketing), and Mason Montplaisir (chief of hipster relations and an engineer), it's clear that each is quite specialized. Together, they brew delicious smoothie sours, including Struggle Bus with orange, maple syrup, cinnamon, vanilla, lactose, and brown sugar for a flavor that's familiar, yet out there, and well delicious.
Short Throw Fade Away
13.1% ABV
Brandon Tolbert gained notoriety during his time as head brewer at The Answer Brewpub.  In 2015, the Answer was awarded Best New Brewery for the state of Virginia with Tolbert at the helm.  He parted ways in 2018 to brew at Final Gravity Brewing and Ardent Craft Ales, while trying to establish his own brand.  He completed that goal in late 2019, partnering with the Twelve Percent Beer Project, to launch Short Throw Brewing. A collaboration with Other Half Brewing, Tolbert's Fade Away imperial silky, viscous pastry stout has a luscious chocolate forward malt base with ludicrous amounts of Vermont maple syrup and roasted coffee.
Hubbard's Cave Coffee & Cakes
12.5% ABV
Born on the near west side of downtown Chicago in 2013, Une Année independent craft brewery was founded by Chicago native Jerry Nelson. Une Année — which means "One Year" in French — set out on a quest to make fine Belgian-inspired ales. Soon, with the help of Jerry's brother David, they expanded to include sours and then, in 2015 with the launch of a sister brewery called Hubbard's Cave, which pays homage to the traffic tunnel on I-90/94 where they first started making beer, American-style ales, imperial stouts and a host of IPAs followed. In 2020, they moved into their current location in Niles, Illinois. Their Coffee & Cakes imperial stout is brewed with SPUTNIK Coffee and maple syrup.
Hubbard's Cave French Toast
12% ABV
This ultra-decadent, breakfast-flavored boozy imperial stout is brewed with maple syrup, cinnamon, vanilla, and lactose. On the nose expect hick waves of sticky maple syrup scents, making way for roasty coffee undertones, rich cinnamon, and hazelnut notes with vanilla latte-like silkiness on the finish.
LINK: Peaks & Pints cooler inventory
---