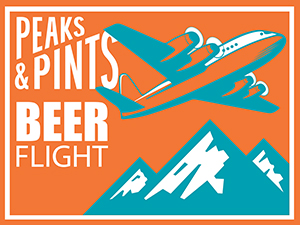 Today marks Peaks & Pints' sixth anniversary. After five false opening dates due to construction, we finally opened Nov. 1, 2016 to a packed house. Today also marks our 1771st beer and cider flight. That's 300 more days than our men's bathroom paper dispenser has worked. That's 200 more days since the playing card has been stuck on our ceiling near the cooler. That's 12 more days than regular Dave has sat at Bar Stool #1. Our first beer flight — an in-house beer flight with a stunt man theme — dropped Jan. 14, 2017. A daily flight followed that liquid stunt flight — Tuesday through Sunday in-house beer flights and Monday in-house cider flights, which both transformed into to-go flights after the pandemic shut-down through today. Once we're fully staffed, we'll convert the flights back to in-house sippers. But Peaks and Pints has been thrilled 74 more days than the number of flights we served. We count our blessings daily. We are overwhelmed by the support from the community. So, here we are on our sixth anniversary day with a flight to create. After some serious thought we thought we'd present a flight from breweries that have brewed our house beers and ciders. Please stop by Peaks and Pints today, give us a hug, and take home Peaks and Pints Pilot Program: Sixth Anniversary Beer Flight.
Peaks and Pints Pilot Program: Sixth Anniversary Beer Flight
Two Beers Fresh Hop
6.2% ABV
Two Beers Brewing brewed our first house beer, Proctor Peaks IPA, released Thursday, Jan. 11, 2018. It was a pine and dank IPA named it after the peak on which our Tacoma bottle shop, taproom and restaurant sits atop. A hyper seasonal, Two Beers Brewing's Fresh Hop IPA is known for its intense hop flavor and unique brewing process, which involves a same-day round trip drive to Yakima, four hours of picking fresh hops off the vines, a community effort to pick the cones off the bines, and a 24-hour brewing process. This year, Two Beer's Fresh Hop IPA is brewed with fresh El Dorado hops from Hops Direct for notes of tropical fruit, pear, watermelon, and stone fruit.
Double Mountain Killer Juicy
5.4% ABV
Double Mountain Brewery and their brewer Matt Coughlin brewed Peaks & Pints our second house IPA this time named after Coughlin's favorite spot to camp in the Olympic Mountains. Cool Camp IPA was built for adventure. Dank evergreen and ripe citrus lead an adventurous crew wandering through a rainforest of pines. When Double Mountain created their Juicy, Clearly Not Hazy IPA, they set out to make a non-hazy, incredibly aromatic, juicy IPA, and lower on the alcohol. When Double Mountain decided to turn Juicy, Clearly Not Hazy into a fresh hop, they headed to Crosby Farms in Oregon's Willamette Valley. Brewed with fresh Centennial and Simcoe, Killer Juicy becomes a dense tropical rainforest dripping with sticky, delicious mango, ripe summer peach, light cannabis, and deep orange.
Kulshan Kitten Mittens Winter Ale
7.4% ABV
In 2019, Kulshan Brewing collaborated with Peaks & Pines on our third house beer, Tree-dimensional-IPA. Tree-dimensional IPA, or Tree-D, continued Peaks & Pints' love affair with old school piney IPAs, this time brewed with Simcoe, Idaho 7, CTZ, Centennial, and whole leaf Cascade in the hop back for all the pine, plus creamy mouthfeel, and bitter finish. Kulshan adds four different malts — 2-row, Chocolate, roasted barley, and Munich — to Kitten Mittens Winter Ale giving it the rich, medium-bodied winter warmer we adore with a nose of milk chocolate and a touch of brown malt. The body strikes a nice mix of easy malty notes and medium sweet chocolate balanced by earthy hop notes, thanks to the Apollo, Willamette and Fuggle hops. Expect a touch of chocolate liquor on the finish.
Everybody's Country Boy IPA
6.2% ABV
During the pandemic, Everybody's Brewing brewed our fourth house beer, Pop-Up Park, an old school pine and citrus IPA. Doug and Christine Ellenberger turn their pub in historic downtown White Salmon, Washington, into Everybody's Brewing. Their love for each other, the great outdoors, and craft beer fueled a successful business and community hub. Their flagship beer, Country Boy IPA, is a classic-styled IPA, brewed with Columbus, Chinook, and Cascade hops. The body is dry, with just enough sweetness to make it very drinkable. The hops give a nice bitter flavor, and clean citrus character — more on the lemon and yellow grapefruit side.
Old Schoolhouse Between Peaks IPA
7% ABV
Peaks & Pints answered the morning School bell, traveled past 101 mountain peaks, and brewed our fifth house beer, Between Peaks IPA, at Old Schoolhouse Brewery in Winthrop, Washington. Between Peaks West Coast-style, old school IPA is aggressively hopped with Simcoe, Simcoe Cryo, Chinook, Cascade Cryo, and HBC 638 hops and bursting with flavors of pine and subtle citrus, loaded with mounds of hops, and balanced with a blend of four different malts. Like those welcoming pine trees, each pint of Between Peaks is like a pine bough swaying across your face. The last keg of Between Peaks will be on tap today during our Sixth Anniversary Party.
Fort George Waves of Silence: Fathom
9% ABV
Fort George Blue Mouse IPA will be Peaks & Pints' new house beer for 2022-23 tapping at 5 p.m. today, which marks six years for our craft beer and cider lodge in Tacoma's Proctor District. Named after the 1922 movie theater that was inside Astoria, Oregon's Lovell building, the building where Fort George Brewery was founded in 2007, and the current Blue Mouse Theatre down the street from Peaks & Pints, Blue Mouse IPA has hop additions of Simcoe, Cascade, Amarillo, and Centennial — including the four hops in the dry hop, and like our previous five house beers, expect notes of pine and citrus swirling in an orange-color body. In 2006, Chris Nemlowill and Jack Harris flew to Virginia Beach, Virginia to salvage an 8.5-barrel Saaz brewing system and drive it across the country to install it in their soon-to-open brewery in Astoria. That first brew system, "Sweet Virginia," is the system we brewed our Blue Mouse IPA.  They went on to specialized in seasonal IPAs and stouts, including the new Waves of Silence "Fathom" imperial stout series. This year's version, titled "Fathoms," is a mocha-inspired imperial stout brewed with coffee and chocolate.
LINK: Peaks & Pints cooler inventory
---
Category:
Beer Line Blog
,
Craft Beer
,
Critical Drinking
,
Events and Festivals
,
Houses of Craft
,
In The Cooler
,
News and Updates
,
Peaks and Pints Lodge Meetings
,
Peaks and Pints Pilot Program
,
Proctor District
,
Shop
,
South Sound
,
Specials
,
Tacoma events