Peaks and Pints co-owner claims new first ascent at Proctor Peak
Tacoma, Wash. (May 15, 2018) — Peaks and Pints — the bottle shop, taproom and restaurant in Tacoma's Proctor District — is thrilled to recognize its co-founder Ron Swarner's new climbing first ascent on Proctor Peak in North Tacoma, Washington. The route is 1.2 miles of vertical with an overhang of zero meters and a grade of E1— the first climb of this grade.
Swarner, a Tacoma native, began the all-day, solo ascent in Old Town Park, next to the Tacoma Mountaineers Sunday, March 24, 2018. The climb starts up North 30th Street, a route that he established in 2016, before breaking left through a series of cross streets. The climb includes a section of crosswalk maneuvers and follows a long line of gutters through a maze of Botts' dots, or turtles, and eventually levels off at the lip of Washington Elementary School at North Adams.
Swarner described the climb as, "the longest and hardest single pitch climb that I have completed in North Tacoma. Proctor Peak is like a dream for craft beer drinkers."
Swarner refers to his Proctor Peaks IPA, which awaits climbers who reach the summit. To celebrate its first year in business, Peaks and Pints brewed a special India Pale Ale in collaboration with Two Beers Brewing Co. Proctor Peaks IPA was released at Peaks and Pints Thursday, Jan. 11, 2018. Swarner and his business partners, Robby and Justin Peterson, brewed the pine and dank IPA at the South Seattle brewery and named it after the peak on which the Tacoma bottle shop, taproom and restaurant sits atop.
"I take off my Peaks and Pints hat (herringbone camper hat with FlexFit comfort, $30 + tax) to Bryson Foster of Foster's Creative for documenting my ascent," says Swarner. "He maintained control of his video equipment even during the harrowing planting strip section on Union Street." The video is available to view at www.peaksandpints.com.
Proctor Peak was so designated in 1883 by Tacoma founding father Allen C. Mason, who named it after topping the 370-foot peak [fact checking]. Earlier that year, Mason left the Illinois Supreme Court to settle in Tacoma, Washington. One Sunday morning — after tossing a few back at the Old Tacoma Saloon (the tavern that eventually became The Spar in Old Town Tacoma) — he took a bet that launched his first climbing adventure. At the top he discovered a remote, unsettled region that soon would host the city's horseracing track, as well as Mason's beloved residential neighborhood, Proctor, complete with a streetcar stop at the intersection of North 26th and Proctor streets. It was there Mason planted his summit flag. Peaks and Pints opened just a few yards south of that infamous locale.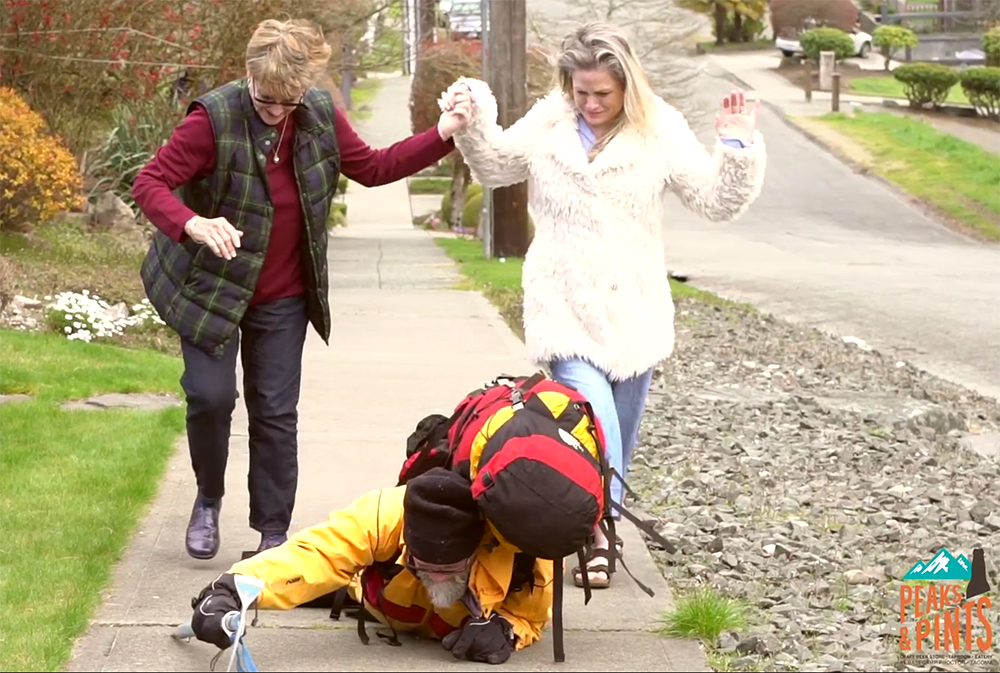 "We're so proud of Ron's new first ascent of Proctor Peak," says Justin Peterson. "Athletes pushing the limits of residential climbing sport in turn pushes us to continue creating cuisine and bringing in the best craft beer and cider to reward them after accomplishing their goals."
After reaching the summit, Swarner powered through to Peaks and Pints' bar and chugged a Proctor Peaks IPA to the roar of the crowd.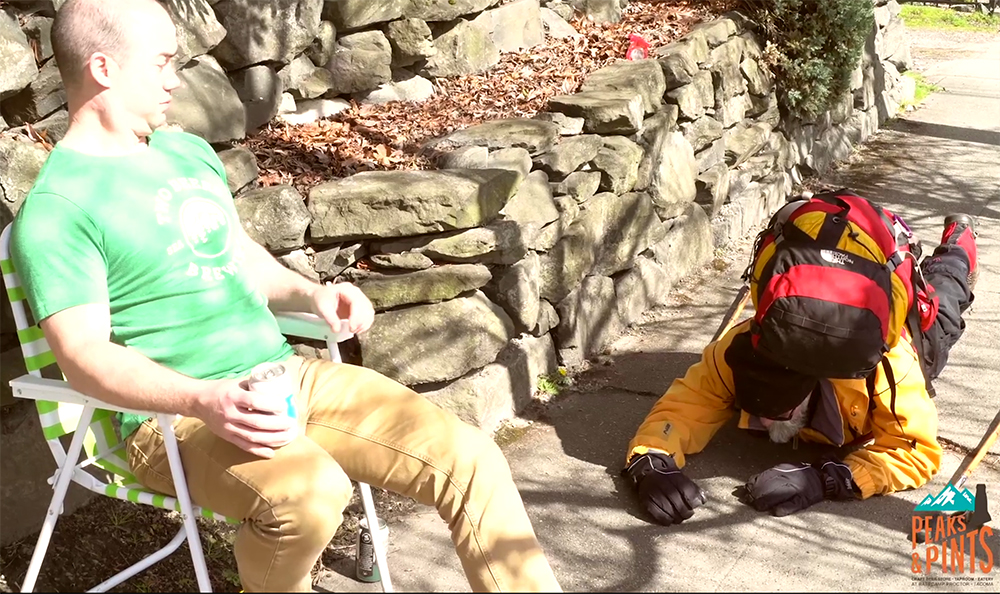 About Proctor Peaks IPA:
Proctor Peaks IPA (6.7% ABV and 68 IBUs) is a double dry hopped beer with a flavor profile that can best be described as dank, dank, dank. Proctor Peaks showcases Warrior, Columbus, Simcoe, and Chinook hops, is dry hopped with Simcoe and Chinook, and boasts an addition of Simcoe at the zero minute for good measure. The IPA is a permanent handle at Peaks and Pints in Tacoma, Washington.
About Peaks and Pints:
Opening its doors Nov. 1, 2016, in Tacoma, Washington, Peaks and Pints is no makeshift tavern in a one-horse town. Co-founded by former newspaper publisher/craft beer columnist Ron Swarner, and restaurateurs Justin and Robby Peterson, Peaks and Pints is a leader in mountain lodge themed bottle shop, taproom and restaurant facilities. We celebrate the best of craft beer and cider, the drive to challenge our potential to pair cuisine, and the joy, friendships and personal growth that come from that endeavor. For more information, visit www.peaksandpints.com or follow on Facebook, Twitter or Instagram @peaksandpints
About Two Beers Brewing Co.:
Pacific Northwest inspired beers, including year rounds, seasonals and a host of intricate infusions in its SoDo-based brewery. Two Beers Brewing can be found in Seattle-area bars and restaurants, with tastings, kegs, and growler fill-ups available at their tasting room, The Woods, located at 4660 Ohio Ave. S. in SoDo. Select brews can also be found in 12-ounce cans and 22-ounce bottles at local retailers in Washington, Oregon, Alaska and Idaho. Cheers, and may you find what we have found to be true — that life is just a little more honest after two beers. For more information, visit www.twobeersbrewing.com or follow on Instagram, Twitter, or Facebook @twobeersbrewing
Media interested in samples, photos and tasting notes are encouraged to contact Maura Hardman at maura@seattlecidercompany.com
---