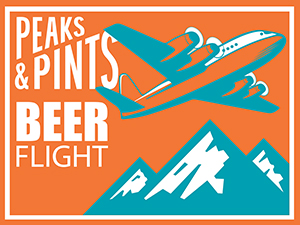 For the last five years Peaks & Pints has hosted the Tournament of Beer bracketed beer competition pitting 64 themed beers against one another in frothy head-to-head matchups voted online by craft beer enthusiasts. Every February, Peaks and Pints asks our patrons and the public to seed the tournament — meaning we poll people for their favorite beer under a certain theme, and thus determining seedings and matchups in the knockout bracket. The top 64 vote getters — the cream of the hops — compete at tournamentofbeer.com (forwards to peaksandpints.com) in April. Through online voting, craft beer drinkers pick daily winners until the best beer is crowned. It's just like March Madness, only with way more alpha acids. The next Peaks & Pints Tournament of Beer will feature 64 American lagers brewed in Washington and Oregon battling in April 2023. In the meantime, Peaks & Pints presents a to-go flight of winners from each of the Tournament of Beer competitions — a flight we call Peaks and Pints Pilot Program: Tournament of Beer Winners On the Fly.
Peaks and Pints Pilot Program: Tournament of Beer Winners On the Fly
Block 15 Sticky Hands
8.1% ABV, 100 IBU
2021 TOURNAMENT OF BEER: NW DOUBLE IPAS: After three weeks of high-intensity, single-elimination games played by the best Double IPAs in the Pacific Northwest, the Peaks and Pints Tournament of Beer: NW Double IPAs Championship Game featured the undefeated Block 15 Brewing Sticky Hands and the No. 1 seed Bale Breaker Brewing Bottomcutter. In a back-and-forth battle, Sticky Hands defeated Bottomcutter by 38 votes. Sticky Hands double IPA is a "Hop Experience Ale" featuring ample additions of sticky, resinous, lupulin packed hop buds grown in the Pacific Northwest. Sticky Hands begins with an aromatic blast of tropical fruits, citrus and dank herb; transitions into luscious hop flavor; and ends with a balanced bitter finish, gently propped up by pale malted barley and fermented with Block 15's privately banked Brewers yeast.
Pelican Kiwanda Cream Ale
5.4% ABV, 25 IBU
2020 TOURNAMENT OF BEER: WEST COAST FLAGSHIPS: If you love Pelican Brewing Company's flagship beer Kiwanda Cream Ale, you're not alone — it's one of Pelican's most award-winning brews with 21 honors, including 13 gold medals and the 2020 Tournament of Beer: West Coast Flagships champion — beating Chuckanut Pilsner in the finale. Inspired by one of America's traditional indigenous 19th century beer styles, Kiwanda Cream Ale is a nod to founding brewmaster Darron Welch's love of history and reputation for brewing beers as they are intended to be. Pelican is the first known craft brewer to honor the early American beer. Made of all local, hand-sourced ingredients — Two-row malt, flaked barley, Mt. Hood hops, CaraPils malt, pure local water and pure ale yeast — Kiwanda Cream Ale is pale gold with a fruity, floral hop aroma, golden color, refreshing body and clean, snappy finish.
Kulshan Pilsner
5.2% ABV, 30 IBU
2019 TOURNAMENT OF BEER: NORTHWEST PILSNERS: For the past couple years, when a mention of Bellingham breweries awards comes up, there's always a discussion that starts with "Kulshan, again?", but even though the rest of Bellingham's growing craft beer scene is pretty damn awesome, the stamp that Kulshan Brewing has put on Bellingham can't be denied. The brewery's German-style "Pilsner" grabbed a gold medal at the 2017 Best of Craft Beer Award and a silver at the 2018 Washington Beer Awards, no doubt for its traditional clean and bready malt flavors supported by herbal, floral and slightly spicy hop aromatics, and flavor from Hallertau Magnum, Hallertau Perle, and Spalt Spalter hops. With a medium body and a dry finish, Kulshan Pilsner beat Occidental Brewing's Pilsner in the 2019 Tournament of Beer: Northwest Pilsners Championship Game.
Wingman Brewers P-51 Porter
8% ABV, 31 IBU
2018 TOURNAMENT OF BEER: NORTHWEST PORTERS: Wingman Brewers is known for their porters. It's what they do. In fact, the P-51 was Wingman's first real beer recipe. "It goes back to 2008 when Derrick (Moyer) and I were home brewing," explains Wingman co-founder Ken Thoburn. "At the time, Lazy Boy Porter from Everett was my favorite beer around, so we tried to emulate that. The beer was initially made for a friend's birthday and called Nalty's Tall Order Porter since he's a tall dude and asked us to make a Porter for his birthday party. The beer went over so well with our friends that it remains the only recipe we've never changed since Wingman started … with Washington-grown barley and Moxie valley hops." P-51 was crowned the 2018 Tournament of Beer: Northwest Porters champion after it beat Rogue Ales Mocha Porter in the championship game. The P-51 Porter is a robust and clean-finishing porter that offers rich, malty flavors that highlight hints of chocolate, coffee, nuts, and smoke.
Rainy Daze Goat Boater IPA
7% ABV, 57 IBU
2017 TOURNAMENT OF BEER: WASHINGTON IPAS: Besides people riding bicycles munching on pickled fish and chanting "Børk! Børk! Børk" the other curious happening Rainy Daze Brewing noticed as it was moving into Sound Brewery's formervfacility in Poulsbo was the frequent kayakers paddling on nearby Liberty Bay. Founder and head brewer Mike Montoney wanted to pay tribute to his new home so he named his latest IPA Goat Boater, which is slang for kayaker. And he's paddling all the way to the bank. Goat Boater IPA was crowned champion in Peaks and Pints' 2017 Tournament of Beer: Washington IPAs, our first tournament. With a winning combination of Amarillo, Mosaic, Centennial and Cascade hops, including a triple dry hop, this delicious IPA offers tropical fruit and dank flavors.
LINK: Peaks & Pints cooler inventory
---