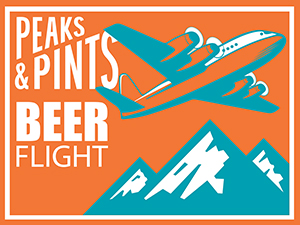 In 2016, MIT graduates and friends Peter Oates and Ricardo Petroni opened Equilibrium Brewery in Middletown, New York. The two professional scientists became obsessed with New England hazy IPAs burning a path to Hill Farmstead Brewery and The Alchemist. Finally purchasing a homebrewing kit, Oats and Petroni strived to create scientifically balanced beer, which they did before brewing their first double IPA, named EQM, in 2015. It didn't hurt they were trained in water chemistry. Four years later, lines 300 deep stood before their door waiting for their latest release. Since then, they opened a second site in Middletown to brew more cult-classic hazy beers — beers they like to drink. Today, Peaks & Pints presents a to-go flight of Equilibrium beer — a flight we call Peaks and Pints Pilot Program: Equilibrium Brewery On The Fly.
Peaks and Pints Pilot Program: Equilibrium Brewery On The Fly
Equilibrium Austin
6% ABV
After years of experimentation, Equilibrium released their farmhouse ale base Austin that is dry, slightly tart, full of flavor, and super drinkable. Austin has a similar elegant acidity of their dry hopped TABA farmhouse IPAs, similar final gravity, but uses completely different microorganisms for fermentation, different hops, and hop process. Austin is pale, tart, delicate, and complex with a bit of pleasant funk. This beer is unfiltered, unpasteurized, naturally carbonated and will continue to evolve over time if properly cellared.
Equilibrium Keeping Memories (Blend 2)
7% ABV
Equilibrium's Batch 2 of Keeping Memories is pulled from their Keeping Memories foeder and then bottle conditioned with organic honey. Pouring a bright straw yellow, expect bright lemon, spring flowers, ginger, lavender bushes, honeysuckle, pleasant funk, and a soft touch of vanilla on the nose. The taste is complex; and features notes of tart lemon, grassy fields, and a layered and perfectly balanced honey backbone to complement the bright notes.
Equilibrium Rocky Road Trip
11% ABV
Conditioned on cacao, vanilla beans, marshmallow, almonds, and walnuts, Equilibrium's Rocky Road Trip pours pitch black with a creamy tan head releasing notes of Rocky Road ice cream. Flavors of a smooth chocolate ice cream shake and dollops of chewy marshmallow swirls contrast with an almond nuttiness and a touch of walnut to create a balanced stout that pays homage to one of their favorite ice cream flavors. Decadent, creamy, and playful, this imperial stout will take to you back to sweet childhood memories.
Equilibrium Wavelength
6.5% ABV
A wavelength is the distance between identical points in the adjacent cycles of a waveform signal propagated in space and describes the flow of photons. Equilibrium's Wavelength starts with oats and white wheat for a base before adding Simcoe and Mosaic to the whirlpool. To receive berry medley notes they dry hop with Mosaic and Citra at a 2:1 ratio. Wavelength pours bright yellow with aromas of citrus and stone fruit with crushable flavors of mango and berry with a light refreshing finish.
Equilibrium Fluff Frequency
6.5% ABV
Equilibrium's Wavelength and Frequency IPAs are joined by their favorite constant: the speed of a photon. If you increase the Frequency of Fluff, the corresponding Wavelength must decrease proportionally. They took this into consideration by starting with a DDH version of Wavelength before conditioning it on marshmallows. Fluff Frequency it has notes of pineapple, passion fruit, and mango dipped in marshmallow frosting. Not overly sweet, the kiss of marshmallow adds a touch of melted ice cream element to one of their favorite IPAs that will be sure to have you vibrating at the right frequency.
Equilibrium Lupo Lab Linear Combination 2
8.5% ABV
Equilibrium grabbed an experimental concentrated Citra lupulin product, LUPOMAX, from HAAS Hops to evaluate. To make a fair evaluation, Lupo Lab takes one of their favorite beers, Fluctuation double IPA, and uses this experimental version in the dry hop with everything else the same as Fluctuation. The concentrated hops are unique in that they essentially supersize flavors and aroma without adding negative aspects of overusing hops. The Lupo Lab Linear Combination 2 double IPA version adds another hop for notes of dank glasses of champagne with tangerine and mango wedges in fresh hop fields. Intense and saturated flavors of juicy citrus, ripe mango, and notes of a melon await with heavy earth and a touch of pine. This beer is aggressive and soft at the same time with an escalating juiciness builds into a tropical EQ Juice finish.
Equilibrium Fluctuation
8.1% ABV
Departures from equilibrium are known as fluctuations. Brewed with 100 percent Citra hops, Equilibrium's Fluctuation double IPA pours a very hazy tangerine color, releasing bright tropical notes of passion fruit, mango, pineapple, and lychee with an undercurrent of sorbet and cream. Fluctuation tastes highly resinous and tropical with an assertive yet soft bitterness. They consider this fluctuation to be perfectly unbalanced.
Equilibrium Relative Rates
8.1% ABV
Relative rates it's a continuation of Equilibrium's dC/dt line of beers, which explores how something changes relative to the rate of change of something else with goal to understand and tune the process that give rise to their tropical EQ juice. Relative Rates double IPA uses a blend of modern hops and pours a hazy bright yellow. Expect whiffs of tropical fruit, citrus, sweet tangerine, and weed. It hits the tongue with tropical fruit, big citrus, plenty of melon with an undercurrent of faint strawberry. The finish is resinous but starts off soft before the juicy undertones take the lead.
LINK: Peaks & Pints cooler inventory
---