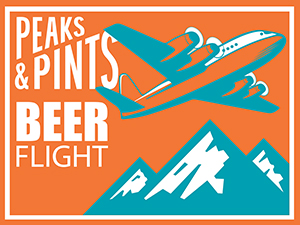 On your marks. Get set. Drink beer. At 5 p.m. tonight, June 2, beer drinkers around the South Sound (and perhaps a few from around the rest of the world) will unite for the first-ever Peaks and Pints Trappist Ale Virtual Tour. We've teamed up with Aaron, PNW Import Beer manager for Merchant du Vin, who will show you how to taste Trappist ales like a pro from the comfort of your sofa, as he guides you through tasting five Trappist beers, helping to discover nuances of flavor and aromas, teaching a little history of Trappist breweries and the Cistercian lifestyle, including a few "behind the scenes" of Abbeys that are off limits to tourists. HERE'S HOW IT WORKS: Drop by Peaks & Pints and grab our to-go beer flight, Peaks and Pints Pilot Program: Trappist Ale Virtual Tour. We're at 3816 N. 26th St. in Tacoma's Proctor District. Clear your schedule between 5-6 p.m. Vacuum your sofa. We'll send your fest access code and instructions via email before the event. Below are the beers we're drinking tonight. …
Peaks and Pints Pilot Program: Trappist Ale Virtual Tour
Brouwerij der Trappisten van Westmalle Dubbel
7% ABV, 24 IBU
In 1836 the Belgian Westmalle monastery became a Trappist Abbey and began brewing beer shortly thereafter. The holy suds they produced started out as an insider-only deal — a choice beverage to be made and enjoyed by Trappists and Trappists alone, but eventually they decided to expand and opened a public beer hall in the early 1930s. Westmalle Dubbel is a dark, reddish-brown Trappist beer with a secondary fermentation in the bottle. The creamy head has the fragrance of special malt and leaves an attractive lace pattern in the glass. The flavor is rich and complex, herby and fruity with a fresh-bitter finish. It is a balanced quality beer with a soft feel in the mouth and a long, dry aftertaste.
De Kievit Zundert Trappist 8 Ale
8% ABV, 34 IBU
Abbey Maria Toevlucht was established in 1900 in the quiet countryside outside the village of Zundert, Netherlands, near the Belgian border. De Kievit Trappist Brewery, built in one of the abbey's historical farm buildings, began selling beer in 2013. The lapwing weathervane on the roof inspired the name of the brewery and remains in place still: Brouwerij De Kievit  — "The Lapwing Brewery" — also uses the beautiful crested northern lapwing in their logo. The brewery's Zundert Trappist 8 Ale shows clear chestnut-brown color, a bouquet of herbal spice, and layered, fruity depth wrapped around caramel malt. Dry, complex, bottle-conditioned; Zundert evolves with each taste and defines a new chapter in the book of excellent Trappist ales.
Brouwerij der Trappisten van Westmalle Tripel
9.5% ABV, 36 IBU
Westmalle embodies the tripel style with a thoughtful balance of sweet, fresh pear, lemon zest and a dash of peppery spice. Its flirtatious effervescence sweeps the mouth clean, while lingering lemony hops leave the mouth pining for more. It's an exceptional beer, with a great deal of finesse and elegance and a splendid enduring aftertaste.
Brasserie d'Orval Orval 2020
6.2% ABV, 36 IBU
Orval Trappist Ale offers flavors found nowhere else: an inviting, complex bouquet; deep flavor with sharp but somehow inviting sourness; and a huge rocky head. Brewed within the walls of a monastery in Belgium, this beer is the favorite of many professional brewers around the world. The 2020 vintage hits the nose with spice, sweet malt, fruits, and Belgian yeast. On the tongue, expect earthy notes, spice, herbal hops, bready malt, and highly carbonated.
Abbaye Notre-Dame de Saint-Remy Trappistes Rochefort 10
11.3% ABV
The Abbaye Notre-Dame de Saint-Remy monks McGyvered their quadrupel. To elevate the alcohol by volume they steeped the candi-sugared wort in metal baskets. Furthermore, two malts were used in the brewing process: pils and caramel malt, as well as wheat starch, two varieties of hops and Rochefort's own yeast. The result is a robust dose of alcohol, much like port. Rochefort 10 hits the nose with roast wheat, figs, cherries, nuts, and dark chocolate. On the tongue, expect caramel, chocolate, ripe fruits and herbal touches of hops.
---