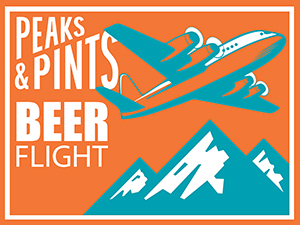 The public nominated 64 Northwest double IPAs for the Tournament of Beer: NW Double IPAs in February. Beginning April 2, through online voting on this website, Washington and Oregon double IPA drinkers will pick daily winners until the best double IPA in the Northwest is crowned April 24. It's just like March Madness, only with way more fermentable sugars. The IBU-to-IBU battle of the DIPAs grand champion will be announced at the Tournament of Beers Party April 24 at Peaks and Pints in Tacoma's Proctor District. The final two double IPAs will battle live pouring from Peaks and Pints' Western red cedar tap log with the champion brewery receiving a permanent handle at Peaks and Pints through the spring and summer. The Tournament bracket hasn't been released yet, but we have announced many nominated double IPAs pairing them with Northwest hiking trail. Today, we're highlighting a few of those announced beers in a to-go flight we call Peaks and Pints Pilot Program: Nominated Washington Double IPAs. Take the nominated double IPAs on hikes. And, remember to vote on daily double IPA battles April 2 2021 at tournamentofbeer.com or this website. Cheers!
Peaks and Pints Pilot Program: Nominated Washington Double IPAs
Georgetown MEOWSA!
8.4% ABV, 60 IBU
Georgetown Brewing's brewery cat, Meowsa, helped brew his namesake double IPA. If you force fed a watermelon a steady diet of mandarin oranges and pineapples and then dropped said watermelon into a woodchipper, the resulting aromas and flavors would be the best way to describe MEOWSA!, the beer. As much as Meowsa, the cat, dislikes the term "juicy" this DIPA is very juicy and has very little bitterness for the style. Grab the Georgetown Brewing MEOSA! from the Peaks & Pints cooler and hike the Middle Fork Trail.
Stoup Neck Tats
8% ABV, 75 IBU
We've told the Stoup Brewing story a thousand times, but it bears repeating. Scientist Brad Benson and foodie Lara Zahaba opened Stoup in Seattle's Ballard neighborhood in 2013. Washington state's first female Cicerone, Robyn Schumacher, became Stoup's third partner, assisting Benson in the brewing room. Stoup's Neck Tats Double IPA is bittered with Chinook with copious amounts of Simcoe added in the whirlpool and dry hop. Hop additions in the forms of Pellets, cryo-pellets and resinate result in loads of layered goodness, citrus hops, pine and subtle cantaloupe. Grab Stoup's Neck Tats from the Peaks & Pints cooler and hike the High Point Trail.
7 Seas Double IPA
8.4% ABV, 84 IBU
Formerly known as Ballz Deep, 7 Seas Brewing Double IPA has copious amounts of resiny Yakima Valley hops making the firm, slightly sweet malt flavor works its ass off to seek balance. It's sold in 19.2-ounced flat gray cans and they move fast, like the alcohol. Grab one from the Peaks & Pints cooler and hike the Packwood Lake Trail.
Rainy Daze Only The Tip
9.9% ABV, 95 IBU
"This is my prized beer to date," Rainy Daze Brewing Co. founder and head brewer Mike Montoney​ stated in 2014 when he emerged from his then small Kitsap County brewery holding high his Only The Tip double IPA. Montoney dumps spruce tips from Sitka, Alaska into each batch, giving the IPA fruity and piney characteristics of the spruce. It's dank, for sure. Heavy and thick, too. Seven years later from its first release the 9.9 percent ABV is still well hidden. Grab this beer from the Peaks & Pints cooler and hike the Olympic Discovery Trail.
LINK: Peaks & Pints cooler inventory
---