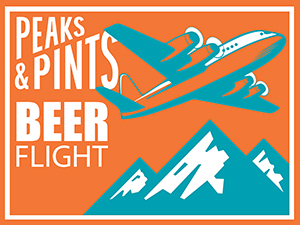 There is still a pandemic afoot, most bars are operating on limited occupancy, drinking amongst a crowd of strangers who slosh their pints and periodically belt a rendition of "O Danny Boy" remains ill advised. So how can you celebrate St. Patrick's Day in Tacoma this year? A few UK-themed bars such as Doyle's Public House offer take-out St. Patrick's Day kits, which is what Peaks and Pints offers — a to-go flight of Irish-themed beers Peaks and Pints Pilot Program: St. Patrick's Day On The Fly. Grab the five beers below, a sandwich or two, and head home to watch a virtual St. Patrick's Day concert live from the Irish World Academy of Music and Dance based in the University of Limerick.
Peaks and Pints Pilot Program: St. Patrick's Day On The Fly
Iron Horse Quilter's Irish Death
7.8% ABV, 12 IBU, can
Ellensburg, Washington's Iron Horse Brewery is an iconoclastic brewery. They're not ones to copy/paste a style into their profile just to compete with the Irish beer giants. Quilter's Irish Death was born of a reverence to the dry Irish stout. Created by the Iron Horse Brewery founder Jim Quilter, this craft beer has been called a sweet stout, strong ale and Scotch Ale. We call it delicious with a massive amount of malt that goes down easy. On the nose, caramel malt was definite and distinct. On the tongue, is over-the-top malty with sweetness and caramel flavor. We survived this beer candy to see another day.
Guinness Extra Stout
4.2% ABV, 45 IBU, can
Arthur Guinness actually began by brewing ales and porters. It wasn't until 1819, with the introduction of Daniel Wheeler's black "patent" malt, that stouts began to be brewed. The words "dry" or "Irish" are often tacked on to "stout" in order to differentiate it from English and American sweet or milk stouts, which usually contain oatmeal or lactose. Yes, the Guinness brewery in Park Royal, London closed in 2005. The production of all Guinness sold in the UK and Ireland was moved to St. James' Gate Brewery, Dublin. Guinness Extra Stout is a top-fermenting brew made with roasted malts and roasted unmalted barley. It's classified as a "dry stout" or "Irish stout" — smoother and roastier than its English and American counterparts. The regular stuff is extra-dark with a black hue and a dense, tan-colored foam. Despite its dark color and strong flavor it's medium-bodied and quite drinkable.
Kulshan Mossy Rock Dry Irish Stout
5% ABV, 30 IBU, can
A style that gained international fame thanks to Guinness, Irish Dry Stouts are characterized by a smooth malt body, high drinkability and a dry roasty finish. Kulshan Brewing's Mossy Rock is a traditional take on the style, brewed with Golden Promise, roasted barley, Chocolate malt, flaked barley, and Cluster hops, boasting bready malt notes and coffee-like roasted malt notes, and a clean dry finish that is a bit surprising given its black color.
Triceratops Collin James Irish Red Ale
5% ABV, can
Low in alcohol and bitterness, Triceratops Brewing Collin James Irish Red Ale is a well-balanced people pleaser. Lightly hopped with the mild, earthy, and somewhat woody Fuggle variety, this beer entices the nose with a rich, toffee-like aroma. Meanwhile, notes of plum and raisin play with a slightly bready and nutty flavor provided by Irish ale malt and a touch of roasted barley.
Bent Bine My Dark Irish Friend
7.2% ABV, Campfire Crowler
Bent Bine Brewing is a little bent. The Belfair brewery took a look at the Irish red ale style with its notes of toast, bread crust, and light caramel flavor and bent it. Bent it hard. Bent Bine My Dark Irish Friend is malty, dark, dark red malty with toffee notes, spiciness and hop bitterness. Oh, and they bent it a little out of the 4 to 5 percent ABV Irish red style range to 7.2 percent. Bent.
LINK: Peaks & Pints cooler inventory
---