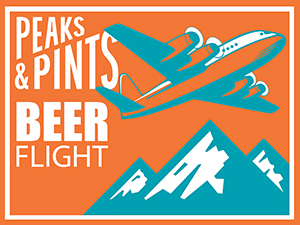 There's a good chance she'll never again climb up our Jeep to snap photos with beers behind Peaks & Pints. She'll probably never sit on top of our cooler to pose twice with Tournament of Beer winners. She'll most likely stop popping out of our Hoppy Holidays food donation boxes, making people sniff coffee beer from Peaks & Pints mugs, brewing two beers with us, and dressing up like a penguin to climb a tree. Peaks & Pints, and certainly all the other craft beer bars and bottle shops in northern Western Washington, will miss her regular visits. Katie Johnson has left the building. She's leaving E9 Brewing and moving back home to Vancouver, Washington, to help Nick Walsh build his 44 Degrees Beverage Sales Solution company in the greater Portland, Oregon area. She's one of the best beer sales executives, and, quite frankly, humans. We'll miss her dearly. Today, Peaks & Pints dedicates our to-go beer flight to Johnson. Stop by Peaks and tour Katie's beer career with Peaks and Pints Pilot Program: Katie Johnson Beer Flight.
Peaks and Pints Pilot Program: Katie Johnson Beer Flight
Kulshan Kitten Mittens Winter Ale
7.4% ABV, 39 IBU
Katie Johnson began her craft beer career at Kulshan Brewing pouring beers and making friends — best friends, including Kulshan Taproom Manager Jen Lamb who now works in Fort George Brewery's cellar. Johnson left Kulshan to work at Cascade Brewing & Barrel House then Chuckanut Brewery before returning to Kulshan in a sales position. Not only did Johnson help Kulshan's Pilsner win the Peaks & Pints 2019 Tournament of Beer: Northwest Pilsners, but she also helped us brew Peaks & Pints' 2019 house beer, Kulshan Tree-dimensional IPA, with her buddy and Kulshan brewer Jen Tadder. Kulshan's Kitten Mittens' body strikes a nice mix of easy malty notes and medium sweet chocolate balanced by earthy hop notes. Expect a touch of chocolate liquor on the finish.
Cascade One Way or Another
7.7% ABV
After her first Kulshan go-round, Katie Johnson became the lead server at Cascade Brewing Barrel House in Portland, Oregon, where she would help vet industry people into barrel tastings on Tuesdays. "I tapped it Tuesdays" she called it. She also honed her sour beer game at the Portland sour house. Based on a collaboration recipe originally designed with Bruery Terreux, One Way Or Another combines whole, Northwest-grown marionberries and Meyer lemon zest with sour blond ale aged in oak barrels for up to 16 months. The finished blend captures notes of blackberry pastry, fresh citrus and spruce tips with a lively acidity and dry finish.
Chuckanut Maibock Lager
7% ABV
Katie Johnson missed Bellingham and her friends while working at Cascade Brewing Barrel House, so she packed her bags and move back to the city in the North Cascades landing a beertender job at Chuckanut Brewery learning everything she could from owners Will and Mari Kemper. Chuckanut's Maibock Lager sports moderate bitterness balancing a slightly sweet, full-bodied palate packed with rich, bready flavors. Plenty of malt and a high alcohol strength with a clean finish makes this lager dangerously smooth. The Maibock was a Washington Beer Awards winner in 2016.
E9 Tacoma Brew
5.1% ABV
After Kulshan to Cascade to Chuckanut and back to Kulshan in a sales role, Katie Johnson took her sales skills to rep E9 Brewing in Tacoma's Historic Brewery District. While at E9, Johnson helped Peaks & Pints and News Tribune columnist Matt Driscoll brew Blown Deadline IPA, a fundraiser to help raise funds to support local journalism, which was released during Tacoma Beer Week 2021. She also helped E9's Detour Ahead Lager win the 2022 Peaks & Pints Tournament of Beer: Northwest Lagers. Columbia Brewing Co. brewed Tacoma Brew in the late 1800s in Tacoma's now Historic Brewery District. Beer made at the facility gained national attention for its flavor and smooth aftertaste in the early 1920s, prompting the brewery to double in size and increase capacity by the mid-1930s. Success at the plant got the attention of another brewery, Heidelberg Brewing Co., which purchased the Columbia plant in 1949 and set out for another round of remodeling. The facility was bought yet again a decade later by Carling Brewery, making it the only West Coast holding of the otherwise East Coast beer company. The brewery is long gone but Tacoma Brew, a Kolsch, is still being brewed. E9 Brewing bought the recipe for the breweries' "Tacoma" brew and still serves it many, many years after the originating brewery held its last call. Tacoma's first beer has a medium body accentuated with crisp Northwest hops.
Incline Cider Beare's Original Haze
5% ABV
As mentioned in this beer flight's introduction, Katie Johnson has left E9 Brewing to help Tacoman Nick Walsh build his 44 Degrees Beverage Sales Solution company, which focuses on beverage sales for companies who need sales representation in the Pacific Northwest. Johnson will rep 44 Degrees' clients to greater Portland area craft beer and cider bars, bottle shops and restaurants. Tacoma-based Incline Cider was the first craft beverage to enter 44 Degrees portfolio. Incline's Beare's Original Haze is a hazy cider showcasing the famous honeycrisp apple.
LINK: Peaks & Pints cooler inventory
---