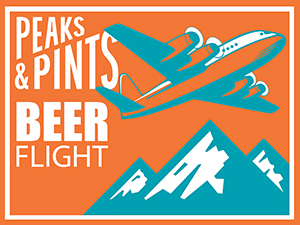 Mike Klucznik and his wife, Sheila Mullen, opened farm brewery Fat Orange Cat Brew Co. in East Hampton, Connecticut, on Aug. 13, 2016. The longtime homebrewer Klucznik wasn't a cat person until he met Mullen's orange-and-white feline, Billy, whose memory now lives on with the brewery. Before they launched Fat Orange Cat, Klucznik worked as a CPA and Mullen as an American Sign Language teacher. Klucznik's homebrewing medals began to pile up so they opened the brewery as a place to store the medals — and showcase his talents. Today, Klucznik, as brewmaster, works with head brewer Carla Waclawski to produce a weekly selection of beers, many which take their names from musical or cinematic references, which are contract-brewed through the 12 Percent Beer Project collective. The East Hampton brewery remains as a pilot brewhouse and test kitchen. Stop by Peaks & Pints and grab a to-go flight of Fat Orange Cat beers — a flight we're calling Peaks and Pints Pilot Program: Fat Orange Cat Brew Flight.
Peaks and Pints Pilot Program: Fat Orange Cat Brew Flight
Fat Orange Cat Keep Yer Claws Sharp
6.8% ABV
Hazy IPA brewed with Vic Secret and Citra hops for strawberries and cream without the lactose and without the sweetness.
Fat Orange Cat Beer In the Street In the Town of New Haven
7% ABV
New Haven is a coastal city on Long Island Sound, in Connecticut. It's home to the Ivy League Yale University, founded in 1701, which is probably why Fat Orange Cat brewed this New England style IPA. Beer In the Street In the Town of New Haven is brewed with Mosaic and Citra hops for a nice and strong herbal edge to go along with a mélange of tropical and citrus notes — orange in particular. Expect a lively and smooth mouthfeel.
Fat Orange Cat Welcome To Harga Director's Cut
8.5% ABV
When you walk out of the forest, a wooden arch will welcome you and lead you to Hårga, a commune, located in the province of Hälsingland, Sweden. The beautiful village sees eternal sunlight during summer due to the midnight sun with flowers blooming everywhere and kindhearted people residing peacefully. When you drink Welcome To Harga Director's Cut, a New England-style double IPA, you'll be greeted by copiously amounts of Nelson, Motueka, and Nelson hops for notes of grass and Sauvignon Blanc grape juice blowing in the breeze.
Family Portrait
8.75% ABV
Imperial hazy IPA brewed with American, German, Canadian and United Kingdom grains coupled with six different hops, featuring two Australian hops, Ella, and Vic Secret, for sweet Clementines and floral piney notes.
Roll Me One, Cowboy, With Coffee, Coconut And Marshmallow
13% ABV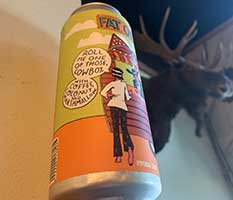 (Vincent takes out his pouch of tobacco and begins rolling himself a smoke as Mia gets a cigarette out of her pack. She sees Vincent rolling one and starts watching him. She then puts hers back in the pack.)
MIA: Could you um, roll me one of those, cowboy? (As he finishes licking it)
VINCENT: You can have this one, cowgirl.
(He hands her the rolled smoke. She takes it, putting it to her lips. Out of nowhere appears a Zippo lighter in Vincent's hand. He lights it.)
MIA: Thanks.
VINCENT: Think nothing of it. (He begins rolling one for himself.)
Can you guess the name origin of this imperial stout with unique and robust flavors created by a generous amount of coffee, coconut, and marshmallow, and a big specialty grain bill?
LINK: Peaks & Pints cooler inventory
---