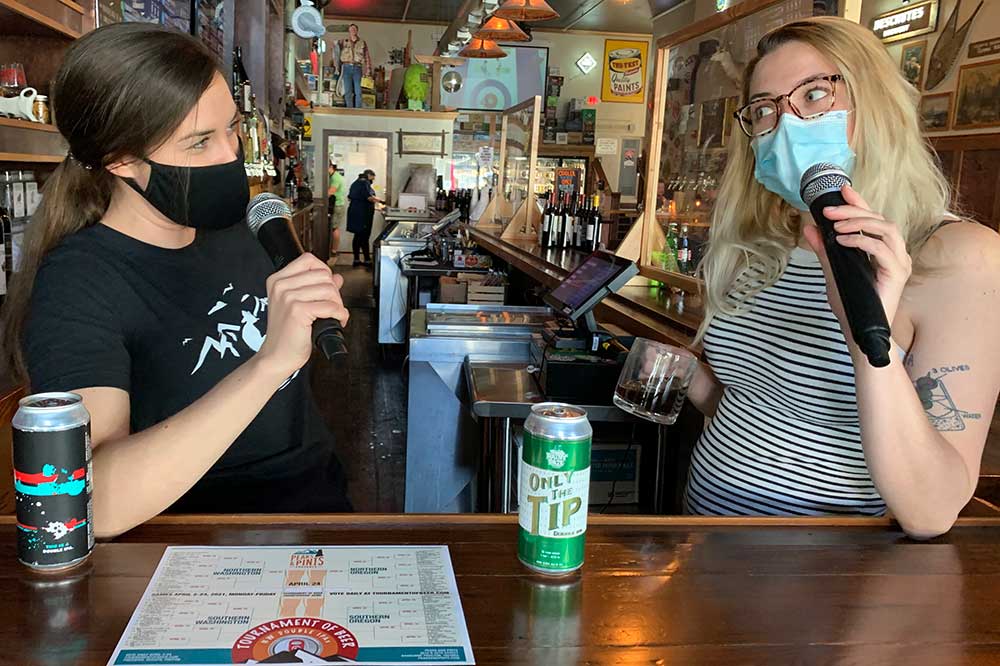 Peaks and Pints Tournament of Beer: NW Double IPAs April 7
NICOLE ALLEN: Let's see, your boss is on spring break with the family, meaning there's no need to actually show up on time to work after Hump Day, meaning the party train should continue to chug at Peaks & Pints. Reserve your table on the Open Table app. We're opening to 10 p.m. on weekdays now. Everybody all aboard!
SARAH JANE: Hold on Missy! First, everyone needs to check off a couple items. Number one: Check out yesterday's Tournament of Beer winners below. Number two: Vote on the eight Northwest double IPAs battling it out today — also below. Number three: Scroll to the very bottom, examine the eight double IPAs competing in the Tournament tomorrow and drink them for research.
NICOLE: After you have completed those three tasks, head off into the night like a boss.
SARAH JANE: OK, let's take a look at yesterday's results and today's four games.
TUESDAY, April 6, First Round NW Double IPAs Games Results
GAME 1, SOUTHERN WASHINGTON REGION
Silver City Ripe N Juicy (#7 seed) vs. Matchless The Hoppy Giant (#10 seed)
SARAH JANE: No need to check your browser, you aren't, in fact, reading Weekly World News. Yesterday, Peaks & Pints received a hot tip about an apparent Hoppy Giant sighting in the Proctor District. The tipster, Ricky — who asked us not to report his last name — tells Peaks & Pints that yesterday, after drinking two snifters of Fremont Brew 5000 barrel-aged barleywine at Peaks, he spotted what he thinks was a Hoppy Giant.
NICOLE: Oh, Ricky. That was a can of Matchless The Hoppy Giant dank, hoppy double IPA that we used as a prop. Ironically, The Hoppy Giant did disappear into the night thanks to Silver City Brewery's Ripe N Juicy 52 percent vote win over the Giant. The Bremerton fruity double IPA moves into the Second Round.
GAME 2, SOUTHERN WASHINGTON REGION
7 Seas Double IPA (#2 seed) vs. Mirage Babylon Pit (#15 seed)
SARAH JANE: The nice thing about a number two seed is it usually means you have a paddy-cake game the first round. Not so much the case yesterday. At 6 p.m., we were thinking how to write 7 Seas Double IPA's farewell, as Mirage's lead was substantial. It wouldn't have been a complete shock; Mike Dempster and his Mirage Beer is on fire. Apparently, though, someone lit a fire under 7 Seas.
NICOLE: They went balls deep and pulled out a win in the final hour. 7 Seas advances to the second round with a 12-point win and a date with Silver City Ripe N Juicy in the Second Round.
GAME 3, NORTHERN OREGON REGION
Great Notion Juice Box (#1 seed) vs. Culmination Obscured By Clouds (#16 seed)
SARAH JANE: Since the NCAA Mens' Basketball Tournament expanded to 64 teams back in 1985, a 16-seed has only beaten a 1-seed once — March 16, 2018, the University of Maryland, Baltimore County (UMBC) Retrievers became the first 16-seed to upset a 1-seed when they defeated the Virginia Cavaliers 74–54 in the first round.
NICOLE: But this is the Tournament of Beer, and number 1-seed Great Notion JB DIPA almost joined number 1-seeds 7 Seas Ballz Deep (Tournament of Washington IPAs) and Grand Teton Wake Up Call (Tournament of Porters) in the history books for losing to 16-seeds. But, "Great" isn't in the Portland brewery's name for nothing. JB DIPA beats Culmination's Obscured By Clouds by three votes.
GAME 4, NORTHERN OREGON REGION
Hopworks Ace of Spades (#8 seed) vs. Baerlic Trickle Drops (#9 seed)
SARAH JANE: In opposite land, Baerlic Trickle Drops did nothing of the sort but instead opened the hose all the way and sprayed Hopworks Ace of Spades with Citra, Galaxy and El Dorado hops.
NICOLE: Sure, Trickle Drops won with 65 percent of the votes, but Hopworks lives to rock another day.
SARAH JANE: Let's weed through the hops. The following are advancing to the Second Round:
Silver City Ripe N Juicy
7 Seas Double IPA
Great Notion Juice Box
Baerlic Trickle Drops
NICOLE: OK, Let's dive into today's First Round action featuring eight double IPA battles. Please vote for one beer per game. Voting for today's double IPA battles ends at 11:45 p.m. The winners will be announced tomorrow morning around 10 a.m., as well as the next round of eight beer battles.
SARAH JANE: Ladies and gentlemen, please join in the singing of our national anthem.
NICOLE: Thank you Fergie! OK, let's get to voting!
Wednesday, April 7, First Round Northwest Double IPA Games
GAME 1, NORTHERN WASHINGTON
Player: Keys Phone Wallet Mask (#5 seed)
Team: Cloudburst, Seattle
NOTES: "M" is for mask. "M" is also for Mosaic. Both M's were part of the reboot of the 2017 Cloudburst Brewing's classic Keys Phone Wallet double hazy IPA, which was brewed with Citra and Ekuanot. In the fall of 2020, Cloudburst added "Mask" to the Keys Phone Wallet, as well as Mosaic hops, for a juicy, hoppy double IPA with notes of grass, soft melon, lemon, biscuit malts, pleasant bitterness, and a slight citrus finish.
Let's Break It Down: 8.5% ABV • 65 IBU • Citra, Ekuanot cryo, and Mosaic hops • Pair it with the Discovery Park Loop
SARAH JANE: The January 2015 Anheuser-Busch acquisition of Elysian Brewing pushed brewer Steve Luke into his dream of owning his own brewery. Luke quickly opened Cloudburst Brewing just north of Pike Place Market and word quickly spread that Seattle had a new house of hops.
NICOLE: People still jam pack the small taproom attached to the 7,200 square-foot brewhouse, although some relief was had when Cloudburst opened a second location in just off Shilshole Bay in Ballard.
SARAH JANE: Check out Cloudburst's description of Keys Phone Wallet Mask double IPA here. It's hilarious.
Player: Only The Tip (#12 seed)
Team: Rainy Daze Brewing, Poulsbo
NOTES: "This is my prized beer to date," Rainy Daze Brewing Co. founder and head brewer Mike Montoney​ stated in 2014 when he emerged from his then small Kitsap County brewery holding high his Only The Tip double IPA. Montoney dumps spruce tips from Sitka, Alaska into each batch, giving the IPA fruity and piney characteristics of the spruce. It's dank, for sure. Heavy and thick, too.
Let's Break It Down: 9.9% ABV • 95 IBU • After 20 years homebrewing Mike Montoney opened Rainy Daze Brewing in Poulsbo in 2012 • Pair it with the Olympic Discovery Trail
SARAH JANE: Rainy Daze has been nominated several times into the Tournament of Beer, including when Rainy Daze Goat Boater IPA won the inaugural Tournament of Beer, which featured Washington State IPAs in 2017.
NICOLE: Seven years later from Only The Tip's first release and the 9.9 percent ABV is still well hidden.
SCROLL DOWN TO VOTE >>>>>>>>>>>>>>>>>>>>>>>>>>>>>>>>>>>>>>>>>>>>>>>>>>>>>>>>>>>>>>
GAME 2, NORTHERN WASHINGTON
Player: Double IPA (#4 seed)
Team: Structures Brewing, Bellingham
NOTES: Structures Brewing has brewed many different double IPAs since Ryan Miller and James Alexander opened the Bellingham brewery in late 2015, but their original Double IPA they had on tap when they opened, and have brewed several times since, is the one nominated into the Tournament, although "double IPA" on the nomination site could have meant other double IPAs such as City of Solace or their recent West Coast Double IPA. Their original Double IPA is hazy, medium-bodied and balanced — hoppy, floral, bitter, sweet — with a boozy finish.
Let's Break It Down: 8.5% ABV • Citra, Cascade, and Galaxy hops
SARAH JANE: Alexander and Miller met as brewers in Pittsburgh and have worked at other breweries across the U.S., including in Vermont, before they decided to start their own business in Bellingham.
NICOLE: I love their intimate taproom with walls of exposed brick and wood with a touch of industrial.
Player: Mammoth Jack (#13 seed)
Team: Skookum Brewery, Arlington
NOTES: Skookum Brewery chose its double IPA Mammoth Jack as their first beer to package in 12-ounce bottles and for good reason. The brewery's tagline is "big bold strong," and that's Mammoth Jack, which is named after the large-headed mammoth jack donkey. The original bottle art has Arlington resident Johnny Green riding a mammoth jack donkey. Mammoth Jack is a freakin' delicious, well-balance West Coast IPA with a touch of rye and massively dry hopped with Yakima Valley hops. It arrives with resiny hops bitterness, pine and grapefruit rind along with some orange peel and mint toward the end for a long, tangy finish.
Let's Break It Down: 8.2% ABV • 90 IBU • big kid version of their Jackass IPA
SARAH JANE: The bouquet is rich with toffee, oily grapefruit and orange peels, pine sap and earth and the palate delivers the kick in the teeth this beer promises — citrus and bitter hops with malts to smooth it over.
NICOLE: What has six legs, four eyes, two heads, and a tail?
SARAH JANE: I don't know.
NICOLE: Johnny Green sitting on a donkey
SCROLL DOWN TO VOTE >>>>>>>>>>>>>>>>>>>>>>>>>>>>>>>>>>>>>>>>>>>>>>>>>>>>>>>>>>>>>>
GAME 3, SOUTHERN OREGON
Player: Forklift IIPA (#6 seed)
Team: Barley Brown's Brew Pub, Baker City
NOTES: Barley Brown's Brew Pub seems to fly under the radar even though it has been operating since 1998 and winning awards at major competitions since 2006, including five medals and small brewery of the year at the 2013 Great American Beer Festival. Perhaps it's the remote location in Baker City, Oregon. It's certainly not its delicious hop bombs; Barley Brown's IPAs, IIPAs and IIIPAs are some of the best in the nation, including nominated Forklift. It's everything you want in a double IPA — smooth, hoppy, balanced with a piney bitterness.
Let's Break It Down: 9% ABV • 90 IBU • Simcoe, Columbus, Citra, Chinook, Amarillo, and Ahtanum hops • One of the most decorated breweries in the country
SARAH JANE: In 1974, Barley Brown's founder Tyler Brown, then 7, and his family loaded up their Volkswagen van and left Connecticut for Seattle. It broke down in Baker City. They stayed and opened a bakery.
NICOLE: I think it's cool Barley Brown's always has a rotating jalapeño beer on tap!
Player: Alpha Centauri (#11 seed)
Team: Hop Valley Brewing, Eugene
NOTES: After graduating from Oregon State University's fermentation sciences program and honing his hoppilicious skills at Pelican Brewing Co. and Rogue's Tracktown Brewpub, Trevor Howard busted out deep, dank, and delicious craft beers as co-owner and head brewer at Eugene, Oregon's Hop Valley Brewing Co. Howard commemorated Hop Valley's 100th batch with the floral and grapefruit-y phenom Alpha Centauri.
Let's Break It Down: 9% ABV • 100 IBU • Great Western 2-Row and Munich malts • Simcoe, Galena, Amarillo, Centennial, and Cascade hops
SARAH JANE: Hop Valley has the McKenzie River in their logo. Eugene brewers have it good with the clear, soft water of the McKenzie River nearby. Mountain springs and melting snow from the Cascades feed the McKenzie River, recognized as the best in the nation. Willamette Valley is also one of the top domestic producers of hops. With growing conditions similar to Germany, the delicate hop flower has flourished there since the 1870s.
NICOLE: Molson Coors will begin distributing offerings from Hop Valley Brewing east this year, as the company's Tenth and Blake craft division takes the brand national.
SCROLL DOWN TO VOTE >>>>>>>>>>>>>>>>>>>>>>>>>>>>>>>>>>>>>>>>>>>>>>>>>>>>>>>>>>>>>>
GAME 4, SOUTHERN OREGON
Player: Half Hitch (#3 seed)
Team: Crux Fermentation Project, Bend
NOTES: Crux Fermentation Project's Half Hitch is a bright and juicy imperial IPA. The aroma, like the Mosaic used to construct it, has a little bit of everything: funk, citrus, plus fresh-mown grass, a hint of honeydew melon and a dollop of honey to round it all out. The tropical, juicy hoppiness has hints of chives, scallions, clover and grass.
Let's Break It Down: 9.5% ABV • 80 IBU • Mosaic hop
SARAH JANE: In 1974, Larry Sidor walked into Olympia Brewing Company wearing galoshes. Two decades later, he ran out. He couldn't take dumbing down lagers anymore. He found happier times at Deschutes Brewery, developing legendary recipes such as The Dissident, The Abyss and Red Chair. In 2012, he and Paul Evers opened Crux in a former AAMCO transmission shop in Bend, Oregon, with the complete freedom to brew whatever they desired.
NICOLE: What's distinctive is how Crux focuses on tropical and piney flavors of hops without harsh bitterness. Juicy, indeed —the hop flavors are very clean, bright, expressive and easily picked out, thanks largely to minimal malt, which isn't the easiest thing to do at 9.5% ABV.
Player: Imperial IPA (#14 seed)
Team: Worthy Brewing, Bend
NOTES: Big and bold without being imperious, Worthy Brewing's Imperial IPA is a hop rocket with a smooth ride. Eight Willamette Valley hop varieties are in this beer — 5.5 pounds of hops per barrel. Worthy also dry-hopped the hell out of it. It tastes like grapefruit and tree with some sweetness.
Let's Break It Down: 8.5% ABV • 85 IBU • Eight Willamette Valley hop varieties
SARAH JANE: Worthy Brewing is out on Bend's newly developed east side, amidst shopping centers condos. Worthy's building is huge with a three-story turret that houses a professional-grade 16-inch reflecting Ritchey-Chrétien telescope that peers out at the cosmos from a retracting roof. This is the "Hopservatory," the world's only in-brewery observatory, which is open to the public from Thursday to Sunday night when the skies are clear.
NICOLE: Yeah, this place is cool. You can climb up the winding staircase on the side of the turret and stargaze with a beer in hand. And, there's a wall dedicated to late Oregon author Ken Kesey and One Flew Over the Cuckoo's Nest.
VOTE BELOW >>>>>>>>>>>>>>>>>>>>>>>>>>>>>>>>>>>>>>>>>>>>>>>>>>>>>>>>>>>>>>>>>>>>>>

Thursday, April 8 Peaks and Pints Tournament of Beer: NW Double IPAs action
Game 1: Bale Breaker Bottomcutter (#8 seed) vs. Barrel Mountain Trail Builder (#16 seed)
Game 2: Grains of Wrath Chainsaws & Boomsticks (#4 seed) vs. Narrows Come Play With Us (#9 seed)
Game 3: Gigantic Ginormous (#6 seed) vs. Little Beast Dear Giant (#11 seed)
Game 4: Fort George Skies of Wonder (#3 seed) vs. Double Mountain Molten Lava (#14 seed)
LINK: Peaks and Pinks Tournament of Beer: NW Double IPAs previous games
LINK: Tournament of Beers: NW Double IPAs explanation
LINK: Hot Damn! Yes, I want to subscribe to Peaks & Pints 6-Pack of Things To Do newsletter and be hip to local happenings!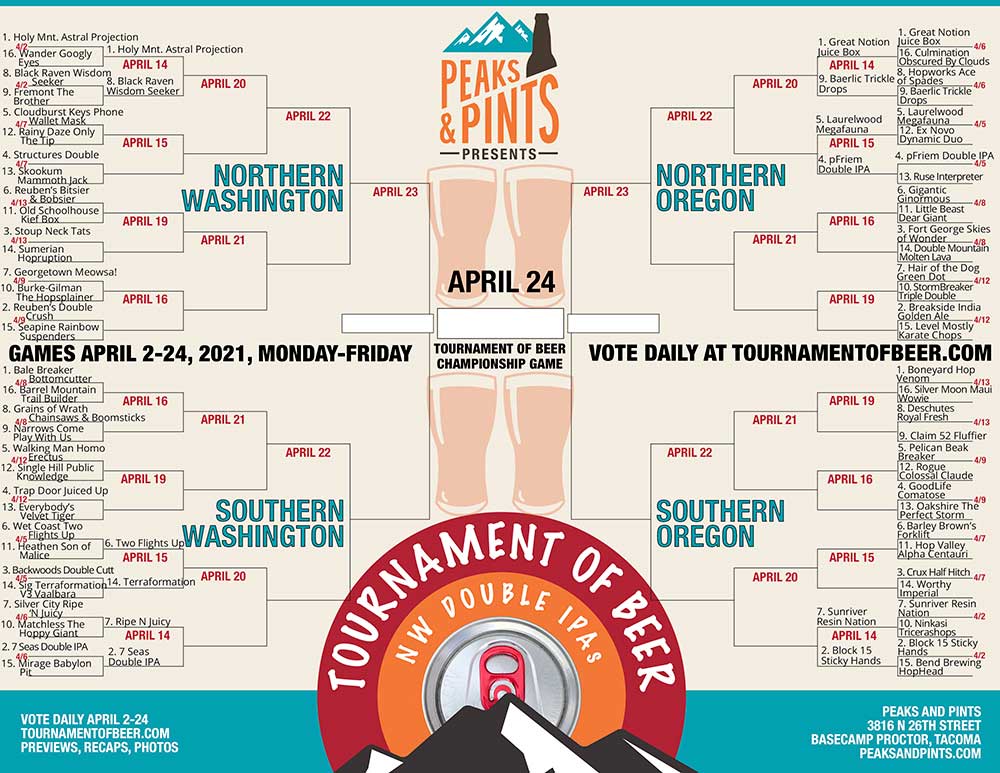 ---