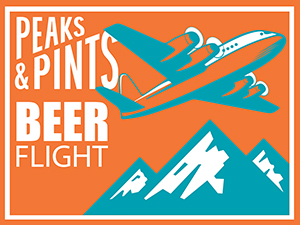 We've been having a dry April so far here in the South Sound, and by the power of optimism, it can only go up from here! But before you break out the beachwear, it looks like afternoon rain today. Spring showers brings spring beer, or something. That's probably not the popular adage, but in works at Peaks & Pints. After all, climate change has made wacky weather even more pronounced, so breweries find it difficult to create the right beer for the season, since the "season" in April can mean refreshing lagers on the patio one day (yesterday) and thick, high-ABV stouts by the fireplace the next (today). Therefore, Peaks & Pints offers a to-go flight for between those two scenarios — a flight we're call Peaks and Pints Pilot Program: Spring On the Fly.
Peaks and Pints Pilot Program: Spring On the Fly
Structures ESB
5.1% ABV, Campfire Crowler

Nothing's more annoying than when you get all geared up for spring — you can never really go wrong with warm weather, sandals and short sleeves — then wake up to rain and have to schlep an umbrella and a change of shoes for work, arriving soaked. Wash your bitterness down with Structures Brewing ESB. The ESB, which stands for "extra special bitter," is a derivation of the British bitter. The "extra special" arose as a marketing label given to premium bitter beers, and eventually it became a recognized style in its own right. A good ESB should be balanced, which describes Structures' ESB. It's malt forward with earth tones and balanced bitterness from the English hop character.
Occidental Maibock
7% ABV, can

It's maibock drinking season, at least according to the Germans. Since 1614, the first kegs are tapped at Munich's Hofbräuhaus during the last week of April (obviously not this year) as they bid auf wiedersehen to winter and welcome the warming days of spring with a lager strong enough to withstand cooler nights but aromatic enough to match the flowering trees and budding plants outside. Maibocks (mai-, pronounced "my," is German for May), like other bocks (stout lagers) are malt-forward, full-bodied beers with a stronger alcohol content (6.3 to 8.1 percent). But, unlike their darker brothers the dopplebock, maibocks highlight floral hop characteristics that keep the sweet, malty experience light and bouncy. Occidental Brewing's version is an easy-drinking, refreshing example of the style with a very slight sweetness and moderate alcohol finish.
Monkless Capitulation
8.1% ABV, 36 IBU, can
Everybody knows that April showers bring May flowers, but since we've got a while to go before May rolls around, you can crack this Belgian-style tripel open on a rainy day and think longingly about the future. Monkless Belgian Ales grabbed on of its favorite beers, The Trinity tripel, and dry hopped it to add a blast of flowery, citrusy hop aroma.
Block 15 Emerging Sunshine
6.75% ABV
In the springtime, fair weather is all you can really hope for. It's a great time of year – not too hot, not too cold, and perfect for contradictory outfits like a shorts-and-sweater combo. And while the definition of a fair-weather friend is a negative one, there is nothing more delightful than having this a crisp golden IPA. Block 15 Brewing's Emerging Sunshine is, indeed, a crisp golden IPA bursting with citrus, mango, and floral notes from Northwest grown Strata, Amarillo, Citra, and Centennial hops. Its crisp 2-row malt base is gently rounded out with additions of flaked barley and honey malt, while fermentation with American ale yeast lends Emerging Sunshine a clean, refreshing finish.
LINK: Peaks & Pints cooler inventory
---