Peaks and Pints Tournament of Beer: NW Double IPAs April 13
AMBER: Lo and behold, today marks the closing of the Tournament of Beer: NW Double IPAs First Round. After today's battles the bracket will be officially down to only 32 Northwest brewed double IPAs, and the competitions are becoming fiercer by the hop addition. Honestly, if it gets any more exciting we'll start to understand why Dick Vitale is always yelling. Plus, we'll be really buzzed.
BETHANY: Without wasting anyone's time with brewing related basketball innuendo, on to yesterday's results and today's Peaks and Pints Tournament of Beer action.
Monday, April 12, First Round NW Double IPAs Games Results
GAME 1, SOUTHERN WASHINGTON REGION
Walking Man Homo Erectus (#5 seed) vs. Single Hill Public Knowledge (#12 seed)
AMBER: Unexpectedly, this was an epic battle — the kind of thing Tournament of Beer "instant classics" are made of. A surprisingly low scoring affair, with much of the action on defense, the fifth seeded and Tournament of Beer veteran Homo Erectus and 12th seeded Public Knowledge were in a dead heat — literally tied — going into the final hours of the competition.
BETHANY: Here are Peaks and Pints World Headquarters in Tacoma's Proctor District, Tournament of Beer officials frantically discussed what to do in case of a tie. Overtime? Coin flip? See which brewery could deliver their double IPA to our craft beer lodge the fastest? Luckily, in the final 30 minutes, Single Hill Public Knowledge squeaked out a 10-point win to advance into the Second Round.
AMBER: This is another game for the Tournament of Beer history books.
GAME 2, SOUTHERN WASHINGTON REGION
Trap Door Juiced Up (#4 seed) vs. Everybody's Velvet Tiger (#13 seed)
AMBER: Honestly, if you haven't had a little bit too much to drink during a Highway 14 construction business related lunch meeting at Everybody's Brewing in White Salmon, well, my friend, you've never lived. The construction along the Columbia River can wait. Mixing a hoppy, bitter, malty double IPA with Everybody's giant ass burrito is so right in so many ways.
BETHANY: Velvet Tiger emerges victorious, having secured roughly 61 percent of the vote in a First-Round battle with Trap Door Juiced Up. It's now public knowledge that Velvet Tiger will meet Single Hill's Public Knowledge in the Second Round.
GAME 3, NORTHERN OREGON REGION
Hair of the Dog Green Dot (#7 seed) vs. StormBreaker Triple Double (#10 seed)
AMBER: In a back-and-forth match-up pitting two fairly evenly matched competitors — at least in the eyes of voters, it seems — Hair of the Dog Green Dot eventually pulled ahead of StormBreaker Triple Double, even with Triple Double scoring a triple double.
BETHANY: You can't question Hair of the Dog's hardcore followers, and sometimes a following is just what it takes in the Tournament of Beer. Green Dot grabs 58 percent of the vote and heads into the Second Round.
GAME 4, NORTHERN OREGON REGION
Breakside India Golden Ale (#2 seed) vs. Level Mostly Karate Chops (#15 seed)
AMBER: Breakside Brewery comes quickly to the lips of many when discussing the best beers in the Pacific Northwest. So, perhaps, it's no surprise that powerhouse Breakside blocked Level's Mostly Karate Chops double IPA, scoring 68 percent of the votes, including a quick 25 votes after an impressive "Crane Kick" Daniel-san style. Breakside India Golden Ale enters the Second Round against relatively close neighbor Hair of the Dog.
BETHANY: Let's weed through the hops. The following are advancing to the Second Round:
Single Hill Public Knowledge
Everybody's Velvet Tiger
Hair of the Dog Green Dot
Breakside India Golden Ale
AMBER: OK, Let's dive into final First Round action featuring four double IPA battles. Please vote for one beer per game. Voting for today's double IPA battles ends at 11:45 p.m. The winners will be announced tomorrow morning around 10 a.m., followed by the first games of the Second Round baby!
BETHANY: Ladies and gentlemen, please join in the singing of our national anthem.
AMBER: Thank you Beyonce! OK, let's get to voting!
Tuesday, April 13, First Round Northwest Double IPA Games
GAME 1, NORTHERN WASHINGTON
Player: Bitsier & Bobsier (#6 seed)
Team: Reuben's Brews, Seattle
NOTES: Reuben's Brews' Bits and Bobs is a rotating season IPA in which head brewer James McDermet and crew scour their notes from the past 12 months, inventory the ingredients at the brewery, then build a new Bits and Bobs IPA. Bitsier and Bobsier is the imperial IPA version, and this year it's hoppy and dank with floral notes, subtle peach and caramel sweet booziness.
Let's Break It Down: 9% ABV • 50 IBU • The 2021 version is brewed with Azacca, Mosaic, Sabro, Citra, Chinook, and Columbus • Pair the beer with the Twin Falls Trail
AMBER: As you know, in 2012, Adam and Grace Robbings opened Reuben's Brews in Seattle's Ballard neighborhood. Apparently an award-winning homebrewing career can transfer into an award-winning professional brewing career as they the state's most awarded craft brewery. You know this because Reuben's is the only brewery in the Tournament to have two of their double IPAs nominated. Reuben's Double Crush beat Seapine's Rainbow Suspenders April 9.
BETHANY: Originally from the UK, Adam turned a passionate hobby into a family-run brewery crafting nationally and internationally recognized beers in a wide variety of styles. "Bits and Bobs" is a British idiom that means the same as "odds and ends," which means "bits and pieces, remnants, leftovers." A "bit" was a coin (three-penny bit), and a "bob" was a shilling or 12 pence.
Player: Kief Box (#11 seed)
Team: Old Schoolhouse Brewery, Winthrop
NOTES: A collaborative brew between Old Schoolhouse Brewery and Yakima Chief-Hop Union, this dank West Coast style double IPA is brewed with massive amounts of Simcoe, Citra, and Mosaic cryo hops. The nose is floral; the taste is hoppy, spicy and bitter.
Let's Break It Down: 8.5% ABV • 70 IBU • Simcoe, Citra, and Mosaic cryo hops
AMBER: Casey and Laura Ruud purchased the floundering Winthrop brewery in 2008, changed the name to Old Schoolhouse Brewery, cleaned it up, and quickly turned it into an award-winning gem of a brewpub. Life happens, and the Ruud's sold the brewery to three gentlemen who grew up in New Hampshire together, brothers Nathan and Jacob Young and Troy Anderson. All three enjoy the outdoors, which is almost mandatory since the riverside brewery and gastropub is in Winthrop, which sits east of Mazama and north of Twisp in Okanogan County.
BETHANY: It may be hazy, but this is not a New England-style IPA. It's a very dank and weed-like West Coast IPA that just happens to be hazy.
SCROLL DOWN TO VOTE >>>>>>>>>>>>>>>>>>>>>>>>>>>>>>>>>>>>>>>>>>>>>>>>>>>>>>>>>>>>>>>>>>>>>>>>>
GAME 2, NORTHERN WASHINGTON
Player: Neck Tats (#3 seed)
Team: Stoup Brewery, Seattle
NOTES: We've told the Stoup Brewing story a thousand times, but it bears repeating. Scientist Brad Benson and foodie Lara Zahaba opened Stoup Brewing in Seattle's Ballard neighborhood in 2013. Washington state's first female Cicerone, Robyn Schumacher, became Stoup's third partner, assisting Benson in the brewing room. Stoup's Neck Tats Double IPA is bittered with Chinook with copious amounts of Simcoe added in the whirlpool and dry hop. Hop additions in the forms of Pellets, cryo-pellets and resinate result in loads of layered goodness, citrus hops, pine and subtle cantaloupe.
Let's Break It Down: 8% ABV • 75 IBU • Chinook and Simcoe hops • pair the beer with the High Point Trail
AMBER: Stoup Brewmaster Brad Benson graduated from Gonzaga University with a B.S. in Chemistry and has been crafting beer for more than 26 years.
BETHANY: Brad should get a neck tat of the Humulone compound, the bitter-tasting chemical compound found in the resin of mature hops.
Player: Hopruption (#14 seed)
Team: Sumerian Brewing, Woodinville
NOTES: If you load up a double IPA with Cascade and Centennial hops, dry hop it twice with Citra and Mosaic, it's much more than an eruption of hops. What was known as Sumerian Brewing's Eruption IPA is now Hopruption IPA. Sumerian Brewing changed the name to match the hop explosion, but honestly they could have called it Smoothruption. This crazy hopped double is well balance with a creamy body, lightly sweet and fruit forward.
Let's Break It Down: 8% ABV • 85 IBU • Cascade, Centennial, Citra, and Mosaic hips
AMBER: In 1995, Mark Ihrig created The Micro Beer Club. Four years later, he launched the Cellars Wine Club in 1999. In 2001, Mark launched Boxing Cat Brewery. Holly Ihrig, one of the first Microsoft employees, retired in 2012 so the couple could combine their talents to open Sumerian Brewing.
BETHANY: Sumerian Hopruption finds itself back in the Tournament of Beer. In 2017, Hopruption made it to the Second Round of the Tournament of Beer: Washington IPAs. It knows exactly when to dispatch the hop explosion.
SCROLL DOWN TO VOTE >>>>>>>>>>>>>>>>>>>>>>>>>>>>>>>>>>>>>>>>>>>>>>>>>>>>>>>>>>>>>>>>>>>>>>>>>
GAME 3, SOUTHERN OREGON
Player: Hop Venom (#1 seed)
Team: Boneyard Beer, Bend
NOTES: With 4.5 pounds of hops per barrel Boneyard Beer's West Coast double IPA will strike your nervous system with a venomous mix of Centennial, Simcoe, Chinook, and CTZ. Hop Venom's delicate malt profile allows the double dry-hopped aroma of tangerine and pine to dominate. The smooth, creamy bodied Hop Venom is well balanced with super fresh hop character, pine and tangerine flavors but really well balanced that hides the alcohol. It's known as a dangerous IPA for a reason.
Let's Break It Down: 9% ABV • 60 IBU • Centennial, Simcoe, Chinook, and CTZ hops
AMBER: In 2010, Boneyard was launched in an old auto shop tucked away in the backstreets of Bend, Oregon's historical district. Without any outside investors or major bank loans, Boneyard's inception was unconventional to say the least. After decades in the brewing industry, owner Tony Lawrence built up a "boneyard" of old equipment he collected from 13 different breweries around the country. Alongside co-founders Clay and Melodee Storey, this second-hand brewing equipment was pieced together to brew the first batch of Boneyard Beer in May 2010.
BETHANY: In July 2018, Boneyard opened a new taproom at 1955 NE Division Street in Bend; the location was formerly a Chinese restaurant as well as a Texas Hold'em poker room and a short-lived taqueria. Like many breweries during the pandemic, Boneyard decided to finally can their beer. Peaks & Pints carries Hop Venom, five other Boneyard beers, cans in our cooler.
Player: Maui Wowie (#16 seed)
Team: Silver Moon Brewing, Bend
NOTES: Brewed as a tribute beer to Silver Moon Brewing's friends at Latitude 45 Hops, a small hop farm located in hot, sunny Madras, Oregon, Maui Wowie is a double IPA bursting with hop character. The double IPA has morphed over the years, dropping the Summit hops from its Chinook, Centennial and Citra hops punch, lowering the ABV by .2 percent and upping the IBUs. It's still a high gravity copper colored ale with intense resinous, sweet pine, pineapple and citrus flavors and aromas. Medium bodied and dry finish equals dangerously easy to drink.
Let's Break It Down: 8.6% ABV • 107 IBU • Chinook, Centennial and Citra hops
AMBER: The beer's named after a Hawaiian sativa pakalolo — Hawaiian for "weed" — gaining notoriety for its up-tempo yet smooth high in the 1960s and really branching out in the mainland at some point in the '80s. Although cross-breeding and inevitable variances in phenotypes have muddled most of the cuts of Maui Wowie you'll come across nowadays, the genetics are generally very sativa-dominant, and the energetic effects and fruity flavors are nearly the same. Just sayin'.
BETHANY: Bend, Oregon's third oldest brewery, Silver Moon, began as a homebrew shop in 2000, when the brewery found new ownership in 2013, and production capacity quickly rose to a top 20 brewery in Oregon.
SCROLL DOWN TO VOTE >>>>>>>>>>>>>>>>>>>>>>>>>>>>>>>>>>>>>>>>>>>>>>>>>>>>>>>>>>>>>>>>>>>>>>>>>
GAME 4, SOUTHERN OREGON
Player: Royal Fresh (#8 seed)
Team: Deschutes Brewery, Bend
NOTES: Deschutes Brewery, a family and employee-owned brewery since 1988, releases an imperial IPA in the Fresh Family line last august. Joining Fresh Squeezed IPA, Fresh Haze IPA and Lil' Squeezy Juicy Ale, Royal Fresh has all the big, juicy hop character of a traditional imperial IPA, without hitting the 90-100 IBU mark, making it a very drinkable imperial. Using 5 pounds of hops per barrel, Royal Fresh includes seven different hop varietals with hop additions at six different stages of the brewing process for juicy juggernaut featuring big, tropical hop flavors and a deceptively smooth finish.
Let's Break It Down: 9% ABV • 70 IBU • Mosaic, Centennial, Cascade, Amarillo, Citra, Cashmere and El Dorado hops
AMBER: Speaking of last summer, Deschutes turned 30 years June 27, 2020. That fateful day Californian Gary Fish set up Deschutes in downtown Bend on Bond Street, back when Bond Street was a much emptier place. Deschutes has since grown to become one of the United States' representative craft breweries, distributing from coast to coast and making Bend synonymous with beer in the minds of many.
BETHANY: Named after the Deschutes River, Deschutes was Central Oregon's first brewery. Fish hired John Harris from McMenamins, who went on to open Ecliptic Brewing. Legislation and a growing provincialism for locally crafted beers soon turned the microbrewer of Mirror Pond Pale Ale and Black Butte Porter in obscure Bend into a macro success, as the state's largest brewer by barrel count.
Player: Fluffier (#9 seed)
Team: Claim 52 Brewing, Eugene
NOTES: In 2012, Mercy McDonald, Jeannine Parisi and Trevor Ross opened Claim 52 Brewing in West Eugene. Today, under the guidance of head brewer Bryce Fisher, they specialize in European-style, super-small batch beers made in the Northwest tradition, as well as exceptional hazy IPAs such Fluffier, the double version of their popular Fluffy, with milk sugar added for extra fluffiness.
Let's Break It Down: 8% ABV • 75 IBU • Citra, Mosaic, and Simcoe hops
AMBER: Named after a donation land claim number and refers to the original tract of land in Eugene settled by pioneer William Luckey in the late 1800s, South Eugene is where some of Claim 52 founding head brewer Trevor Ross' first beer recipes got their start on a homebrew system, tying into the company's deep Oregon roots.
BETHANY: Claim 52 definitely nailed the high-hops low-bitter aspect of what people expect from a Northeast-style IPA, and the hops expression profile is pretty straightforward. I get light orange, guava, lemon zest, some grainy notes and lingering sweetness.
VOTE BELOW >>>>>>>>>>>>>>>>>>>>>>>>>>>>>>>>>>>>>>>>>>>>>>>>>>>>>>>>>>>>>>>>>>>>>>>>>>>>>>>>>>

Wednesday, April 14 Peaks and Pints Tournament of Beer: NW Double IPAs action …
Game 1: Holy Mountain Astral Projection (#1 seed) vs. Black Raven Wisdom Seeker (#8 seed)
Game 2: Silver City Ripe N Juicy (#7 seed) vs. 7 Seas Double IPA (#2 seed)
Game 3: Great Notion Juice Box (#1 seed) vs. Baerlic Trickle Drops (#9 seed)
Game 4: Sunriver Resin Nation (#7 seed) vs. Block 15 Sticky Hands (#2 seed)
LINK: Peaks and Pinks Tournament of Beer: NW Double IPAs previous games
LINK: Tournament of Beers: NW Double IPAs explanation
LINK: Hot Damn! Yes, I want to subscribe to Peaks & Pints 6-Pack of Things To Do newsletter and be hip to local happenings!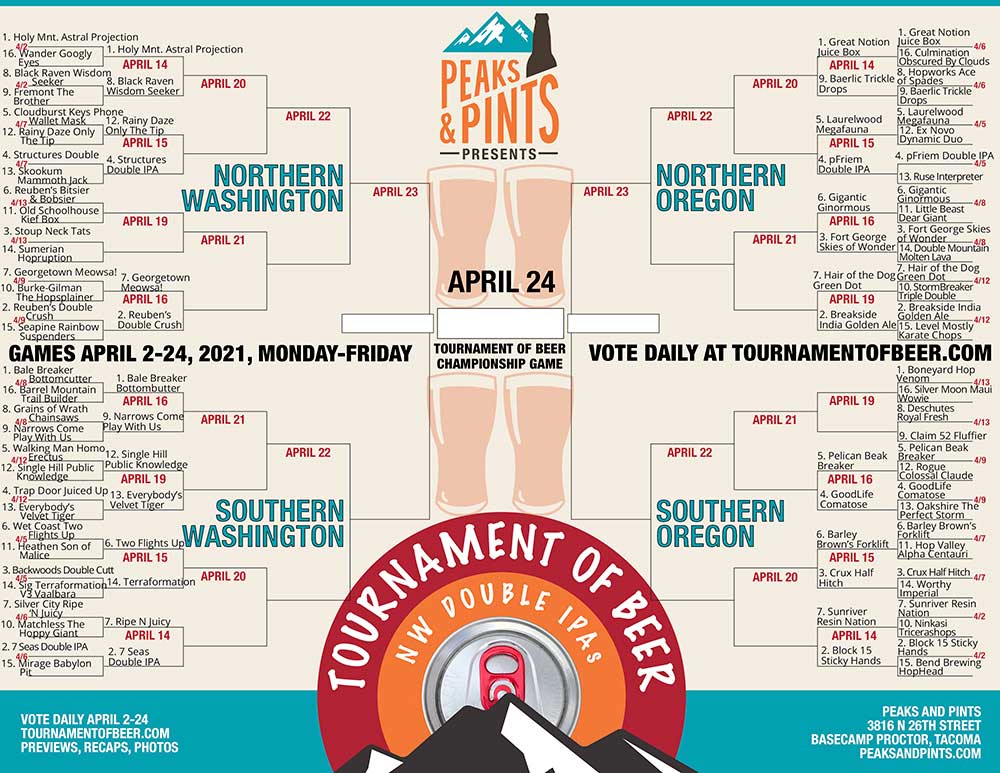 ---