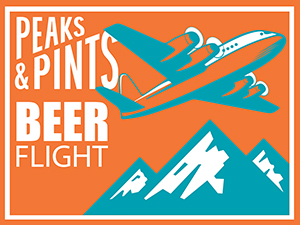 Lagers have seen a resurgence of late. Almost every brewery makes at least one, from the American light lagers modeled on Bud, Miller and Coors, to the ever-present pilsner, to more interesting varieties like dunkels, dopplebocks and marzens. This wasn't the case five years ago, however, for several reasons. For starters, since lagers typically take at least a month to ferment, as opposed to two weeks for ales, most quickly growing breweries focused instead on keeping their taprooms full of the more popular hoppy ales. Lagers can also be finicky if a brewery lacks specialized equipment, and they remind some beer drinkers of those mass-produced industrial light lagers that many craft brewers and their customers eschew. Today, Peaks & Pints has lagers on the brain, mostly due to the weather. Stop by our craft beer lodge and grab Peaks and Pints Pilot Program: Lagers On The Fly.
Peaks and Pints Pilot Program: Lagers On The Fly
Ecliptic Vienna Lager
4.8% ABV
Brewed with Will and Mari Kemper at Chuckanut Brewery, Ecliptic Brewing's Vienna-style lager is brewed with Barke Vienna and Pilsner malts, as well as traditional German hops. The result is a crisp, copper-hued lager with aromas of light toast, balanced by some malt sweetness.
Abita Strawberry Lager
4.2% ABV
The only beer brewed with Louisiana strawberries, Abita Brewing's Strawberry Lager is brewed with Pilsner and Wheat malts and Vanguard hops. The berries are definitely noticeable on the nose, but not overpowering upon tasting. The relatively high carbonation levels also perk up the flavors quite a bit and make this a very refreshing treat. If you're a fan of Abita's Purple Haze, which is their raspberry wheat product, you'll probably really like this one.
Wayfinder Pärty Time Pilsner
4.7% ABV
New Seasons Market partnered with Feast Portland and participating artisans and chefs to create limited edition, Feast-inspired products that showcase beautifully the diversity of the Pacific Northwest culinary community while bringing pure deliciousness to the table for a great cause. Wayfinder Beer is one of those participating artisans in which Brewmaster Kevin Davey brewed Pärty Time Pilsner for the Feast. It's a foam-crowned, clear, golden, and lively beer with a fine hint of noble hops and a crisp dry, spritzy finish.
Heater Allen Marzen Lager
5% ABV, 23 IBU
Beer is a family business for Heater Allen, a lager brewery that opened McMinnville, Oregon, in 2007. "Heater" is Rick's wife Jan's maiden name, and "Allen" is his last name. He figures that you should always give your wife first billing. While Rick has little German heritage on his side of the family, most of Jan's family is of German descent. Their daughter, Lisa, who works for the brewery, is a true Heater Allen. In 2009, Lisa left a career in the wine industry to join her dad's two-man crew. Since Lisa came on the scene, Heater Allen has grown from a six-barrel to a 15-barrel brewhouse, producing a record 1,250 barrels of beer in 2017. Their Marzen Lager is a lighter, lower alcohol version of their popular fall seasonal, Bobtoberfest. Crisp and maltly, this beer is delicious and incredibly food friendly.
Paulaner Salvator
7.9% ABV, 28 IBU
There is a smiling monk and an English gentleman on the label for the Salvator. What's not to like? Answer: nothing. This is delicious. The Paulaner Friars invented the doppelbock 400 years ago, and is actually the founding beer of Paulaner. Beautiful bready aromas, with tinges of alcohol spiciness, waft enticingly from the rocky, cream-color head. German malts flow sweetly across the tongue, brightened by green grape and cherry fruitiness.
---