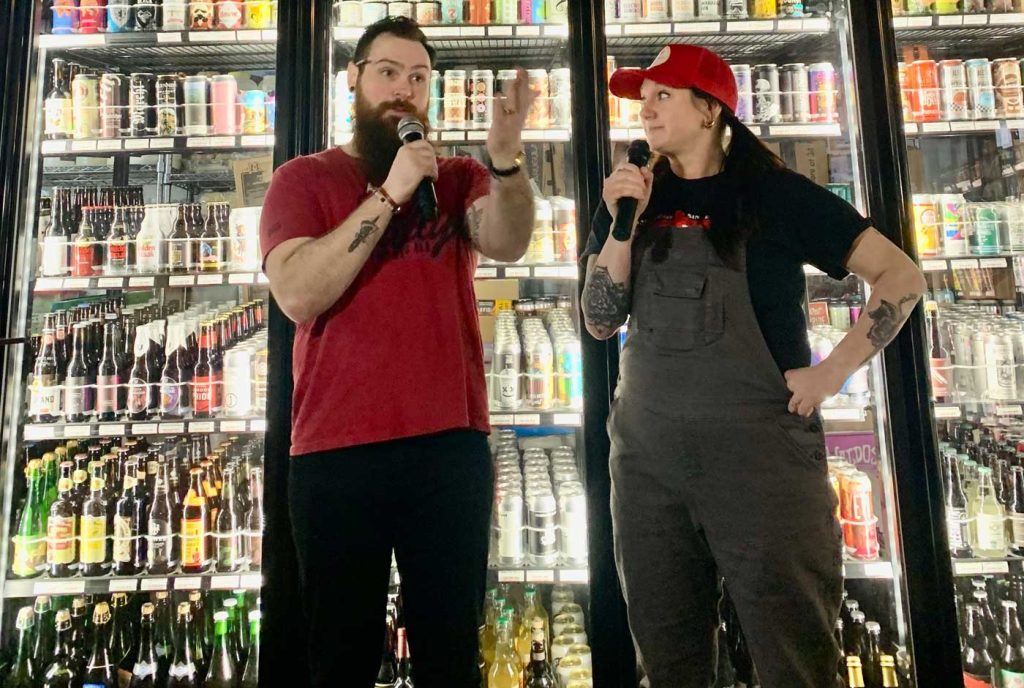 Peaks and Pints Tournament of Beer: Northwest Pale Ales April 20
MATTHEW USHER: Maybe if we all took a page from the friendly spirit of the craft beer movement, the world just might be a better place. It's unlikely there is another fiercely competitive business that delights so much in hanging out together. If the market share is so small for each brewery, why cooperate with your competition? Maybe it stems from the David vs. Goliath syndrome, where craft brewers find delight in sticking together against the behemoths of industrial brewing and are willing to support each other for greater visibility and eventual higher sales. Beginning April 7, Peaks and Pints pitted 64 of the Pacific Northwest's best in a frothy head-to-head battle of pale Ales. We speak, of course, of the Tournament of Beer: Northwest Pale Ales. Hello, everyone. I'm Peaks & Pints bartender Matthew Usher and welcome to Day 2 of Second Round Tournament of Beer action. With me is Peaks Kitchen Sandwich Special savant, Brittney Crowder.
BRITTNEY CROWDER: Thanks Matthew. Hi, y'all. Our Tournament of Beer isn't complicated: We put you, the public, in charge of voting to determine the best Washington and Oregon brewed pale ales in four regions. We simply count the votes and wax silly over the results. Since the voting is subjective, and we have only 64 slots, delicious, awesome pale ales were left out the Tournament. That said, we're stoked how it's progressing so far. Number one seeds are still in play. The biggest shock, based on seeding, was Deschutes Mirror Pond falling to Terminal Gravity's Fuggetaboutit Pale. Also, Wet Coast Brewing performs well every year, but the number three seed lost in the First Round to number 14 seed Odd Otter's longtime pale, Ottzel Quatzel.
USHER: Here's a recap of yesterday's Second Round opening day results and today's Tournament of Beer Northwest Pale Ales Second Round games.
Wednesday, April 19, First Round Northwest Pale Ales Games Results
Game 1, Northern Washington
Georgetown Johnny Utah (#1 seed) vs. Structures Frost (#9 seed)
CROWDER: Everything Georgetown Brewing does, it does big: big brewery — largest in Washington state, 21st largest by volume in the country — big personalities, and beers loaded with big flavor. The other big thing Georgetown does is win big. Yesterday, Johnny Utah grabbed 71 percent of the votes over Structures Brewing's Frost. Honestly, that spread is a stunner. Georgetown would probably admit that, too. Johnny Utah could go all the way, brah.
Game 2, Southern Washington
Trap Door Porch Beer (#7 seed) vs. Bale Breaker Field 41 (#2 seed)
USHER: Apparently Bale Breaker Brewing has used this ploy in previous in Tournaments of Beer: The Yakima County-based craft brewery moved their offices out into their backyard hop fields for the day in a psychological ploy of hop freshness against Trap Door Brewing yesterday. If that wasn't enough, a few Bale Breaker brewers paraded two hop top cutter machines past Trap Door on Main Street in downtown Vancouver. That one-two punch behind the powerful hop aroma of Field 41 Pale allowed Bale Breaker to maintain a lead over Porch Beer all day, capturing 79 percent of the votes and a slot in the Sweet 16.
Game 3, Northern Oregon
Buoy Pacific Pale (#5 seed) vs. Breakside Woodlawn Pale (#13 seed)
CROWDER: At 4:30 p.m., 16 hours after the opening buzzer, this game became tied, 50-50 percentage wise, where it remained until the final buzzer. One vote separated the two pale ales — back and forth, switching leads until the final buzzer. Ladies and gentlemen, please welcome Buoy Beer Pacific Pale Ale to the Second Round.
Game 4, Southern Oregon
GoodLife Sippy Cup Hazy Pale (#7 seed) vs. Terminal Gravity Fuggetaboutit Pale (#15 seed)
USHER: Serving delicious pale ales to thirsty pioneers in Enterprise, Oregon, is business genius, probably why Terminal Gravity has been doing it since 1997. However, population goes long way — and GoodLife Brewing has been fueling the good life in the much larger beer town Bend since 2011. In this contest, fruit forward hops Galaxy, Mosaic, and El Dorado ruled the day with Sippy Cup Hazy Pale securing roughly 64 percent of the votes and a slot in the Sweet 16.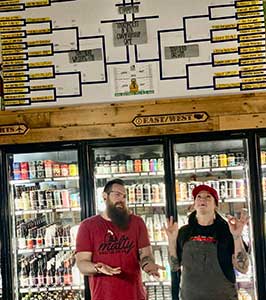 CROWDER: Let's weed through the hops. The following are advancing to the Sweet 16:
Georgetown Johnny Utah
Bale Breaker Field 41
Buoy Pacific Pale
GoodLife Sippy Cup Hazy Pale
USHER: Let's dive into today's Second Round action featuring four pale ale battles. Please vote for one beer per game on Peaks & Pints' Instagram Stories. Voting for today's battles ends at midnight. We'll announce the winners tomorrow morning around 10 a.m., but today's games are live on Peaks & Pints' Instagram Stories.
Thursday, April 20, Second Round Northwest Pale Ales games
Game 1, Northern Washington
Hellbent Seattle Sunshine Hazy Pale (#12 seed) vs Stoup Mosaic Pale (#4 seed)
CROWDER: If there's a trend developing it's Tournament of Beer voters are wowed by balance. Just making a beer bitter is pointless. You may as well drink a glass of bitter gourd juice. The Holy Grail is a beer that strikes the right balance between bitterness, aroma, and malt profile. Every now and then there comes a beer that transcends the numerical tyranny of the IBU and delivers on this mythical promise. Stoup Brewing's Mosaic Pale is such a beer. This isn't one of the many pale ales that are indistinguishable from an IPA. This is a pale ale that's true to the form. I think it's the malting that sets it apart.
USHER: True, and yes Hellbent Brewing's Seattle Sunshine Hazy Pale may a bit overloaded in the hops — Mosaic, Citra, Simcoe, Azacca, and Amarillo — packing a wallop of candied citrus, marmalade, dankness, and tropical fruit, but that's just half the story. This beer is brewed for the Emerald City Supporters, the group of folks who make Seattle Sounder FC games so much fun. If the ECS wants to win, they will win.
VOTE ON PEAKS & PINTS' INSTAGRAM STORIES >>>>>>>>>>>>>>>>>>>>>>>>>>>>>>>>>>>>>>>>>>>>>>>
Game 2, Southern Washington
Single Hill Sightglass Pale (#6 seed) vs Odd Otter Ottzel Quatzel (#14 seed)
CROWDER: During this time of year, Tacoma has 23.8 percent more rainy days and 9 percent less sunny days than Yakima. The cost of living in Yakima is 20 percent lower than Tacoma. Yakima is 44.29 percent less densely populated than Tacoma. Commute time in Tacoma is 49 percent higher than Yakima. How will these statistics play in today's Yakima versus Tacoma matchup? Probably a 3 percent chance the stats matter. Tournament of Beer statisticians say Yakima and Tacoma are 100 percent better off having Single Hill Brewing Sightglass Pale and Odd Otter Ottzel Quatzel, respectively. There's a good chance you'll vote for one or the other.
VOTE ON PEAKS & PINTS' INSTAGRAM STORIES >>>>>>>>>>>>>>>>>>>>>>>>>>>>>>>>>>>>>>>>>>>>>>>
Game 3, Northern Oregon
Fort George City of Dreams (#1 seed) vs Double Mountain Vaporizer (#9 seed)
USHER: Both breweries were founded in March 2007. Both breweries are blocks away from the Columbia River. Both breweries throw amazing parties. Both breweries are fighting for a spot in the Sweet 16. Both breweries brewed Peaks & Pints house beer — Fort George Blue Mouse IPA this year and Double Mountain Cool Camp IPA in 2018. You can't vote for both breweries.
VOTE ON PEAKS & PINTS' INSTAGRAM STORIES >>>>>>>>>>>>>>>>>>>>>>>>>>>>>>>>>>>>>>>>>>>>>>>
Game 4, Southern Oregon
Pelican Paddleback Pale (#6 seed) vs Worthy Secret Spot Pacific Pale (#14 seed)
CROWDER: I feel like one of these beers will win by a nose.
USHER: What?
CROWDER: As you know, Matthew, olfactory is the most important tool when tasting beer. Most of taste is aroma and because of the pathways in the brain that smell takes, your sense of smell has the ability to trigger memories and connections with past experiences in a way that other senses can't. Hops, particularly American, Australian, and New Zealand varieties, add huge aromas of grapefruit, lime, gooseberry, pine, tropical fruits, and even white wine to beer, all originating from their own inherent chemical compounds rather than from additional fruits or spices. Pelican Brewing's Paddleback hits the nose with white peach and gooseberry, while Worthy Brewing's Secret Spot Pacific Pale smells like grapefruit and graham cracker. Follow your nose on this game.
VOTE ON PEAKS & PINTS' INSTAGRAM STORIES >>>>>>>>>>>>>>>>>>>>>>>>>>>>>>>>>>>>>>>>>>>>>>>

Friday, April 21 Tournament of Northwest Pale Ales Second Round action
Game 1: Reuben's Crushable Pale (#10 seed) vs. Holy Mountain Kiln & Cone (#2 seed)
Game 2: E9 Don of Time (#1 seed) vs. Matchless Eastside Club Pale (#9 seed)
Game 3: Level Pixelated Pale (#6 seed) vs. StormBreaker Safety Meeting (#14 seed)
Game 4: Crux Play Wave Pale (#5 seed) vs. Block 15 Joy Pale Ale (#4 seed)
LINK: Tournament of Beers: Northwest Pale Ales explained
LINK: Hot Damn! Yes, I want to subscribe to 6-Pack of Things To Do newsletter and be hip to local happenings!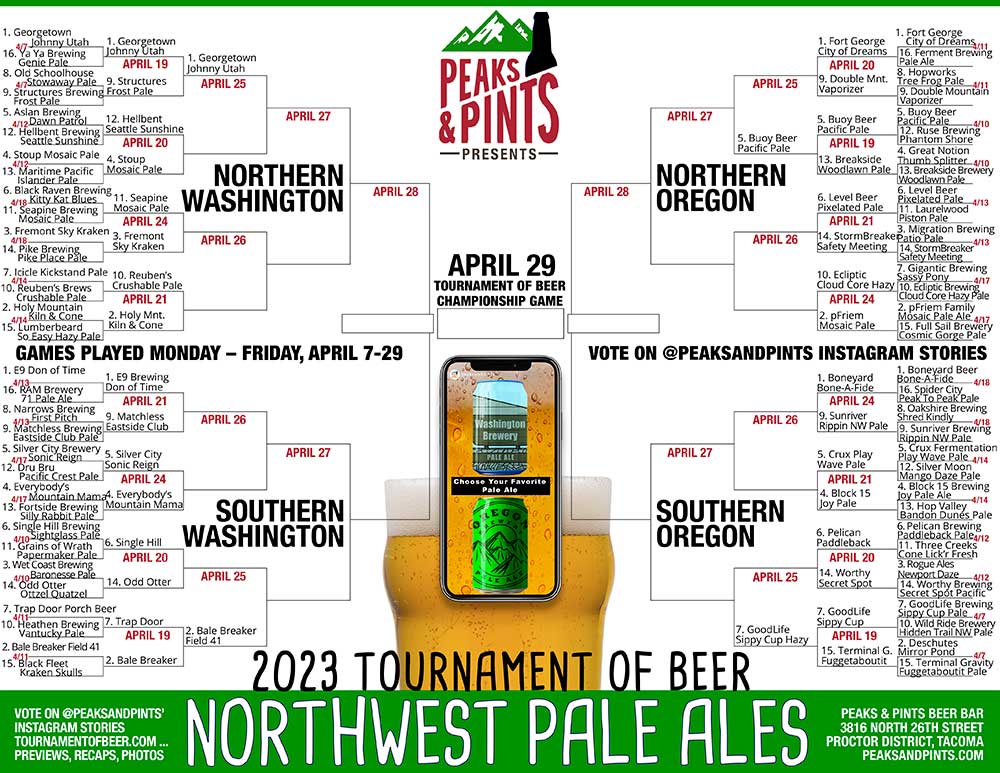 ---