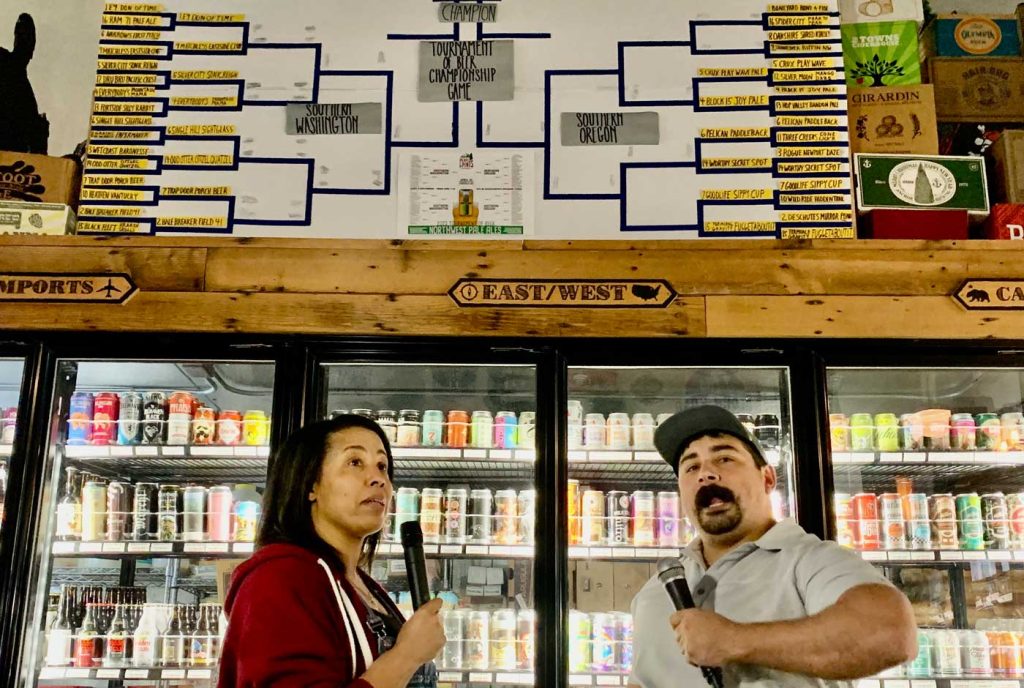 Peaks and Pints Tournament of Beer: Northwest Pale Ales April 19
PHAEDRA MILLER: Now it's getting exciting. The hops are really starting to fly, and the water is so soft that you'll have to beat the Charmin bear off with a bat. OK, so that's a horrible analogy. Point is: This is serious. Hello, everyone! I'm Peaks & Pints bartender Phaedra Miller. Today, the Tournament of Beer officially kicks off its Second Round, meaning 32 Northwest brewed pale ales remain, and the competition is as hot as ever. Who will be crowned champ Saturday, April 29? The path to pale greatness starts today, Brandon.
BRANDON CRESPIN: Indeed. Hello folks, I'm Peaks bartender Brandon Crespin. Here's a recap of yesterday's First Round results and today's Tournament of Beer: Northwest Pale Ales Second Round action baby!
Tuesday, April 18, First Round Northwest Pale Ales Games Results
Game 1, Northern Washington
Black Raven Kitty Kat Blues (#6 seed) vs Seapine Mosaic Pale (#11 seed)
MILLER:  As fellow Peaks & Pints bartender Amy Kirk mentioned yesterday while previewing this game, Seapine Brewing owner and brewmaster Drew Colpitts graduated from the University of California Davis Brewing Program. It's one of the oldest programs in the United States, with a well-respected national and international reputation. The program provides undergraduate teaching from junior to senior level with courses on brewing science, graduate research projects, and consultation with industry. Yesterday, the Seapine brew team sang the UC Davis Aggie Fight Song while brewing — "Let's win. Today's the day The Aggies will fight! Fight! Fight!" — because the brewhouse is loaded with Colpitts' fellow alumni. Seapine Mosaic Pale held a 20 percent lead most of the day and ended with a 60 percent win at the final buzzer to move into the Second Round.
Game 2, Northern Washington
Fremont Sky Kraken (#3 seed) vs Pike Brewing Pike Place Pale (#14 seed)
CRESPIN: Charles Finkel helped shape the way beer is perceived herein the United states, starting with his import company, Merchant Du Vin in the 1970s, then on Oct. 17, 1989, he opened the third brewery in Seattle, Pike Place Brewing, with his wife, Rose Ann, who has since passed. Finkel is one of the most notable beer historians in the country, but he doesn't have a Kraken. Fremont Brewing has one, and it was unleashed yesterday with aplomb. Fremont's Sky Kraken with its hazy notes of ripe melon, juicy citrus, pineapple, and pepper put Pike Place Pale in its place with 69 percent of the votes and a spot in the Second Round.
Game 3, Southern Oregon
Boneyard Bone-A-Fide (#1 seed) vs Spider City Peaks To Peak Pale (#16 seed)
MILLER: You can't overlook the fact that Deschutes Brewery acquired Boneyard Beer two years ago setting up a joint venture between the two Bend, Oregon, breweries. Tony Lawrence, who founded Boneyard in 2010, cut his teeth at Deschutes when he turned 21. Having Deschutes on your side during a Tournament of Beer has to be an advantage, especially against a young brewery such as Spider City Brewing, which also resides in Bend. Boneyard's original flagship beer, Bone-A-Fide pale ale, is what Lawrence calls a baby IPA, on the lighter side for Boneyard but still busting with hops. That also could be a factor in the pale ale's 68 percent win over Peak To Peak Pale.
Game 4, Southern Oregon
Oakshire Shred Kindly Hazy Pale Ale (#8 seed) vs Sunriver Rippin NW Pale (#9 seed)
MILLER: Despite a late push from Eugene's heralded Oakshire and their beloved and benevolent Shred Kindly Hazy Pale Ale, Sunriver Brewing and its large, devoted, outdoorsy following proved too powerful in yesterday's action, catapulting Rippin NW Pale into the Second Round's last open spot with 59 percent of the vote. Sunriver's GABF Gold medal winner will face Boneyard's Bone-A-Fide April 24.
CRESPIN: Let's weed through the hops. The following are advancing to the Second Round:
Seapine Mosaic Pale
Fremont Sky Kraken
Boneyard Bone-A-Fide
Sunriver Rippin NW Pale
MILLLER: Let's dive into today's Second Round action featuring four pale ale battles. Please vote for one beer per game on Peaks & Pints' Instagram Stories. Voting for today's battles ends at midnight. We'll announce the winners tomorrow morning around 10 a.m., but today's games are live on Peaks & Pints' Instagram Stories.
Wednesday, April 19, Second Round Northwest Pale Ales Games
Game 1, Northern Washington
Georgetown Johnny Utah (#1 seed) vs Structures Frost (#9 seed)
MILLER: Both of these breweries have rabid fans and die-hard supporters, as well as worthy pale ales, so this craft beer match-up may be the most hotly contested of the competition to date. Georgetown Brewing, founded in 2002 by Manny Chao and Roger Bialous, is all about the 1991 surfer-FBI-movie classic Point Break naming this pale after Keanu Reeves' quarterback/FBI agent character in the film. Structures Brewing, on the other hand, doesn't have a thing with the 1998 film Jack Frost starring Michael Keaton, but they do have a thing for pale ales with a fruity soft body, subtle piney notes, a pleasant balanced bitterness, and a dry finish.
CRESPIN: Mobile your base, Georgetown Brewing and Structures Brewing, and get out the vote!
VOTE ON PEAKS & PINTS' INSTAGRAM STORIES >>>>>>>>>>>>>>>>>>>>>>>>>>>>>>>>>>>>>>>>>>>>>>>
Game 2, Southern Washington
Trap Door Porch Beer (#7 seed) vs Bale Breaker Field 41 (#2 seed)
CRESPIN: Trap Door Brewing's Porch Beer ousted 10th seeded fellow Vancouverite Heathen Brewing's Vantucky Pale in the First Round letting the southern Washington city know they're not some lazy porch dwelling pale. Across the Cascades, Bale Breaker Brewing Field 41 sent a message with an 86 percent of the vote win over Tacoma's pirate brewery, Black Fleet. The pirate assassin with a side of estate hop farm has 41 reasons why it should be champion, but if Bale Breaker is too hopped up on hops it might miss the strategic trap doors on the porch.
MILLER: What?
CRESPIN: These two breweries have the tools and pales to make this a challenging game.
VOTE ON PEAKS & PINTS' INSTAGRAM STORIES >>>>>>>>>>>>>>>>>>>>>>>>>>>>>>>>>>>>>>>>>>>>>>>
Game 3, Northern Oregon
Buoy Beer Pacific Pale Ale (#5 seed) vs Breakside Woodlawn Pale (#13 seed)
MILLER: Astorians are tough. They live with the Columbia Bar, also known as the Graveyard of the Pacific, the point where the Columbia River meets the open ocean, and 2,000 ships have sunk since they started counting — a place so treacherous that commercial ships are required to employ a licensed bar pilot to navigate them. Add the fact that part of Buoy Beer's roof recently collapsed into the Columbia River, and I'm not sure any pale ale wants to battle their Pacific Pale, just ask Ruse Brewing's Phantom Score pale that fell to Buoy in First Round action. Breakside Brewery isn't about to give any pale a break, even if it's the Ferdinand Magellan of pale ales. Woodlawn Pale has Gold, Silver, and Bronze medals to prove it isn't some lawn lounging Sunday picnic. In fact, it's named after the neighborhood where Breakside began — Woodlawn Triangle — inhabited by a motley crew of Portland hipsters, anarchists, and old timers.
CRESPIN: I'm a rugby player and this game scares me to death.
VOTE ON PEAKS & PINTS' INSTAGRAM STORIES >>>>>>>>>>>>>>>>>>>>>>>>>>>>>>>>>>>>>>>>>>>>>>>
Game 4, Southern Oregon
GoodLife Sippy Cup Hazy Pale (#7 seed) vs Terminal Gravity Fuggetaboutit Pale (#15 seed)
CRESPIN: GoodLife Brewing's Sippy Cup is a hazy pale from Bend, Oregon, with a funny name and juicy hop flavor and aroma. Terminal Gravity Brewing Fuggetabout Pale is a hazy pale from Enterprise, Oregon, with a gangster name and juicy, balanced tropical flavor and aroma. I don't know where I'm going with this; maybe you should just vote now.
VOTE ON PEAKS & PINTS' INSTAGRAM STORIES >>>>>>>>>>>>>>>>>>>>>>>>>>>>>>>>>>>>>>>>>>>>>>>
­
Thursday, April 20 Tournament of Northwest Pale Ales Second Round action
Game 1: Hellbent Seattle Sunshine Hazy Pale (12th seed) vs. Stoup Mosaic Pale (fourth seed)
Game 2: Single Hill Sightglass Pale (sixth seed) vs. Odd Otter Ottzel Quatzel (14th seed)
Game 3: Fort George City of Dreams (first seed) vs. Double Mountain Vaporizer (ninth seed)
Game 4: Pelican Paddleback Pale (sixth seed) vs. Worthy Secret Spot Pacific Pale (14th seed)
LINK: Tournament of Beers: Northwest Pale Ales explained
LINK: Hot Damn! Yes, I want to subscribe to 6-Pack of Things To Do newsletter and be hip to local happenings!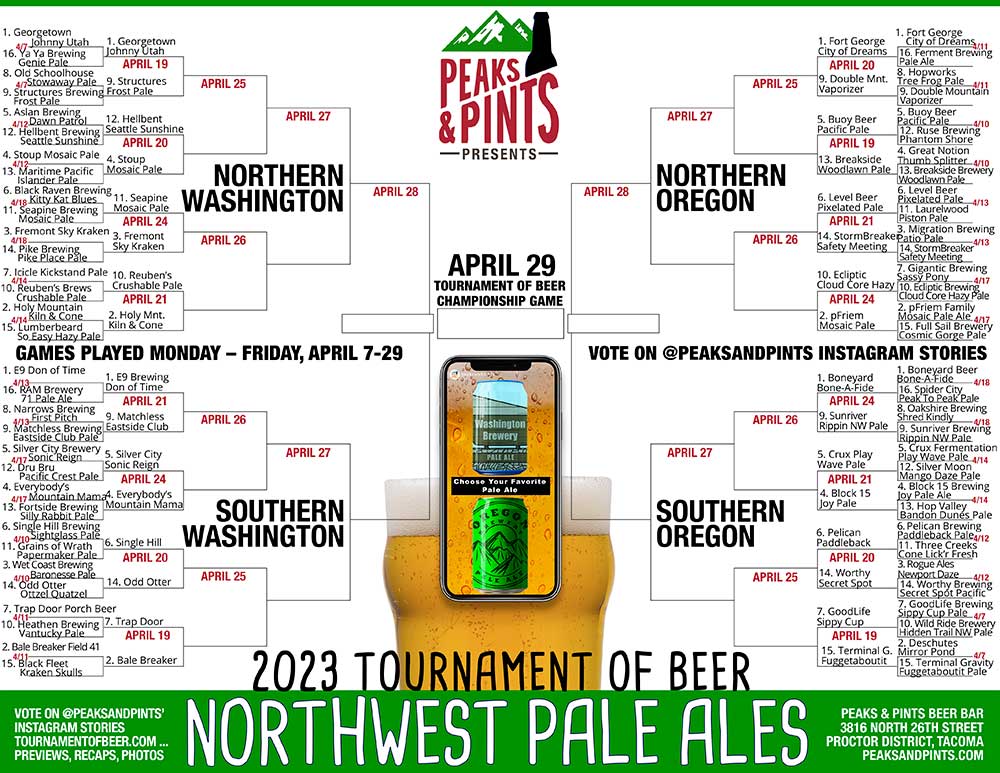 ---