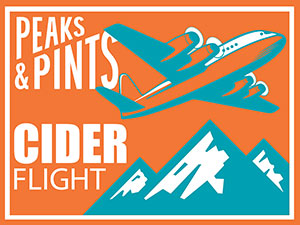 There's no shortage of things you can do to celebrate 4/20, like, say, visiting numerous dispensaries and buying copious amounts of deeply discounted cannabis and cannabis products, and then, you know, consuming them, perhaps in a Mrs. Butterworth's bong or Cheech & Chong joint. Then, you'll get the munchies because cannabis consumption activates certain receptors in our brains, directing hunger-fighting neurons to switch sides and stimulate our appetites. The most generic strains of weed can lube up an appetite, especially for anyone who doesn't toke very often, but there is a rare class of cannabis out there digging endless pits of hunger in our stomachs. You could go to 7-11 and load up on Twinkies, Cheese Puffs, Doritos, and Easy Mac. Or you could sate your munchies with 4/20 themed beers. Plan ahead; stop by Peaks & Pints for our to-go flight of munchies beer — a flight we're calling Peaks and Pints Pilot Program: April 20 Beer Flight. We hope you enjoy partaking!
Peaks and Pints Pilot Program: April 20 Beer Flight
450 North Slushy XXL 420 Money
5.3% ABV
450 North Brewing Company is a small craft brewery situated on the Simmons family farm in Columbus, Indiana. Since 2012 the Simmons have been crafting some of the finest beers in the country, including pioneering the smoothie sour craze. They add extremely large amounts of unfermented fruit puree to kettle sours. By leaving the fruit unfermented, they make sours that look, smell, and drink like a fruit smoothie from a juice café, but with alcohol. After that is achieved, there is a never-ending list of adjuncts and spices that can be added to create whatever flavor they want. Their Slushy XXL 420 Money pastry sour is conditioned on red prickly pear, lime, pink guava, and raspberry.
Silver City Tropic Chronic
6.4% ABV
An experimental variant of Silver City Brewery's popular Tropic Haze IPA, Tropic Chronic exudes extremely dank aroma and flavor components resulting from the use of terpenes — aromatic compounds found in many plants, though most associated with marijuana. To create a beer reminiscent of the Pacific Northwest's favorite herb, Silver City arduously analyzed several specimens, carefully selecting a strain that emanates aromatic properties deemed compatible with Tropic Haze IPA.  These specimens were then sent to a lab, so that the types of terpenes could be identified, allowing them to synthesize the desired aromatic qualities through terpenes derived from natural, non-MJ flora.
Belching Beaver Tropical Terps IPA
6.6% ABV
A re-release of Belching Beaver's Dam Good Decade Terps IPA from its 10th anniversary celebration in October 2022, Tropical Terps IPA is their first core beer that uses terpenes, which are aromatic compounds naturally found in citrus fruits, pine trees, hops, and cannabis. Brewed with Simcoe, Mosaic, Strata, and Citra hops, Terpenes bring to the juicy IPA new flavors and aromas that are unattainable from hops alone, featuring tropical notes of melons, mango, guava, and pineapple. The terpenes used for the beer were not derived from cannabis.
Matchless Purple Terple
6.6% ABV, 42 IBU
Matchless Brewing asks a bunch of questions about their recently released Purple Terple IPA. "What has Idaho 7, Chinook, and Enigma hops and smells like Snoop Dogg's tour bus? What has Pilsner malt and flaked wheat and smells like a Cheech & Chong's movie marathon? What has terpenes and smells like a Willy Nelson concert?" The answer:  It's that sticky icky hazy that tastes like Granddaddy Purp'.
Varietal Nug Jug
7% ABV
A collaboration with Dockside Cannabis in Seattle, this hazy IPA features a blend of hop varieties to target the flavor and aroma of Dutch Treat, a hybrid marijuana strain made by crossing Northern Lights with Haze. The strain produces cerebral effects that will leave you feeling uplifted and euphoric while reducing stress and relaxing the mind. The beer is dank and juicy.
Single Hill Tectonic Chronic
8.9% ABV
Single Hill Brewing's Tectonic Chronic hazy double IPA features old school Columbus hops alongside the movers and shakers that are Simcoe and Mosaic. It's all the classic hop flavor of an American double IPA but with a restrained, subtle bitterness, and a pillowy base that will make you feel like you're floating on (or in) clouds.
Fremont Kush Chronic IPA
7% ABV, 80 IBU
Fremont Brewing brewed their new Kush Chronic IPA with a proprietary blend of terpenes. It smells and tastes like the weed yet there isn't any THS or CBD presents. The terpenes are derived from botanical sources to mimic the aroma and flavor of marijuana and other fruits and plants. The terpenes are a water-soluble botanical terpene blend. It smells like hop flowers, leaves, and some dankness. If you love Fremont's Lush, Kush Chronic has the same honeysuckle sweetness with a bit more of the piney and subtle citrusy hop notes, plus a definite dank overtone.
Lagunitas Waldos' Special Ale
11.7% ABV, 100 IBU
Good news! Our supply of Lagunitas Brewing Co.'s Waldos' Special Ale hit our Western red cedar tap log. The Petaluma, California brewery brews this seasonal triple IPA as a tribute to the Waldos, the group of kids who attended San Rafael High School in the early 1970s. The kids received their name because they would hang out around a wall. The Waldos are most well known for being the founding fathers of 420. They created the slang term as a covert way to gather after school at 4:20 p.m. to smoke weed. Dude, Waldos' Special Ale is dank and sticky.
LINK: Peaks & Pints cooler inventory
---