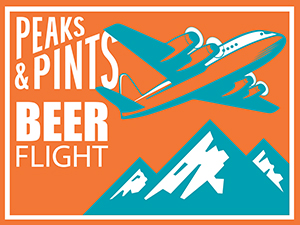 By now you've read everything you need to know about COVID-19. And yet that seems to change almost hourly, and in a way that's nearly impossible to keep up with: What services remain available and at what hours; with whom can you socially network and at what distances; is this bug going to make our asses explode like a merciless volcano (why do we need all this toilet paper); and finally, do we own any Zoom shares, any at all? But something that has remained consistent, reliable, and pretty darn tasty is Tacoma's local beer. Today marks our last salute to the canceled Tacoma Beer Week 2020. We're going to focus on the characters of local beer. No, we're not talking about the brewers and beer reps, although that works. They're definitely characters. Rather, we're focusing today's to-go flight of local beer with characters gracing the local cans: Mo, Edward Resin Hands, Hop of the Walk, Pinky The Cat and Octo. Stop by our craft beer lodge and take home Peaks and Pints Pilot Program: Tacoma Beer Characters On The Fly. Thanks for supporting Tacoma beer this week, and every week (legally and distance-responsible, of course).
Peaks and Pints Pilot Program: Tacoma Beer Characters On The Fly
Tacoma Brewing Mo Pale Ale
5.3% ABV
"I'm better than dirt," says Moe Szyslak. "Well, most kinds of dirt, not that fancy store-bought dirt. I can't compete with that stuff." Szyslak owns Moe's Tavern on The Simpsons. Way better than dirt is Tacoma Brewing's Mo Pale Ale with a cartoon character that looks a little like Moe gracing the can. Brewed with Mosaic hops and oatmeal, it's super smooth and crushable — just like Homer likes it.
E9 Brewing Pinky The Cat IPA
6.2% ABV
In the early '90s, a Northern California animal shelter made a video to showcase one of its homeless animals, a cat named Pinky. Just as the employee calls Pinky a "very loving cat," Pinky jumps out of his arms and begins to freak out, flopping around like the Tasmanian devil before chomping down on the employee's thigh. E9 Brewing's Pinky The Cat didn't bit its collaborator, former E9 brewer and business operations manager at Scuttlebutt Brewing Doug Tiede. No, the brewing day went well with a fairly straightforward malt bill including small amounts of marris otter, oats and wheat. It's dry hopped with Sabro, Comet, and Bru-1 hops for aromatics of tropical fruit, coconut and pineapple.
Wingman Hop of the Walk Juice
5.5% ABV, 55 IBU
The origin of the idiom "cock of the walk" isn't known, but this slang term has been in use for more than two hundred years. One story says that in the early 1800s, boatmen traveling the Mississippi River held prize fights between champion fighters from different boats for entertainment. The winner was awarded the title "Cock of the walk" meaning "best of the best." Hop of the Walk Juice is known. It's Wingman Brewing's hazy IPA brewed with Sultana and Ekuanot hops for big, fruity, ripe pineapple notes, bright citrus, and a subtle hint of pine.
7 Seas Edward Resin Hands
8.2% ABV, 60 IBU
7 Seas Brewing's Edward Resin Hands follows the same plot as the obvious film reference — boy is created by a mad-but-loving inventor, has only scissors for hands and enters suburbia as a lost boy in a man's body — but 7 Seas heightens the otherworldly nature of the tale by removing all of the dialogue and telling the story purely through hops. Brewed with Cryo Azacca, Simcoe, Idaho Gem, and Experimental HBC-586, this ultra dank and resinous hazy imperial IPA is smooth bodied, and mildly malty.
Narrows OCTO IPA
7.2% ABV, 72 IBU
Enteroctopus dofleini lives under the Narrows Bridge. You might know it better as the giant Pacific octopus. It is the largest species of octopus found in the world. It has an arm span of up to 20 feet, it can jam into small cracks and holes because its beak is the only hard part of its body, and it changes color depending on its mood. Some can grow to a whopping 100 pounds over a relatively short lifespan of three to four years. The most famous giant Pacific octopus is, of course, OCTO, which graces the can of Matt Rhodes West Coast IPA. The Narrows Brewing head brewer can see the Narrows Bridge from his brewhouse as he adds Centennial, Chinook, and Columbus hops to a 2-row foundation to OCTO IPA for dank, piney bitterness from the deep.
A look back at Tacoma Beer Week 2020: Canceled Edition:
Peaks and Pints Pilot Program: Tacoma Beer Week On The Fly
Peaks and Pints Monday Cider Flight: Pierce County
Peaks and Pints Pilot Program: Tacoma Beer Week-ish IPAs On The Fly
Peaks and Pints Pilot Program: Tacoma Historic Brewery District On The Fly
Peaks and Pints Pilot Program: Tacoma Beer Denizens On The Fly
---