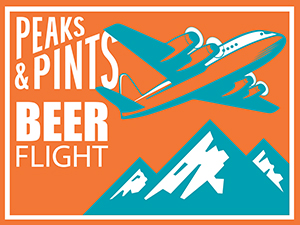 The kings of the beer geeks, in our book, are the brewery sales representatives, or beer reps as they are commonly known. It's their job to know beer inside and out. They need the knowledge to have intelligent conversations with their boss, the brewery owner, the brewery's brewmaster, as well as the distributor who, er, distributes their beer, the establishments that sell their beer and the consumers who attended their brewery promotions — the people who matter the most. Today, as part of Peaks & Pints' Tacoma Beer Week 2020 memoriam — a weeklong celebration of Tacoma beer amidst the canceled annual week-long Tacoma beer celebration — we present a to-go beer flight of out of state beer sold by beer reps who live in Tacoma. Right? So fun! Stop by our craft beer lodge today for Peaks and Pints Pilot Program: Tacoma Beer Denizens On The Fly.
Peaks and Pints Pilot Program: Tacoma Beer Denizens On The Fly
Anderson Valley Salted Caramel Bourbon Barrel Aged Porter
9.5% ABV, 16 IBU
This might comes as a shocker, but Peaks & Pints doesn't know all the street speak. We have no idea why Anderson Valley Brewing Regional Sales Manager Seth Gregory calls himself "Scratcher Shiggy." We do know the Tacoma resident gets shiggy wid it when it comes to his brewery's beers, especially the Salted Caramel Bourbon Barrel Aged Porter. Now in cans, this slightly sweet porter is brewed with select additions of crystal malts and sea salt to create flavors of peanut brittle and caramel without being cloying. The medium body and mouthfeel lay the perfect foundation to support the rich vanilla, oak, and bourbon flavors imparted by extended aging in Wild Turkey barrels.
Brouwerij der Trappisten van Westmalle Dubbel
7% ABV, 24 IBU
Tacoman Aaron Cohn reps Merchant du Vin — the Seattle-based specialty beer importer representing Lindemans, Brasserie du Bocq, Westmalle Trappist and Trappistes Rochefort, to name a few. We hit "Record" on our phone the instant Cohn walks through our door as he tends to drops European beer history tidbits like Notorious B.I.G. spews rhymes. Cohn tells us that in 1836 the Belgian Westmalle monastery became a Trappist Abbey and began brewing beer shortly thereafter. The holy suds they produced started out as an insider-only deal — a choice beverage to be made and enjoyed by Trappists and Trappists alone, but eventually they decided to expand and opened up a public beer hall in the early 1930s. Westmalle Dubbel is a dark, reddish-brown Trappist beer with a secondary fermentation in the bottle. The creamy head has the fragrance of special malt and leaves an attractive lace pattern in the glass. The flavor is rich and complex, herby and fruity with a fresh-bitter finish. It is a balanced quality beer with a soft feel in the mouth and a long, dry aftertaste.
Everybody's Petrichor
5.2% ABV, 20 IBU
Stephan Godleski is Everybody's rep. No, really, he reps Everybody's Brewing from White Salmon, Washington — a bridge away from Hood River, Oregon, so we're including the brewery in this flight — it's a long-ass drive to get there. Anyway, Godleski is a master — he drops in with rapid-fire knowledge and samples — then he's off to spread the good word before returning to his Tacoma abode. During one of his recent visits he dropped the Petrichor Helles Lager on us. Yes please! The subtle sweetness reminiscent of warm baked bread, the German noble hops, the rounded body and spicy, mild bitterness — we were sold.
Ninkasi Prismatic Juicy IPA
5.9% ABV, 36 IBU
When Colin Corpe isn't writing poetry, visiting dog parks or fighting for basic human rights, he reps Ninkasi Brewing out of Eugene, Oregon. A seasoned beer rep, Corpe will go one for days how his Prismatic Juicy IPA is the bomb. He loves him some cryo hops, which are front and center in this delicious IPA. Ninkasi brews Prismatic Juicy IPA with Mosaic cryo and dry hops it with Simcoe cryo, as well as El Dorado, Centennial, Simcoe, and Citra hops resulting in notes of pineapple, passionfruit and guava.
Firestone Walker Luponic Distortion 016
5.9% ABV
Mike Stiehl is 7 feet tall. OK, maybe he's slightly shorter, but he enters a room 7 feet tall. The Tacoman reps Firestone Walker Brewing, which is the 7 feet tall of breweries. The Northern California brewery not only churns out award-winning beers like it's going out of style, but they do so across a wide spectrum of beer styles. Peaks & Pints likes to call Mike, "Stiehl Walker." We also like his latest Luponic Distortion series IPA. It makes a statement with bold flavors of peach, pear drop and dragonfruit, all derived exclusively from 100 percent natural hops from Germany, the Pacific Northwest and New Zealand. Luponic Stiehl? 
Belching Beaver Phantom Bride IPA
7.1% ABV, 55 IBU
If Sean Larson could be a roadie, we think he'd choose to be in charge of the alt-metal band Deftones' beer cooler. The Tacoma beer expert could hold his own with craft beer enthusiast Chino Moreno, the longtime hophead lead singer of the band. Funny, that scenario could actually happen as Larson now reps Belching Beaver, the San Diego brewery that has a longtime crush on the band, brewing several collaborations with Moreno, including Phantom Bridge, which is a single off the band's recent album, Gore. Moreno chose the Mosaic, Amarillo, Simcoe and Citra hops that went into this hoppy, West Coast style IPA. The crushable, super fruity IPA offers orange, citrus, pine, grapefruit and peach flavors with a moderately low bitterness.
Rogue Double Chocolate Stout
8.8% ABV, 68 IBU
Rich Jamieson was on the opening team at Imbibe Bottle House and Taproom in Maple Valley before becoming the beer buyer at CRFT Beers in Auburn. The Tacoma resident then sold AleSmith, Boneyard, Epic, Knee Deep, TRVE, Wild Ride and other craft beer for Alpha Distributing, before landing his dream job selling Rogue Ales. Jamieson would like to remind everyone that this week marks the halfway point to Valentine's Day. Yes, he's a lover not a fighter, but also his Rogue Double Chocolate Stout debuted on Valentine's Day in 2001. The imperial chocolate stout smells like the inside of pain au chocolat thanks to ample bittersweet Dutch chocolate. Clocking in at 8.8 percent alcohol by volume and wearing a red 750ml casing, this 2010 World Beer Championships gold medal winner is definitely a sweetheart — like Jamieson.
---