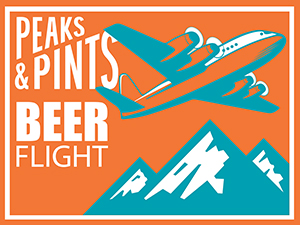 With the pandemic crisis making a traditional celebration impossible, Tacoma Beer Week organizers have canceled Tacoma Beer week 2020, which would have kicked off last Saturday. With so many unknowns, constant restriction changes, and brewery business model restructurings, TBW organizers didn't want to gamble on public safety and lean resources. Peaks & Pints completely agrees with the decision. But, we're not about to let the Tacoma beer centric week be forgotten. Today is day three of a week full of Tacoma Beer Week-ish to-go flights. Today, take home several local IPAs in our Peaks and Pints Pilot Program: Tacoma Beer Week-ish IPAs On The Fly.
Peaks and Pints Pilot Program: Tacoma Beer Week-ish IPAs On The Fly
Wet Coast Amarillo Single-Hop IPA
6.2% ABV, 45 IBU
West Pierce Fire and Rescue firefighters Bryan Copeland and Aaron Johnson are the brewers and co-owners behind Wet Coast Brewing in Gig Harbor. Their Single-Hop IPA series wheel stopped on Amarillo this week. Amarillo hops may seem as though they might be grown in the foothills of the Spanish Pyrennes but in fact come from Washington's Virgil Gamache Farms. The hop provides a super-citrusy aroma verging on oranges, followed by floral, tropical and citrus (lemon, orange and grapefruit) characteristics. Wet Coast Brewing grabbed a bunch for their Amarillo Single-Hop IPA, and took full advantage of the lemon, grapefruit, orange, floral and tropical notes.
Wingman Hop of the Walk Juice
5.5% ABV, 55 IBU
Head Brewer Ken Thoburn, Derrick Moyer, Daniel Heath and a few others started Wingman Brewers in April 2011, brewing beer to sell to local bars, restaurants and grocery stores out of a small storefront in Tacoma. Wingman Brewers took off in a big way, with a constant eye on their vintage military theme. Their hazy IPA Hop of the Walk Juice is back brewed with Sultana and Ekuanot hops for big, fruity, ripe pineapple notes, bright citrus, and a subtle hint of pine.
Narrows Proctor IPA
5.7% ABV, 55 IBU
A neighborhood is an area where people live and interact with one another. In Tacoma, a neighborhood is also a series of delicious craft beers brewed by Narrows Brewing. "Hey, Proctor District," Narrows head brewer Matt Rhodes, "won't you be my Neighbor?" Indeed. Rhodes brewed the hop-forward Proctor Pale featuring a double dry hopping of Citra and a pale malt base. Proctor Pale has been reformulated into the easy-drinking Proctor IPA. Still brewed with spelt and dry-hopped with loads of Citra, Proctor IPA is similar to what you remember, just a bit more bitter and a bit more vibrant.
Tacoma Broken Window IPA
6% ABV, 50 IBU
Morgan Alexander brewed beer in high school. He used Baker's yeast and apple juice, which Alexander says was horrible. He kept the lab coat on, home brewing with unusual ingredients for years before converting his beloved Tacoma Triangle District Amocat Cafe into Tacoma Brewing Company, a tiny taproom that he eventually abandoned for a ginormous space up the street. He kissed his front window on the way out. The window slot cost him a fortune, but he definitely made it back 10 fold. He renamed his Citra IPA "Broken Window IPA" after roughians shattered the glass enough times that Alexander started hosting fundraisers. Broken Window IPA went on to win award after award; it was worth the pane.
7 Seas IPA
5.9% ABV, 75 IBU
You can't talk local beer without mentioning 7 Seas Brewing. Founders Mike Runion and Travis Guterson have seen many changes since they declared their beer a ting in 2008. They now run two operations — a small-batch system taproom in Gig Harbor and a massive production plant in Tacoma's Historic Brewery District. Their IPA (formerly Rude Parrot) is a reliable, low ABV, well-balanced IPA. Brewed with Vienna, light Crystal, and a touch of Honey malt, this golden hued IPA is aggressively hopped with Nugget, Simcoe, Cascade and Citra hops. Checks all the boxes you'd expect from an IPA with pine and citrus notes in both the smell and taste. Taste is rich and full with sharp orange rind and grapefruit followed by a tropical coolness and an off dry, pleasantly bitter finish. It's an everyday IPA.
E9 The Next Movement
8% ABV
In 1995, Dusty Trail converted the historic Engine House No. 9 bar into a brewpub at the corner of Sixth Avenue and Pine Street in Tacoma. In 2011, X group purchased E-9, with Shane Johns running the kettles and hanging the medals. Last year, they separated the brewery from the restaurant and opened E9 Brewing in Tacoma's Historic Brewery District. The Next Movement is a double dry hopped DIPA brewed with 2 Row malted barley and German pilsners malt with a small amount of golden naked oats and torrified wheat. Fermented with slightly hazy British ale yeast, expect aromatics of lemon/lime citrus, peach and melon.
---